Can you define rhetoric? No, I'm not talking about the blah-blah-blah that we hear from politicians every four years (or more). I'm talking about rhetoric in the classical sense.
If not, you will want to pick up a copy of author Leigh Bortins'
The Conversation
. In it she discusses how this important tool of rhetoric plays out in the home school (but I might argue that any concerned parent who values a quality education regardless of where it occurs will benefit from this book).
Rhetoric, by the way, is defined by Leigh (who started
Classical Conversations
back in the lake 1990s) as "conversing and expressing truth." (p. 35) Lovely, right? A worthy goal for our children (and ourselves), don't you think?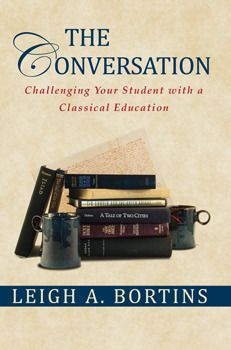 What's included:
This book is divided into two parts. The first part is to encourage parents to continue their home education journey. Leigh sets out a foundation about the purpose of a high school education from a classical framework and defines what a parent/ teacher's role is in the process. She explains that we as parents can successfully homeschool our children for adulthood (work, college, etc) without being experts in every field. She also addresses some fears parents have about those sometimes rebellious, contentious years of a teen. I believe that ALL parents can derive some benefit from these sections, even if you are not home educating; after all, your teens do still live in your house after school!
The second chapter of this first part briefly reviews the three stages of the trivium of learning: grammar, dialectic and rhetoric. For example, my oldest just got his first job and is in training this week! He is still learning the grammar of the job (the rules, procedures, and vocabulary of working customer service at a grocery store). Today he did a little "dialectic" learning as he began putting some of the "rules" of cashiering to work at the check out station. It will be a long while, however, until he is at the rhetoric stage -- where he can explain, teach and communicate clearly about all the parts of his job. However, his trainer Amanda is clearly at the rhetoric stage as she leads him through the training, explaining, correcting, and teaching him his new job. Indeed, we all go through these stages whenever we learn something new -- whether for a job or a new subject (My oldest will be learning Chemistry this year -- lots of 'grammar' and 'dialectic' to learn!)
Obviously, Leigh does a much better job in the nearly 20 pages of this chapter as she explains Aristole's Five Canons of Rhetoric:
Invention
Arrangement
Elocution (style)
Memory
Delivery
I just love how Leigh not only defines these canons (from the Greek word which means "measuring line or standard of excellence" p. 42) but shows us how they are applied across the curriculum. Of course, it is tempting to say, "this only matters for writing!" But Leigh does a fabulous job of helping you see how these standards/ canons apply to all of our communication about everything and anything (but especially various school subjects).
The rest of the book are subject-specific chapters explaining how rhetorical skills (these 5 Canons) can be a primary teaching tool for parents to use in conversations with their students. Honestly, I love how Leigh encourages you to use these Canons (as well as the Five Common Topics of questions which are described in her second book, The Question) to help your student succeed at any subject, regardless of your skill in that topic. Chapters include:
Reading
Speech and Debate
Writing
Science
Math
Government and Economics
History
Latin and Foreign Languages
Fine Arts
I love the subject-specific cheat sheet of included at the end of each subject chapter. It is just another way that Leigh demonstrates how valuable the five canons can be:
Can you gain a glimpse at how much conversation you can engage in with your student? What great memories to build.
The last chapter is called "A Graduation Conversation" and in wonderfully intimate Leigh style she shares a peek into her own home education experiences with her four sons. It is full of encouragement for those who are in the thick of high school home schooling and Leigh will drop questions of character, integrity and the ultimate goals of child rearing into your brain for you to ponder deeply about -- even in the midst of standardized test season and grading papers and writing essays.
Ending the book is something that I haven't spent much time looking at -- I 've only had a chance to notice it and tag it for latter summer reading. The appendix contains four sections:
Conversation Games - Includes four or five games which help students with rhetorical devices, practicing Aristotle's three ways of convincing audiences, or quick thinking.
Common Rhetorical Devices- This is a great mini-dictionary of various devices your student will learn to use for writing, debating and speaking
Resources- Includes a variety of materials (books, articles, websites) organized by chapter that may be helpful for further reading.
Real Parents Respond- Classical Conversation families answer real questions about their biggest fears and joys in the high school home education journey.
I really do love this book and know that I will reference it often this year. To see what others thought click on the link below: