This week's subjects: History, Bible, Read Aloud, Readers, Handwriting, Math, Science (independent reading)
Here's Ben's first week of handwriting; we're still using A Reason for Handwriting, which askes the child to copy a Bible verse at the end of the week. Each day during the week, they practice certain target words for practice on different letter shapes and connections. Since we haven't done any cursive over the summer, I was pleased with his final work. We gave it to Daddy to beautify his office.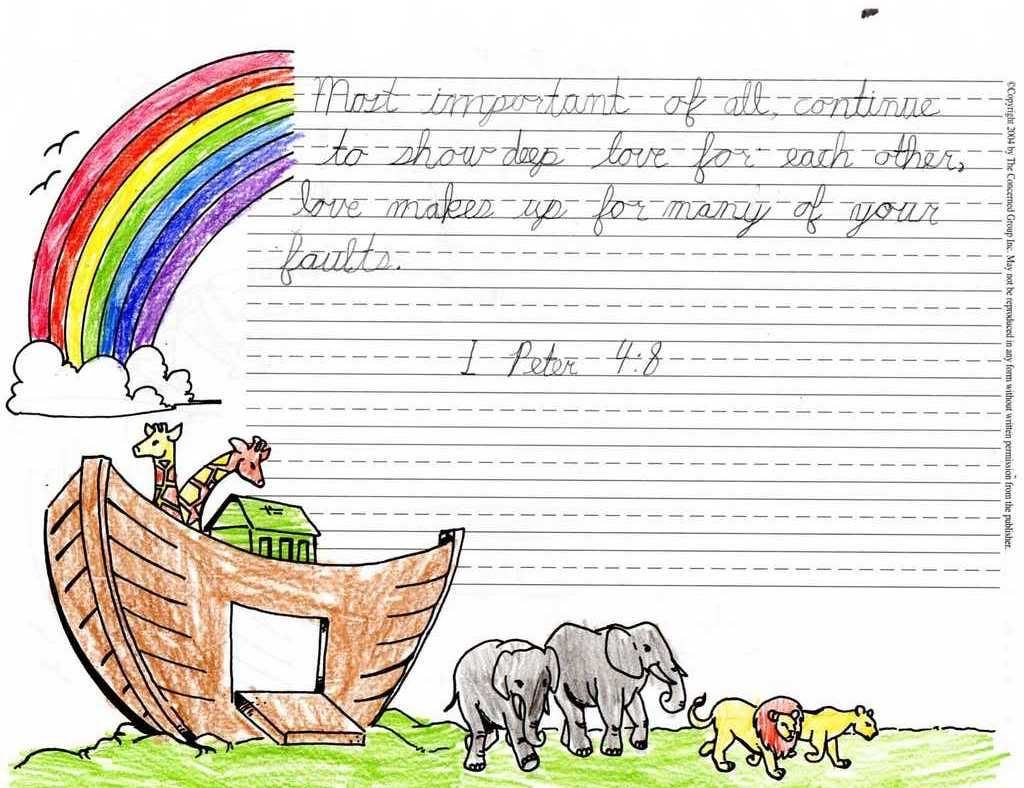 Bible: After 1 day, I realized that I don't like how choppy SL's Bible is. So, we ditched it (talk about perseverance issues, huh?). I've had
Karyn Henley's Day-by-Day Kids Bible
for well over a year, and just never implemented it until now. It is actually perfect for us. We are using it at lunch right now, and everyone is listening it around the table. Also, Ben is reading a proverb a day in his NIrV Bible. I plan on having him do this for the entire year on his own.
History: Lancastrians, Tudors and Yorks, oh my! We've opened up our school year with the Wars of the Roses. Boy, what THAT confusing for Ben! But, we pulled through and I am hopeful that in 4 years he'll say, "oh, I remember something about that from before." We're getting close to all the explorers and the renaissance, which I think Hugs will love.
Readers: Next up is "B" is for Betsy.
Read-Aloud: We kept it light this week with Aesop's fables and Robert Louis Stevenson's A Garden of Children's Verses. I have a feeling that the boys will like poetry in spite of themselves by the time we're through with it. Heeheehee.
Math: Confession: I like teaching math. I think I would be good at teaching it with the right student. I think I would be good at teaching Ben if he'd just keep his mouth closed. Math is bringing out all sorts of character flaws in both my oldest son and myself. I was paaaaaiiiiiiinnnnnfully patient during our phonics lessons. I was extreeeeeeeeeeemly patient during handwriting practice. I was verrrrrrrrrrrrrrry calm during our beginning math experience. I can still be patient, if he'd just stop running ahead of my teaching and listen to the entire explanation and direction. Add this to the tears that come during our math fact drill, and I want to go find a yellow bus and put him on it....................................................... deep breathe. OK, I'm feeling better now. I'm learning that Ben is not detail oriented in math at this point, and I'm working with him on being more careful in his work (like not making errors copying numbers) as well as just being patient and listening to full explanations. I think he could do well with math, and I know the hurdle right now is the math facts.
Science: "Mom, can I play with the Ein-O balls?" Noeo came with a molecule making kit that I finally let Ben play with this week. He is very excited to start Chemistry, but we're about 2 weeks away. He has to finish reading about wild animals this coming week, then we're done with biology.
Grammar: I love love love FLL-3. We've only done 3 lessons, but I think it is great.
Next Week: We are adding in art, vocabulary, critical thinking, and music (since I forgot to do it today). Plus, Luke will be starting his school next week, too. I've decided to just take one anthology off the shelf at a time and read through it, then move on to another. So, we are finishing up the Lion Bedtime Storyteller book and will move on to finish up the 20th Century anthology.