I'm pleased with our return to school activity this week. We have a goofy schedule for the next 5 weeks because Ben is taking ski lessons with a homeschool group, so he and Daddy are gone all day on Wednesday. Our school days are M, T, and TH; W is ski day and F is Community Bible Study all morning, then gym class until 3:00 pm.
This is forcing me to grow as a mom and teacher; instead of cramming 4 days into 3 -- which is my normal M.O.-- I'm taking big cleansing breaths and allowing
myself
to set the schedule, instead of allowing the schedule to take control. I'm really quite a black-and-white person sometimes and I am a rule-follower; it has taken me a couple homeschool failure moments to realize that I can deviate from the plan, alter the schedule, take time to smell the roses, etc. It is quite freeing to be at this point -- though I will admit with all honesty that I do sometimes cringe and think, "we're behind!"
We've started Sonlight Core 3's Intro to American History, part. 1. I'm only using the History, Read-Aloud and Reader components. Since we still attend
Community Bible Study
which has a great elementary level study for Ben, I've decided to not do SL's Bible; we're also still working our way through the Bible Study Memory CD from Core 2, so when we finish that, I'll pick up some other CD to memorize Bible verses. I don't feel tied to using only SL's selection.
We're studying about Native Americans right now, reading Walking the World's Rim, and Ben is reading The Corn Grows Ripe for his Reader. I am pleased with all our reading selections right now.
One of the things that SL does not include is notebooking, so I am adding that into our study, because I really like compiling Ben's work (narrations, copywork, drawings, photos of projects) into one notebook. I asked him to summarize what he'd learned about the various Native American Tribes present in the US prior to colonization, and he did a great job giving me a "topic sentence" then giving me three supporting details for his paragraph. He'll spend early next week using it for copywork, then we'll put it in his notebook. One of my writing goals for Ben is to have him get used to doing longer copywork selections in the last 1/2 of this year. Oh, and I'm also now requiring that he use cursive for all his writing. I just realized he forgot to use cursive on his notebook drawing/ narration, but that is OK (deep breath.....).
We've also starting Singapore Math 3A this week! What I love about starting this new level is that usually the A books have a healthy dose of gentle learning/ review/ gentle learning, then it kicks into gear. We're now working through 1000s place, sequencing numbers, greater/ less than -- all "cake" stuff at this point. Then Ben'll get the 4 digit add/ subtraction with regrouping, then we'll kick it into gear with more mulitplication. Speaking of, I'm trying to get Ben "off" skip counting with the x3, x4 and x5 facts that he's been learning all year. We are using MUS's drill site. Today -- drum roll please -- he answered all 20 x3 questions correctly in 38 secongs -- that's less than 2 seconds per question. Way to go, Ben!!! I'm so proud of you!!
We're gently moving on in FLL, and I decided to use the 7 lessons on dictionary skills now while we've got the crazy ski schedule going on. He did three this week, but I think with our schedule right now, I'm backing off and we'll do 2 per week.
We've also slowed down our science to 2 lessons per week to handle the schedule.
I've yet to get an email from All About Spelling that level 3 is available, so we're back to using ACSI's Spelling 3rd grade. I think if I knew more about spelling, I'd be perfectly content to use a typical spelling book, but honestly, I've learned so much about the
why's
and
when's
of spelling conventions, that I am now thinking that we'll go ahead and use AAS level 3.
LUKE started K this week. Here's pictures:
I made him a sign, then wouldn't let him in to the classroom until I'd taken this picture. Just remember, this whole process was accompanied by Levi chiming in, "Me too, Mom. Me too."
Here's Luke at his desk (thanks to Freecycle!). I set out most of his books, got him a new Kindergarten pencil, box of crayons and markers.

And, here's my littlest charge. You can't help but want to include him...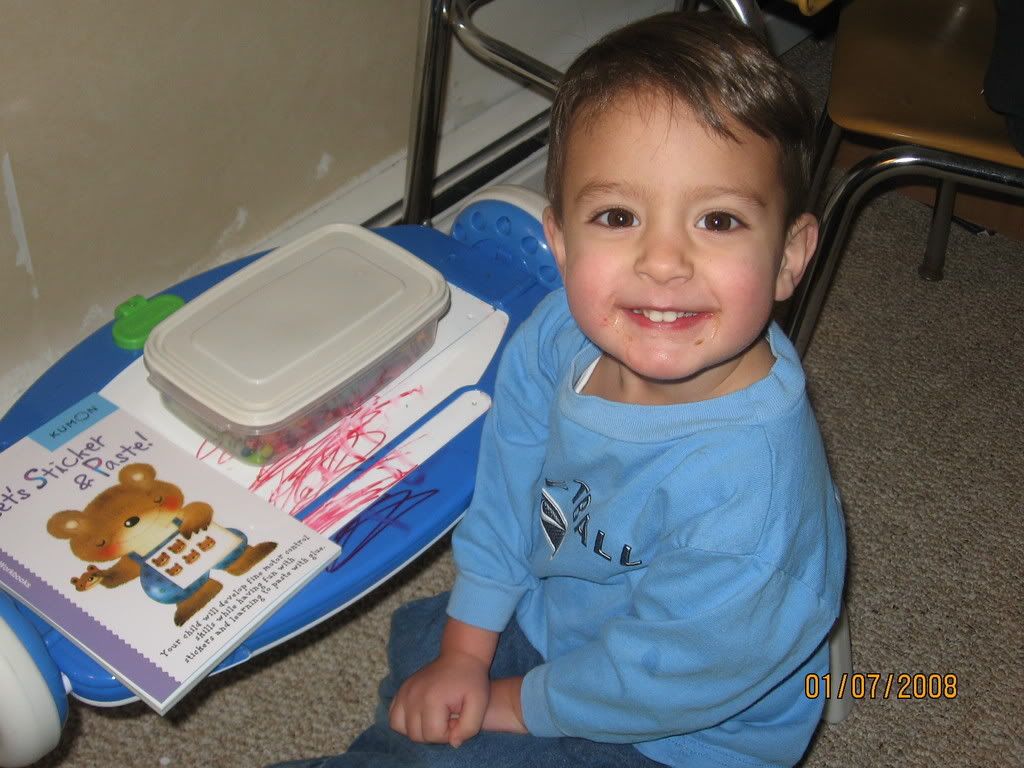 Here's what I'm using with him:
Handwriting for a Reason K
SL's K Language Arts program (I think mine is copywrited 2002), but not the dictation. For phonics instruction, including the Get Ready set of Explode the Code books, and Ruth Beechick's Language and Thinking with Young Children.
Gently reading through SL's read alouds that are fun and appropriate for Luke. Right now, we're reading My Father's Dragon, then we'll read the sequels before moving on to other fun stuff.
Singapore Math Earlybird 1B and up. I'm not sure how this program will work with Luke. His style may fit better with something like MUS.
Just like I did with Ben at this age, I'm drawing big fat letters on contruction paper and he gets to hunt through the sticker drawer/ magazines and cut out pictures of thinks that start with the letter of the week. This week was F, and he had a blast cutting (one of his favorite things to do) and finding stickers. Soon we'll have a wall of letters and it will be a proud monument of his emerging phonics skills.
Levi loved it too when I found a colorful pile of notecard-sized construction paper remnants and let him have real blunt-tipped scissors to cut. And then, I gave him a glue stick and stickers, so he was having The Best Day of His Life. We did all this on Wednesday when Big Brother Ben wasn't around, and I must say, I had a great time with the little boys.
I know it has only been 1 week, but I'm really excited about how freeing it is to have SL's lessons, books and resources all planned out. I know that our reading is going to reinforce our values (especially with the great guides from the IGs) and it is going to make historical people and places come alive. I'm even seeing that I can do Luke's stuff and Ben's stuff (in essence, two separate cores) at the same time. The is huge for me, because I have always thought that there was NO WAY this side of insanity that I could use two cores at one time. This lead me to consider seriously a more neo-classical educational approach (TWTM and Tapestry of Grace). But rather than get too far ahead of myself (it is only week 1 of our Core 3 study), I'm going to thank God for what we accomplished and where He lead us for curriculum this year and not stress myself searching for the next curriculum plan.