The school room is done. The faux-paint/ wallpaper treatment is gone. It was covering up the unstrippable hideous wallpaper that was underneath it (I think this whole house was once decorated in pink and green on the first floor. BLECH!). We wetted, stripped, scraped, sanded and patched the walls. They look better.
First a warning about the paint colors: they didn't turn out like we had planned. The green needs a second coat to not be so -- Irish lookin'. The yellow is much warmer in natural light. These compact flourescent bulbs make the yellowlook like a highlighter!
Here's a tour of our school room:
When you enter our school room, you see this blank wall to the right of the window. I'll be mounting a magnetic bar here (from Ikea), and our black line maps of the world and the US will be up here. LEvi's little table will be below it:
To your left when you walk in is the closet (door removed) with lots of shelves in it for storage of our science supplies, puzzles, CDs, and other school supplies. Next come our bookshelves. We're only in thrid grade, and we're busting out of these two cases--and they don't hold all our stuff, either! The boys have books in their room, there are all our currciulun SL books in the shelf in the living room, and I've got unused curriculum in the basement! (The basket next to the shelves is for library books. You can see my grad. school diploma on the floor, ready to be hung tomorrow. )
On the right wall when you come in is the new dry erase board --4 feet by 8 feet long!. This is the tile board kind ($10.97 at Home Depot) that Dave put a wood top and bottom plate on.
I ABSOLUTELY LOVE THIS!!!
He also framed out the wall to make it look barn-ish. (If you had three boys and a barn, isn't that where you'd want them?) I think he's planning on doing this same treament on the oposite wall and putting faux-joists on the ceiling, too.
Kiddie-corner from the door is my desk. The boys' desks get moved around in the middle of the room for now; I love that they are small and mobile so that we can use them in lots of places and for lots of purposes (top on the list is sitting on them while they draw on the dry erase board -- Star Wars battle scenes are their favorite).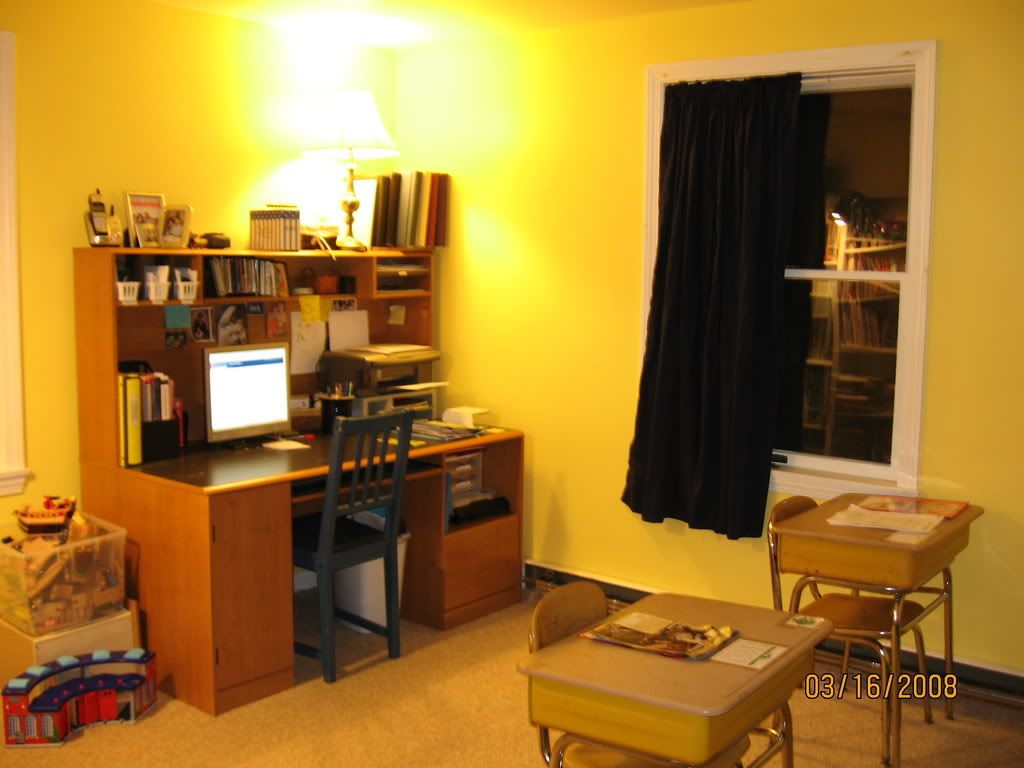 Next up is finding fabric for some curtains or shades (haven't decided whichyet). I want to have Dave install a central light fixture in the celing someday. I also will switch my desk and the bookshelfs, so we can add more shelves in an L shape in the corner.