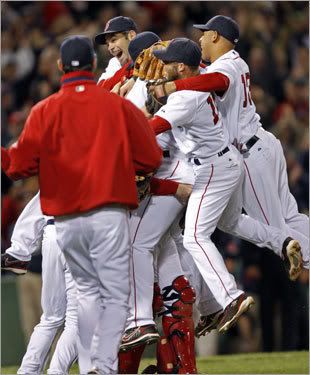 Ben was asked to go to a Red Sox game on Thursday (5/22) -- it will be his first. We had a couple other things going on that day, so I checked with Daddy at work.
"I wanted to take him to his first game. It's a father- son thing."
Me: "
Well, you've got a week to take him."
Last night, not only did Dave and Ben get to take in Ben's first game, but they also got to experience a piece of history -- John Lester's first no-hitter; #18 for the Red Sox in their 100+ year history. They came home tired but excited and smiling from ear to ear. Go Sox!
So this week, we are doing math (we'll finish SM 3A this week), FLL 3 (only 8 more lessons to go!), our readers (Mr. Revere and I), our read-aloud (Johnny Tremain), review our Latin vocabulary so it doesn't get forgotten, and piano. Besides TWO major league baseball games, I've got a doctor's appointment, Ben had an orthodontist appointment and I've got Ben's annual review to prepare for. Oh, and it is one of our busy baseball weeks -- I think between the boys we've got 5 games.
But, this is why I love homeschooling, and in partibular homeschoooling year round. We've got plenty of time.