I don't usually make or have time to follow up on being tagged, but this was just too fun. My friend
Jessica
tagged me, and I was so intrigued by what I might find and create using photos to describe some of my likes that I couldn't resist.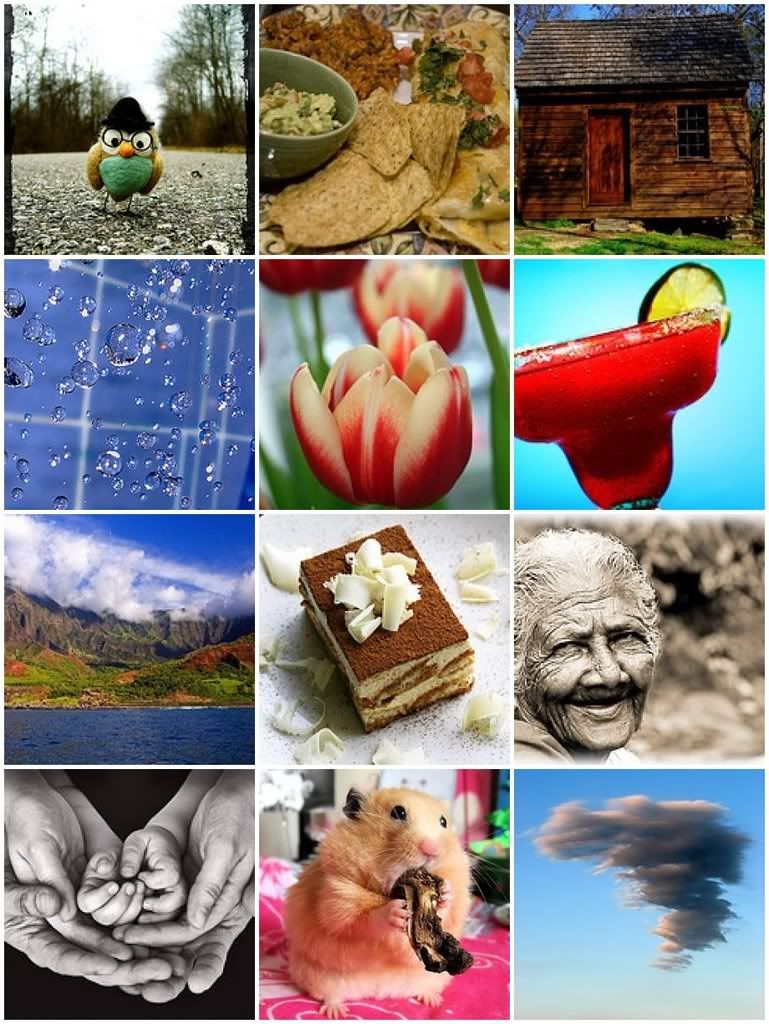 (1) Name: Alane
(2) Favorite Food: Green Chili Chicken Enchiladas
(3) Name of High School: [keepin' it private]
(4) Favorite Color: Blue
(5) Celebrity Crush: None, but I like Steven Curtis Chapman's music
(6) Favorite Drink: Strawberry Margarita [however, I haven't had one in about 4 years....the heat today is making me think of one, though]
(7) Dream Vacation: Kauai, Hawaii
(8) Favorite Dessert: Tiramisu
(9) What do you want to be when you grown up? Well-loved and respected mother and grandmother
(10) Favorite thing in the world? God and family
(11) One word to describe you: Intelligent
(12) Flickr name: ? [I can't remember -- I use photobucket to deposit my pictures!]
So, if you are reading this, please complete on your blog and send me a link in my comments. I'd love to "see" who you are! Here's what you will need to do:
A. Type your answers to the questions below into
Flickr Search
B. Using only the first page of results, select an image
C. Copy and paste each of the URLs for the images into
fd's Mosaic Maker
Here are your questions:
What is your first name?
What is your favorite food?
What is the name of the high school you attended?
What is your favorite color?
Who is your celebrity crush? ( I don't have a celebrity crush, so I chose someone I like)
What is your favorite drink?
What is your dream vacation?
What is your favorite dessert?
What do you want to be when you grow up?
What do you love most in life?
What is ONE word you would use to describe yourself?
What is your Flickr name?