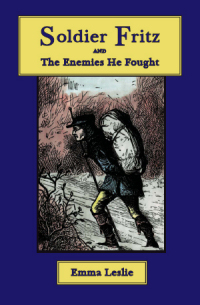 A month or so ago, I received several down-loadable books from
Salem Ridge Press
, --
Down the Snow Stairs
and
Young Robin Hood --
as well as a softcover bound book
Soldier Fritz
.
Quick review
: Love. 'em.
*smile* OK, OK, I know that won't cut it.....
The Company.
Review Salem Ridge's website and you get a real sense of mission in the founder, Daniel Mills, a homeschool graduate:
The underlying philosophy of Salem Ridge Press is found in the Bible: "Finally, brethren, whatsoever things are true, whatsoever things are honest, whatsoever things are just, whatsoever things are pure, whatsoever things are lovely, whatsoever things are of good report; if there be any virtue, and if there be any praise, think on these things (Philippians 4:8)." Daniel firmly believes that what we read matters and what we take into our minds is a major factor in forming our ideas and character. His goal is to be a blessing to others by providing reading material that fits the qualifications outlined in the Bible.
(Note: not every book is Christian in nature, according to the website.)
The majority of books are published in both hard and softcover. My copy of Soldier Fritz was softcover at $10.95. Others with this type of binding ranged up to $14.95, and hard covers seem to be about $10 more than their softcover counterpart.
The book selections range from
historical fiction
for your church history, American and world history courses. They also have
allegory
and
adventure stories
, and a selection of books for
young readers (ages 6-10)
and a selection of
junior church history
books for ages (starting at age 8 years). And, (phew! there's a lot of options) the sell sets at a discounted price.
You can order the books from a variety of locations listed
here
. Note that e-books of all the titles are available from The Old Schoolhouse store for prices ranging from $7.95 to $12.95.
My thoughts.
I really enjoy reading literature written from different periods -- the style of late 19th century writing really stretches comprehension skills (in a good way!). I also appreciate the vocabulary that is present in writing from this era. Salem Press really makes the writing style accessible to 21st century students by putting short footnotes to define some vocabulary words (
palfrey
), and also placing pertinent scripture footnotes when scripture is quoted in the text.
We are a Tapestry of Grace family, and are familiar with historical fiction books, as they are sometimes used to enrich and deepen our study of a specific era. We will be studying the Reformation this year, so reading Soldier Fritz was fortuitous. What I appreciated about this particular book was the care in discussing the spiritual condition of young Soldier Fritz. I think this book will be fabulous as an example of the growth and maturity that the Christian experiences in his/her life, and I really look forward to using it as a read aloud with my sons. I also look forward purusing Salem Ridge's other books to find additional gems to enrich our lives.
You can view additional reviews
here
.
FCC: I received a free copy of one of SRP's books and two e-books to for this review. No other compensation was received.