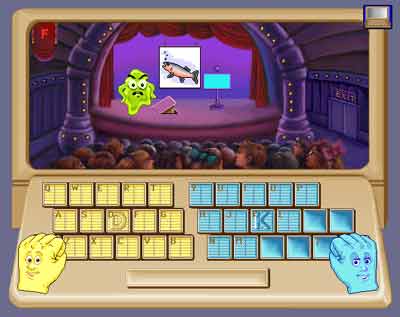 The program.
Read, Write and Type (RWT) is a
researched
based system used to improve reading abilities in their students. You can click
here
to read highlights of this program and
here
for a step-by-step tour. During our preview for this review, Luke moved into (but did not complete) Step 4, so we really didn't get into much directed typing instruction.
The product is online. They do have CDs, but these are not compatible with Windows 7 and Macs. Purchasing the product gives you a 5-year license for 1 user. If you have more than one child you'd like to use the program, you can purchase additional licenses for them. A one year license is $35 for 1 child, $55 for two.
Click here
for their pricing.
Our Experience.
Luke is an average reader, so I was hoping this program would provide a fun way for him to strengthen his reading skills and help engage him as an new reader.
The program certainly did provide lots of opportunity for him to strengthen his reading skills; there were some phonological awareness skills he needed some work on, and the program would not move him past this skill until he had performed at the pre-set criterion of 80%. He got a little frustrated with the repetition of having to complete the same task over and over (like most of us Luke is not one to enjoy having to work on an area he perceives to be a weakness).
Unfortunately, the particular skill he was working on did not have much direct instruction or modeling, so he would begin to make guesses at the answer instead of figuring out the correct answer. The lack of direct instruction is not a criticism of RWT, rather it is a characteristic of many computer-based educational products. The programs do not (yet) have the intuitiveness to slow down step-ward progress to create remedial instructional paths customized to the user.
Although the progress chart can give me percentages for each of phonics, reading and spelling, I was unable to know exactly
what
was giving my son trouble unless I sat there with him to watch what he was working on. I may be weird, but I like to know error patterns that my kids are making, because I think you can learn much about what a student knows by looking at what a student gets wrong (this comes from years of training and professional experience as a speech-language pathologist). "Phonics skills" can mean a multitude of things to different people.
During one time when I was watching my Luke, the program was asking him to type the sound that he heard at the end of the word "lock." Luke kept typing "ck" instead of "k" -- and getting it wrong.
Now, I fully understand that what Luke was asked to type is different from what he answered -- and technically he was wrong. However, we're a
phonogram learning**
family, so I'm actually quite happy that he typed "ck" -- it is two letter phonogram that makes the "k" sound. With the ultimate goal to read and spell accurately, I think Luke's answer demonstrated appropriate skills more so than just typing a "k." I noticed inconsistent use of long vs. short vowel sounds when typing on the keyboard -- they use the long "ay" sound when typing the key "A" but the short "i" sound when I typed the "I" key.
My Thoughts.
You might be wondering if I recommend this product.
I should say that I'm sure RWT is an effective program for
supplementing
your reading program and beginning to familiarize your child with the typing process. If you are using a phonogram-based program like Orton-Gillingham programs (Spell to Write and Read and All About Spelling are two that I"m familiar with), you may want to sit with your child through the phonological awareness portion to make sure they are specifically typing the sounds of the phonograms and not the spellings of the phonograms.
You can view other reviews
here
.
**I've got this linked to a web page that explains what a phonogram is. I'm not advocating the particular program that is associated with this website.