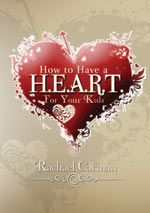 I've finished reading
How to Have a H.E.A.R.T. for Your Kids
by Rachel Carman -- just in time for the beginning of our school year...and I'm so glad I did!
Each letter of the word 'heart' is an acrostic:
H = Have a heart for the things of God
E = Enrich your marriag
A = Accept your kids
R = Release them to God
T = Teach them the truth
Here's a description from the Apologia website:
How well do you really know your kids? What has God shown you about who they are and who they will become? He has sent these children into your home at this specific time for His glorious purposes. Indeed, you have been invited on the adventure of a lifetime, a journey on which you will see walls fall, seas parted, and giants slain. You don't need special skills or training for this journey—you need only to seek God and hold tight to His mighty hand! As with so many things, the first step to having a heart for your children is knowing your heavenly Father. As you seek daily to share His heart for your children, keep this inspirational book close at hand.
Rachel does a wonderful job weaving anecdotes from her own homeschooling journey teaching her seven children with scripture and familiar Bible stories. Her style of writing was so friendly that I often imagined Rachel was sitting across a table from me and sharing her own heart.You can go to the
Apologia
website to read a
sample chapter
from the book, which is selling for $13.

I have to admit, I didn't read anything here that was brand-spankin' new to me, but what I did get was a wonderfully encouraging and inspiring reminder of the God-honoring job I'm about to restart. The book's compactness (in size and chapter length) made for convenient reading in between and around our late summer obligations and activities. A wonderful feature of the book is the thinking questions at the end of each chapter; this is the rubber-hits-the-road part of the book that I can use to make this book's material
my own.
Reading this book (as well as the work God has been doing on my heart recently) has helped me to realign my goals and priorities for this year. I'm really taking Matthew 16:26 to heart:
And what do you benefit if you gain the whole world but lose your own soul? Is anything worth more than your soul?
I have to admit that I sometimes get so caught up in the academics of homeschooling that I forget to see the big picture -- honoring God and leading my children into lifelong worshipers. This book was a gentle reminder to get back on track and run the race to win (1 Cor. 9:24). I know without a doubt that it I will continue to re-read it throughout the year.
If you'd like to read what other reviewers thought, head on over to
The Old Schoolhouse's Review Crew Blog
to read more.
FCC disclaimer: Thank you to Apologia Press for a free copy of this book in exchange for my honest opinion about the book. If I like it, I'll tell you. If I don't, I'll explain why it didn't work for my family. The good, the bad, and the ugly.