It can be hard to find a game that can entertain a 6, 9, and 12 year old -- and still be mentally stimulating for adults, all at the same time. After a few weeks of playing Wits and Wagers Family, we think
NorthStar Games
has a hit!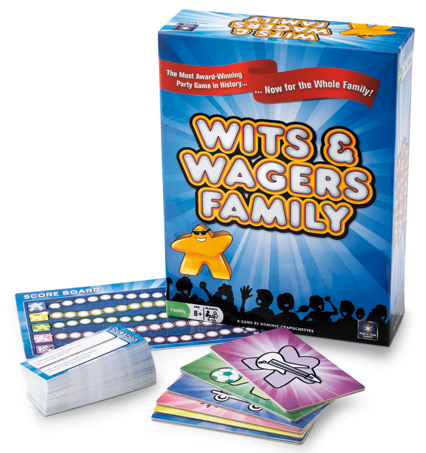 This isn't your typical trivia game
and that's a good thing.
It's trivia with some guessing and strategy.
In this game, a player reads a question. All the questions ask for numerical answers ("How many colors are there in Fruit Loops?") and then each player writes down a number. When everyone is done, the dry-eraseable tablets are turned over and put in order. Then you get to play with these cute little Meeples -- a Mama and a Baby Meeple. Each person decides which two answers are most likely correct --place your Mama Meeple on the correct answer and you'll get 2 points while a correct answer from your Baby Meeple gives you 1 answer.
The strategy comes in when you have little brothers than constantly copy your Meeple placement. Big Brother Ben *might* need to re-consider his Meeple placement to throw them off track a bit. Or even throw the brothers off track by *not* putting the correct answer down. Hint, hint, Ben.
What's great about this trivia game is that you really
do not
have to know the answer. We all laughed and giggled when Levi's answer was closest to being correct. It's also great in a math-y (less-than/ greater-than) sort of way because you "win" a round by selecting an answer that doesn't go
over
the true answers.
We've really enjoyed this game, and I was tickled pink when I woke up from a little afternoon nap and heard the boys playing it all by themselves. *sniff* Sweet memories.
I was very happy to see that the game used mini dry-erase markers and boards for score keeping and answering. I need more pads of paper in this house like a hole in the head.
store locator
-- type in your zip code and up pops push-pin store locator icon. A quick search of other online retailers showed that it was available at Target and Toys R Us. The game retails for $19.99.
They also have a game called
Say Anything that some Crew members reviewed
. You can see what others said about Wits and Wagers Family by clicking the link below: