Ben, my 12-year-old, will read almost anything. I say "almost" because if there is a mushy love story and not enough adventure and danger, then Ben's response to the book resembles Superman's response to kryptonite -- Ben will stay far, far away.
Fortunately the Vocab Cafe books, available at
College Prep Genius
($12.95 each or get the set of four books is $38.85), strayed away from mushy and have been given a Ben seal of approval.
The purpose of the Vocab Cafe books is encourage vocabulary development through engaging reading. Each book has 300 vocabulary words used within the context of the story. Definitions (and pronunciation guides) are in the footnotes to help the reader. At the end of each chapter, the words are listed again, and there is a glossary at the end of each book. I received a set of all four books for review:
I.M. for Murder
The Summer of Saint Nick
Exile Planet
Operation High School
The books are written by Josh Burk, who recognized that learning vocabulary could be make easier by reading the words within context. You can read his full biography
here
. There is also some information about the books (but not all four) at
VocabCafe.
When I asked Ben if he liked the books, I heard an enthusiastic "YES!" yelled in my direction. [At the time of this writing, he's finish reading
I.M. for Murder
and
The Summer of Saint Nick
. I do not expect his answer or enthusiasm to change after reading
Operation High School
or
Planet Exile
.]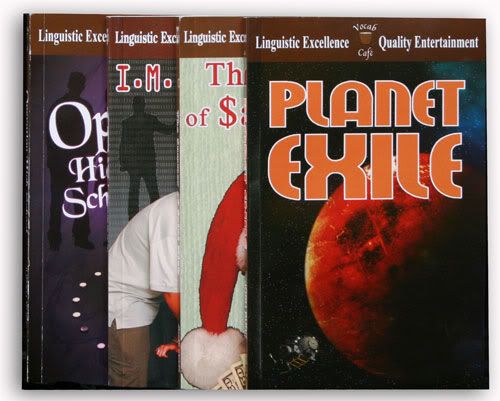 My opinion of the books is that they are geared towards almost-teens and teens (I hesitate to use the term 'preteen' because that seems to include a much wider age range than it did when I was one). There is no bad language nor sorcery. But, there are boys who like girls -- and try to impress them and even go on a date with one or two of them-- and girls who are trying to make themselves pleasant to look at for the boys.
I was a little disappointed that there was not more directed vocabulary development in the books themselves. The description on the
website
:
"Based on a three-step approach to increasing vocabulary, each book highlights 300 advanced words by using DEFINITION, REPETITION, and REINFORCEMENT.
Readers find the definition of every highlighted word at the bottom of the page — a word review and appendix complement the learning process!"
This made me think that "a word review" might have some sort of review activity -- a multiple choice questionaire, fill-in the blank...something to actively help readers recall and remember the word meanings. That certainly fits
my
learning style and preferences. But, this series is different. You and your student might need to be creative to encourage recall of each books 300 words.
The forward of several of the books says that there are flashcards available for purchase to help review the words, but I have not seen them on the website.
Would I recommend the series of books? Well, yes, but not as a vocabulary program. I certainly am pleased we have them for my avid reader (and avid readers in training) and I appreciate the rich vocabulary used in the stories as a way to show my kids how rich language can be and to introduce the idea of more advanced vocabulary usage.
You can read what others thought of the books at the
TOS Crew Review
. You can also read what reviews thought of College Prep Genius' SAT materials as well.
FCC statement: Thanks to College Prep Genius for sending me a set of the Vocab. Cafe books for review. In exchange, I agreed to provide my honest opinion.