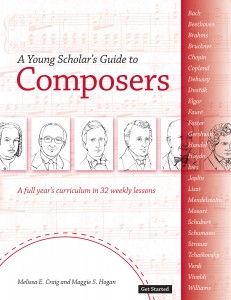 We all have high hopes at the beginning of the school year, right? Nutritious breakfasts daily. Quality family time. Joyful students happily doing math. Everybody loving and enjoying one another.
Then we wake up.
I had the best of intentions of incorporating music history into our study of the 1800s this year. There are so many fantastic composers to learn about! But as the summer warmth faded and my planning time dwindled, I realized that I probably could not pull it all thogether myself.
Thankfully, I had the opportunity to try out a .pdf version of
Bright Ideas Press
'
A Young Schoar's Guide to Composers
(available for $31.50 as a book at
Timberdoodle.com,
).
This is one stop shopping at its best! You really couldn't ask for a more complete program. Here's what's in it (I've included some of my own clarifying comments so you can get more than just the salesman's schpeal):
32 Weekly lessons (a week is spend on each composer or musical period)
26 Bios of famous composers (These are nonfictional accounts of their early lives, their rise to prominence, and their contribution to music. Musical terms like "oratorio," "movements," as well as music theory concepts are used throughout these narratives. Also, the composers spiritual lives are explained, if they had one.)
6 eras of music explained (Ancient/Middle Ages, Renaissance, Baroque, Classical, Romantic and Contemporary)
Easy-to-use comparative timeline (You can see the overlap of the composer's lives as well as a few major historical events which are printed on the customizable sheets. Directions are given so students can mark relationships and influences amongst the various men)
Easy-to-use maps (maps of the continents for showing where various composers lived/ worked/ were born)

Composer info-cards and game directions (Go Fish, Bingo, and Memory Match type of games with suggested variations to make it more difficult for older students -- like matching the composer to his musical time period)

Note-taking pages (these are fill-in-the-blank sheets to copy for your students for each musical era)
Quizzes (after each composer, a variety of questions are provided for the student to fill in to demonstrated some understanding of these amazing men. They do not have to be used as quizzes.)
Answer keys
Listening suggestions (links to youtube.com videos of the recommended selections, such as this one for the Farwell Symphony)
Blackline coloring pages (Beethoven sitting at a legless piano, for example)
Recommended additional resources (8 pages of books, coloring books, games and websites to take your studies further)
Our Experience:
As much as I loved this resource, it sort of fell flat with my kids. Here's some of my "learn from my mistakes" lessons:
This resource is recommended for grades 4 - 8. While it is adaptable for all ages, I could really see my younger kids zone out during our reading about the Classical Era and Beethoven (and they like Beethoven!) The authors do not shy away at all from incorporating some simple music theory into the narratives (which are guessed to last about 15 minutes of read aloud each). For our family (read: no musical proteges or geniuses), this information was somewhat confusing, and since we had no listening experience to make comprehension of "polyphony" (for example) meaningful, it was easy for the the kids to discard the information and begin to zone out.
Now, since our school year is solely about the 1800s this year, I was most interested in matching up music history with our time period. I think we really lost a lot of valuable pre-Classical information (especially being able to see how the periods intertwined and influenced each other). We should have just started from the beginning so we could see the whole sweep of history and get some musical terms under our belt to make our learning better.
For as much as is included in this one resource, I think it's fair to say that sometimes less is more. Especially with younger students. To that end, instead of loading my grammar aged students with coloring pages (not something they usually like), instead we decided to listen/ watch a few Youtube.com songs, and then (serendipitously) take them to a local symphony's children's concert highlighting Beethoven's life and work. Thank you PSO!

At the PSO Children's Concert, October, 2011

Ben (the 7th grader) is doing much more writing this year compared to last year. This is a good thing. I decided however, to cut him some slack and not have him do the composer information sheets. In retrospect, I should have had him use the notetaking pages or complete the reviews, because I think he would have paid better attention.
My only major criticism of this resource is that my kids love to crowd around me when I read a book to them (and I love it, too) because there are inevitably awesome pictures and illustrations to augment what they are hearing me read. Unfortunately, there were not illustrations outside of simple line drawings of each composer such as these:
This is unfortunate, because putting music into the context of geography and history is something that can help to cement new information (especially if your children have little previous introduction to music history, like my kids). It would be wonderful to have photos of the instruments used during these periods as well as pictures of the beautiful cities of Europe to help spur our children's imaginations as they hear about these interesting, talented men.
In all, this is a great, comprehensive product -- we just got off to a bad start with it. I know that we will use it more as the school year progresses, and I'll do a better job of showing how we use it once we get re-started!
Timberdoodle has lots of great resources to help you create a great music appreciation program. Just click
HERE
. If you'd like to see more of what Timberdoodle has to offer your homeschool, sign up
HERE
for a free catalog.
FCC disclaimer: I was sent a free digital copy of this resources in exchange for my honest opinion -- the good, the bad, and the ugly. :)