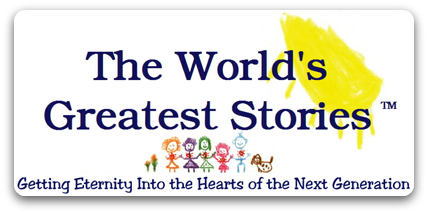 I absolutely love, love, love this product. It isn't helping my children to read better, or do math more accurately. We're not mastering a new skill.
I just love products that help me to get the Word of God into my children's heart.
Performed by actor George Sarris,
The World's Greatest Stories
present the actual Biblical text dramatized in an engaging manner for not only children, but adults as well. Have you ever read a story from the Bible and wondered about the desperation in the woman Elijah encounters as he goes to prepare her last load of bread with the little flour and oil she has left? How might the people who have encountered God feel? Using only a bit of background music to set the scene and mood, George Sarris presents the many voices of characters in a captivating re-telling of the Bible that is mesmerizing my children when we listen at lunch. It has opened up discussions for us to talk about God and his love for us.
Priced at $7.95, each CD (cassettes are available as well) has approximately 1 hour of dramatization. We have been blessed to listen to The Prophets CD this past month (click
HERE
for an audio clip from the NIV). The other CDs available are:
The Prophets (which is the one we have)
The Life of Christ
Beginnings
Joshua and Esther
Joseph and His Brothers
Defeating Giants (this is not just the story of David and Goliath)
The True Story of Easter ($9.95) (This is a DVD product. The Biblical text is presented in 'The Life of Christ' CD as well. Shot in St. Batholomew's Church in NYC, Mr. Sarris uses a scarf as his only prop to retell the Easter story in the NIV translation.)
Each of the stories on our CD has a short introduction where Mr. Sarris sets the stage for the story in the context of the Bible as well as in God's plan for humanity.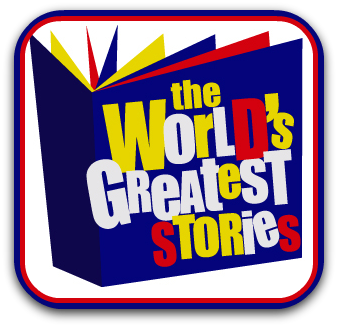 I can tell Mr. Sarris has a passion for proclaiming God's Good News in this way. The price of the CDs is so reasonable and the dramatic quality is wonderful.
This is a great multi-age/ stage product. It isn't "babyish" at all for my 12-year-old, yet it is not inaccessible for my 6-year-old. And, um, I love listening, too. We even have fun adding in our own dramatic miming to Mrs. Sarris' words!
To read what others had to say about The World's Greatest Stories, please visit
The Review Crew
.