As part of the TOS Crew, I received a complementary maximum protection copy of
Action Alert
, an internet safety tool. God certainly answered prayers about this, because I had wanted to update our parental controls, and using Action Alert has been very painless and easy.
Before I go further I want to encourage you to use a filter starting NOW with your kids. Your children are never too young to have a filter on the computer, because there is just awful stuff out there. Action Alert has a
free internet safety version
to download that I recommend you try NOW.
Action Alert manages the following tasks: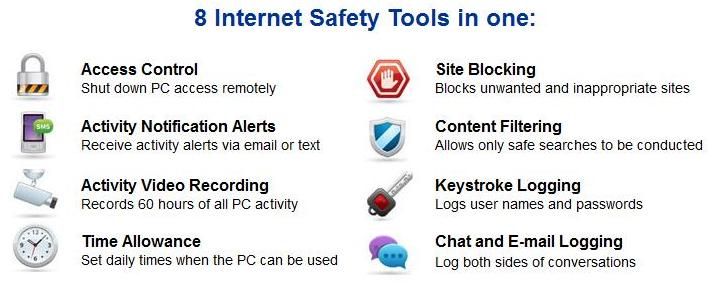 Action Alert is available for $29.99
. They have a 30-day money back guarantee. You can view their
FAQs here
. The difference between the free and the paid version is that the paid version is fully customizable and you can set up multiple users (which is what I did). It also monitors social networking sites, but since I do not have kids who use social networking sites, I didn't have an opportunity to assess that part of the program.
Our Experience:
We did not have any trouble with Action Alert. Installation was a snap. I decided to create a log-in for each of the kids, so I set the filter to work only on their log-ins. Action Alert suggests that you do not install the filter on the administrator's log-in because it can slow down your computer/ programs.
The kids experienced times when they went over their allotted computer time for the day.....so it worked. I also liked that I could review the screen shots of what they playing on the computer. This came in handy to keep a child (who will remain nameless) accountable for the amount of computer game usage. Using Action Alert did not slow down our internet use.
You can set up the program to send you an email and/ or text message if your child tries to do something on the computer they are not supposed to. And, you can log on (via the web and your password) to disable the computer if you are away from home or even on another computer in a different part of the house.
You will want to read the
user manual here
.
In all, I'm really pleased with this filter and
very happy
that it is a one-time charge, not an annual fee.
You can read what others thought of this product here:

FCC: In exchange for a maximum protection version of the product, I agreed to provide my honest opinion about this product. No other compensation was received.