I am going to sheepishly admit a HUGE hole in our homeschooling program this year: systematic Bible study. My year started out with great intentions. We had a resource for Bible verse memorization and group reading ---- and it lasted exactly 6 weeks.
This is not something I'm proud of at all.
I hope, then, that you can appreciate how grateful I was to be offered the opportunity to review Classical Academic Press' New Testament study:
Considering God's Creation
by Claire A. Larsen. It is written from a reformed, covenantal perspective.
I received the
Teacher and Student workbooks
($56.96;
additional student workbooks
are $26.95) as well as the
audio files add-on product ($9.95).
This seems like a good study for upper elementary (and maybe middle school-aged).
The teacher book has reproductions of each student page in it, with lots of notes for teachers to add more detail. There are also answers to the chapter quizzes.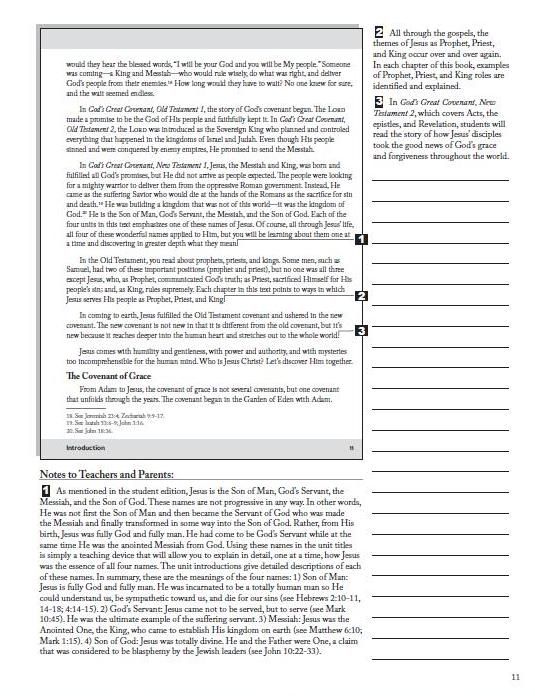 The student book is over 300 pages of lessons and helpful maps and charts. Each of the 36 lessons has scripture memorization suggestions. Each lesson has a narrative retelling of a portion of the Gospels. These retellings are story-like and are not passages of scripture (scriptural footnotes are provided in case you wonder from which books the narrative is being taken). The mp3 download has these full stories so you can listen to them (Dr. Perrin has a great radio voice -- it is very pleasant to listen to!).
Each Lesson opens with a Memory Page. This is a one-sided reference which tells you the theme of the lesson, from which passages the story is taken, the memory passage for the week and some sort of chart that contains helpful information used to break-down the passage(s) for learning. You can see samples
here
.
After the story, there are Review Worksheets like this: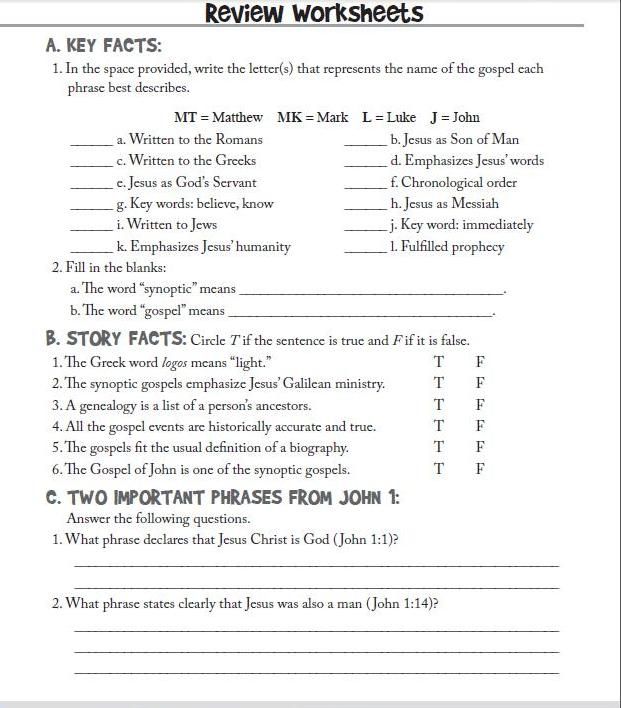 Each of the chapters has a 6-7 or so sectioned worksheet to review the facts and meaning of the scripture. Sometimes there is matching, other times fill-in-the-blank questions. Often times, you'll be asked to look back at the chart from the Memory Page at the beginning of the lesson. Best of all, the "Think About It" portion asks the child to really think about the theme and how God wants that child to respond to Him.
I think this is a great, detailed, in depth study. It is a little too much for Luke (a 3rd grader). I do wish that it was laid out more for homeschool use. The teacher's guide does not have any suggestions on how to implement the program for a week long study (not that it takes rocket science to figure out, but I like a guide and then I adjust for my family). As a matter of fact, when I got the program and opened it up to use it on a Monday morning, I was greeted by 6 chapters of (great) introductory material. But it was a
lot
of information, before I finished the 2nd or so page (of 30+ total), I noticed the eyes-glazing-over-and-I'm-no-here look from Luke. It was just far too much detailed, in depth information for my guy. So, I cut my loses and we just jumped into the first lesson.
Would this have worked with my 7th grader? I think so, and wish that I'd picked up the clue phone a bit earlier in the review period to lasso him into using the book as well. It is a solid program, but for his age, I prefer to use scripture instead of this book's narrative retelling. (As a matter of fact, Luke has been reading the Bible himself and I prefer to use scripture at this point for him as well).
Read what others thought at
The Review Crew
!
Disclaimer: As a member of the TOS Crew, I received this product, at no cost to me, in exchange for my honest review. All opinions are mine.