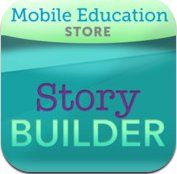 For the past few weeks, we've been playing around with
Mobile Education Store
's iphone/ ipad/ itouch app:
Story Builder
. Kyle Tomson, the creator of this cool little app (available at the itunes store for $5.99). The phrase "necessity is the mother of invention" sums up the gensis of Mobile Education's apps. Kyle's daughter needed some help with higher level language skills. Not finding apps that could help her, he went to work creating a number of tools to help in areas she needed.
As a former speech-langauge pathologist myself, I love that Kyle consults with SLPs across the country to make sure his apps as accurate. And I really love it when he wrote:
" My apps have been widely adopted by SLP's and schools around the country despite the fact that I'm not a speech therapist. As I am not a SLP, I tend to think out of the box and concentrate on finding new and fun ways to teach sometimes confusing language concepts without being hindered by the way it has always been done. The most rewarding thing I hear from users of my apps is that their kids ask to play my apps above others."
How It Works:
The interface for StoryBuilder is very easy to use.
You can type in your student's name (although you can only have one student at a time). Below the name, you can adjust the level of difficult:
Level 1 stories ask students to create sentences based on facts for a story – basically answering who, what, where, when questions. Four questions are asked for this level.
Level 2 stories ask seven questions of the student.

Students to make inferences about the pictured story (there is one picture per story).

Some of these types of inferences might be "how does the person feel?" "Why are they happy?"

Students even have to infer actions that might occur before or after the pictured event ("What will happen next?").
Level 3 stories allow the student to make up any story they want. The prompt tells you to make a story about the picture and to use complete sentences.
Additional options adjust to amount of support your student receives.
There are colors and auditory cues to help students, but these can be removed for increased independence.
You can make these changes in the middle of a story and they will take effect on the next cue.
The screen below shows the color code reinforcement (in red), question text reinforcement (shows the question at the top of the screen), and the answer introduction reinforcment (the part that says "
After the storm ends, the boat...")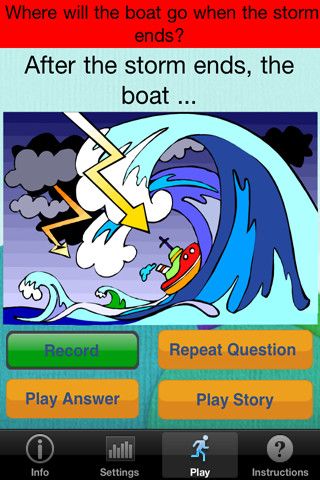 After one of my boys hears the question, he presses the green "record" button and speaks his sentence. We can then listen to his response and re-record, or press buttons to repeat the question prompt. At the end the "Play Story" button pops up so you can listen to the whole thing.
How we used it:
I found this to be a great tool to help Levi with his articulation. We've been working on his
r'
s for a few months, and his is doing well articulating them in his reading and in many situations in conversation. But, he hasn't "generalized" the new sound to all the possible occurences in his speech, so I took the opportunity to have him tell me a story, then listen to each of his sentences to judge for himself if he had pronounced the
r'
s correctly. This was a great self-monitoring tool within the context of telling a story. He wasn't totally in love with the target picture but this was his story:
The men were going to a newspaper. The car got stuck when a alligator went across the road.
The men are trying to get the car out of the hole that the alligator was in. They will call a police officer.
Outside of practicing articulation, I was pretty surprised at how difficult this activity was for Luke. After getting the sillies out of him, he needed some additional prompting from me to help his ideas "flow" in the story.
My Thoughts:
I think this is a great tool for families who want to work on narrative skills, inference skills and speaking skills whether you child has a language learning difference or not. Kids gravitate towards all the electronic media we have, and while I try to limit the amount and types of interaction we have, I do try to use it educationally often. I think this is a great interactive way to engage in technology and learning
with
your child.
I'm impressed by the scaffolding and helps that the app provides. I love all the ways that you can add and subtract these helps. I do wish you could have more than one student use the app at a time, and I do think that it is important to send the story and audio to your email account if you want a record of your child's efforts. You will want to make sure you have Apple's QuickTime Player (a free download) to listen to the story (and the photo downloads as a .png file).
I do plan to continue using this app in a couple different ways. I'd like Levi to keep practicing his articulation and self-correction, and Luke will keep using the app to help with his narrative skills and sentence formation skills. I also plan to have Luke practice his writing, punctuation and grammar skills by listening to his stories and have him write them out. I just love tools that help us learning in multiple ways at the same time.
Mobile Education App store offered several other apps to Schoolhouse reviewers. I encourage you to click over to see what others thought.

Disclaimer: As a member of the TOS Crew, I received this product, at no cost to me, in exchange for my honest review. All opinions are mine.