We begin transitioning from summer to school on Monday the 20th, and although I haven't finished purchasing one of Ben's 8th grade classes nor have I registered him for one of his online classes……
…but I know what one of his
high school
classes
will be:
Apologia's
I Don't Have Enough Faith to be an Atheist Curriculum ($33.00)
.
Using the
very readable best-selling book with the same name
($16.00) by Norman Geisler and Frank Turek as it's spine, the curriculum complements to it's namesake, yet expands on the topics with additional readings (contained in the book), study and thinking questions, charts, and "hooks" to make students really think about their faith, it's veracity and reliability.
The book and workbook handle the big questions that we have all wrestled with during our lives and hard circumstances – Christians are no exception. Each chapter of the study guide helps the student to distill out the main points from the book (which is a fantastic book for mature teens up through adults), reason and express themselves (in writing, though I can also see this curriculum being used in a small group study setting), and help students not only own their faith, but defend it. I appreciate the glossary at the end of the guide to help make sure everyone is understanding some of these terms in the same vein.
Oh, and for those black-and-white people like me: there is an answer book (and answers to test questions)! You just have to log into Apologia's website, following directions in the student book. These are free downloads. The curriculum guide is basically a workbook that your student completes (verbally or in writing).
Here's a sample from the table of contents of the workbook/ study guide/ curriculum: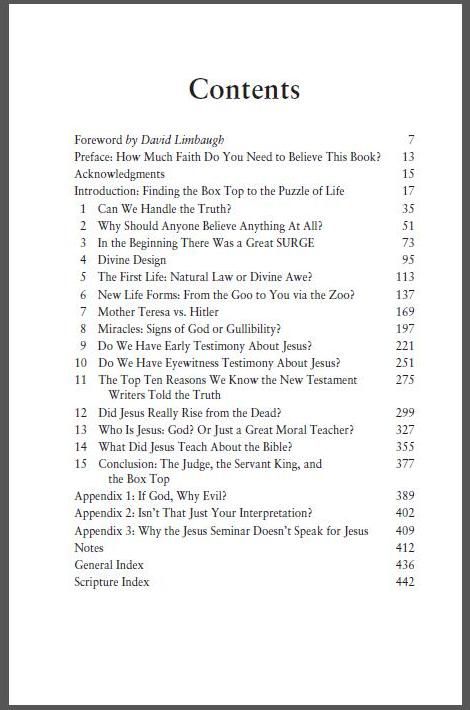 You can download a
sample from the book
and
guide
at Apologia's website (it opens as a PDF file).
I had hoped to be able to read the book, summarize it with Ben, and walk through some of the discussion questions. But, as a new 13-year-old, he is just not ready to handle the thinking in this book. We've read through other apologetic books designed for kids so the idea of defending your faith isn't new to him. I found some of the questions quite challenging myself! I definitely think this curriculum is a great tool to include in your home before you launch your children into the world.
I will add that this is a curriculum that I believe you will want to read (and maybe even complete) along with your child. The chapters are heady (not impossible), and although the workbook summarizes the main points of each chapter, you will want to draw from the fount of information in the book. As a matter of fact, I'd consider making sure that each of your children has his/her own copy of this book, and allow them to highlight, make notes, and own these resources. Arming your child with his/ her own copy of the Bible and this apologetics course will – by God's grace – launch your child well into and adulthood of love and service for Him.
To read what others thought of this offering from Apologia, please click on the icon below:
Disclaimer: As a member of the TOS Crew, I received a copy of both of these books, at no cost to me, in exchange for my honest review. All opinions are mine.