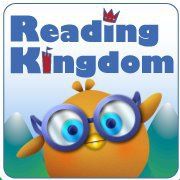 I am super grateful that Levi – thanks to several great products that we've reviewed in the past year and a half – has pretty much learned how to read by himself. I am convinced that God knew I needed this quality in Levi (as well as the products that we reviewed which helped him), because during the years when Levi was ripe and asking to read, I was a bit distracted by some of Luke's vision and reading struggles.
Levi isn't an independent reader by any stretch yet – he still needs some instruction and help. That's why I'm really grateful to review
Reading Kingdom
right now, because it is supplementing some key skills that Levi needs to acquire to be an independent reader.
Here's a brief summary of the purpose of Reading Kingdom from their website:
Our commitment to online reading for kids is based on our patented six skills method for reading success. These skills include sequencing, motor skills, phonics (phonemic awareness), meaning, grammar and reading comprehension. Our online reading for kids program is ideal for preschool, kindergarten, first grade, second grade, third grade, special education, homeschool, and English as a second language. The Reading Kingdom online reading for kids program is an ideal supplement to existing curricula, as well an excellent independent curriculum. Our online reading for kids program is also a great educational alternative to other entertainment options. In fact, most children refer to the Reading Kingdom as a reading game, since it is so fun to play. (emphasis mine)

Reading Kingdom is available as a monthly subscription ($19.99/ month for your first student) or for $199.99 for an annual subscription. This is a one license account, but you can add more readers for a reduced rate. To view subscription rates,
click over to the Reading Kingdom site
. You can also try Reading Kingdom for free for 30 days to see if it will be a good fit for your student.
I really appreciate that Reading Kingdom makes no assumptions about a student's skill set – even to the point of making no assumptions about keyboarding skills. When Luke was younger, I used a popular program that had been converted to an on-line reading/spelling program, and was horribly disappointed that many of the mistakes my son was having counted against him were more related to his typing/ keyboarding skills than his actual decoding and spelling skills. With Reading Kingdom, each child is taken through an assessment of their keyboarding, sequencing, reading, spelling and other skills to see where their strengths and weaknesses are.
The
goal of the program
is to supplement or teach a child the skills s/he needs to get to a 3rd grade reading and writing level. It is designed for kids from ages 4-10 – those who are beginning readers to those who are accelerated in their skills. Your child will need a computer (of course), a mouse, one of the popular web browsers that can run Flash Player (you'll need that, too – but it is free). I let Levi use a headset to help make sure he can hear the words spoken to him, but as long as the room is reasonably quiet, you won't
need
a headset.
It is best if you can schedule Reading Kingdom at least 4 days a week. Sessions last about 10-15 minutes. Usually, I require Levi to work through one or two a day.
My recommendations and thoughts:
Setting up the program is easy. Levi and I share the same sign-in information, which makes retrieving his performance easy once he is finished with his work. His progress and performance is rated using these cute symbols:
I'm used to getting numerical data about the boy's performance, and although I'm not getting that, I do appreciate that I can click on a couple headings and find out how well my son is doing with specific targeted vocabulary. Here's how he did with the reading and spelling tasks for the word "bird":
I totally love Reading Kingdom. Levi loves Reading Kingdom. However, he did get tired of the initial assessment, which we had to complete over several days (he thought it was boring). Once that was over, though, he has been in heaven.
"Mom"!
I hear almost daily, "
Look at this!"
Today, there were pig shaped balloons at the end of his lesson to show his progress. I'm so grateful that these little things are encouraging to him!
I cannot think of anything negative about Reading Kingdom. It is a well executed program that is definitely helping Levi learn.
Like to read what other homeschool-mom-bloggers think? Please click over to the TOS Crew blog to get some other opinions about Reading Kingdom (click on graphic below):
Disclaimer: As a member of the TOS Crew, I received a one year subscription to Reading Kingdom, at no cost to me, in exchange for my honest review. All opinions are mine.