Necessity is the mother of inventions. That idiom perfectly explains how Activity Bags was born.
One 3 year old boy. One mom who needs an octopus of arms, yet only has two.
Two homeschool moms brainstorm some ideas for educational, self-contained activities to keep said 3-year-old busy while mom schools the older siblings. They come up with some ideas…put them in plastic baggies…child uses them successfully…moms share ideas with other moms…..they swap bags to save time and money……
Then, they form a company, write a huge variety of ebooks with the same premise, and inspire great learning and fun.
In a nutshell, that is the genesis of
Activity Bags
– only authors Shari McLean and Paula Reetz have moved way beyond preschool!
My boys (all three, but specifically the 10 and 7 year old) love science experiments. Science elicits the same awe as a magic trick, only without all the slight-of-hand secrets to remember. I become Best Mother of The Year whenever I announce a science experiment day. So, I'm happy to be reviewing the set of three Science Experiment
Activity Bags
. Each of the ebooks is designed for grades k-8 and includes the directions, lab worksheets, and question-answers for each of 25 experiments. Click on each of the pictures below to go to Activity Bag's page for each book (you can see samples there, too):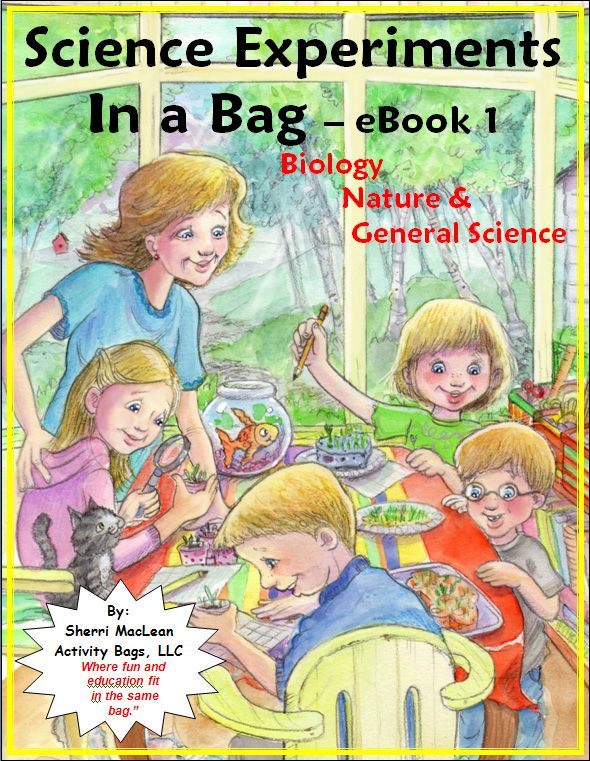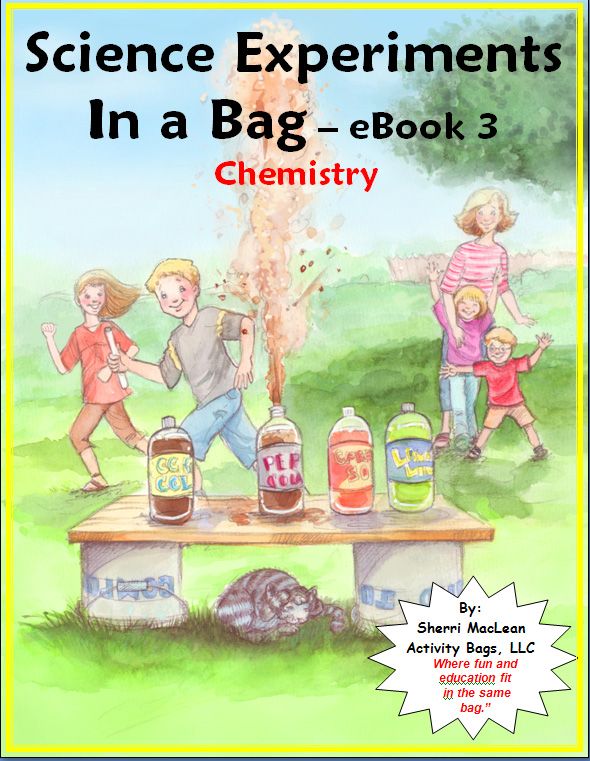 Each of the e-books costs $15. You can purchase ebooks 1 and 2 as a package for a discounted price of $27 or you can get all three of the science ebooks for $39.00.
Each of these ebooks also contains directions on how to coordinate a science experiment swap. What's that? Well, imagine getting the directions to make ten or 20 of one of the experiments. You assemble the supplies in a plastic bag, then gather in a few weeks with 10 or 20 other homeschool moms. You each share the bags you prepared and leave for home with a whole set of unique experiments to do with your kids. Click to read more about an
Activity Bag swap.
How We Used Them:
For this review and the way life is going right now, I decided
not
to invest the time right now to setting up a swap. Instead, the boys and I looked through the ebooks and picked experiments we wanted to try…based on interest and the supplies we currently had at home.
I was particularly interested in the Chemistry (books 2 and 3) experiments. I haven't tackled the concept of chemistry with the boys yet, and wanted to try the experiments to see how they might work as a stand-alone introduction to a topic.
Here are screen shots of the science experiments that are included in each ebook:
Science Experiment Book 1
Science Experiment Book 2
Science Experiment Book 3
Each experiment has several sheets:
Assembly Instructions – this guides you in knowing how many supplies you'll need to make a set of the same experiment bag if you are doing a swap. There is also a page that has the experiment label printed 4 to a page so you can just print this out to help for the swap.
Experiment Log – this is your one-stop shop for all the ingredients for the experiment, the goal of the experiment and the step-by-step directions for your kids to follow. Luke and Levi have been able to follow along and carry out a majority of the steps in the experiments we've tried but I am always nearby in case.
Experiment Log answers – after each experiment is finished, there are sets of questions for the kids to answer to help them explore think about what they've seen and what it means.
Supplies needed for our yeast experiment
For our use, I just printed out the Logs and and an Answer Sheet. The boys enjoyed recording their observations and writing out what they saw.
Turning pennies verdigris with vinegar
My Thoughts and Comments: I think this is a good set of experiments for the younger crowd – say grades 1st -4th or 5th. I tend to like resources that are going to give me good information that explains why things happen – and with the chemistry experiments we tried, I felt like I wanted more information than the worksheets provided. That's not a bad thing – it gives you and/ or your kids opportunities to look up the "why's" of science afterwards. I really like the way the worksheet is organized for kids to record all their scientific method information.
I think moms will appreciate the Science Experiment Categories chart. It will show which experiments belong to which domain of science (biology, chemistry, general science) BUT it also show you which experiments are best done outside. Let me tell you, I've started plenty of experiments that I which would've warned me a little more, "DO ME OUTSIDE."
I really like the idea of an experiment swap – and I'm pretty sure I know a few moms who would eat up this sort of preparatory activity. Come winter, who likes driving out to the store just to gather the required number of Qtip applicators? Not this mama.
testing acids and bases – it finally worked!
To read what other homeschool moms thought of all the different kids of Activity Bags (including math games, travel games, reading games, and preschool bags) please click on the banner below:
Disclaimer: As a member of the TOS Crew, I received a set of the three science ebooks, at no cost to me, in exchange for my honest review. All opinions are mine.