Growing Up Wild
is absolutely awesome, and I so thank the Wild family for following God's lead: not only into missions but in sharing their life and their calling through these entertaining and educational DVDs.
Even before the Review Crew knew about this product, I began to wonder, "
Are there an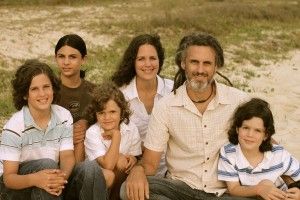 y hip, cool guys out there doing mission work? Who can be a model for my sons?"
We have read many missionary stories from the past. We even know some young adults who have done short term missions. I've even read some great websites from 20somethings young women who have been called into the mission field. But I had a burning desire to have a missionary lifestyle primarily with
men
modeled for my boys. This series is surpassing my expectations!
The Wild family is on mission in Papua, Indonesia. They have four young sons (pre-teen on down) who, with their parents, tell the story about what mission life is like. They show how they harness water for indoor plumbing, how they track and manage their supplies and go on shopping trips for more (it requires a 2 hour hike, a plane ride, and a helicopter!). They share their love of the gospel and God's people.
Each set contains a DVD as well as a CD-Rom Activity Guide. Each 2-disc volume is $18.99 + shipping/ tax.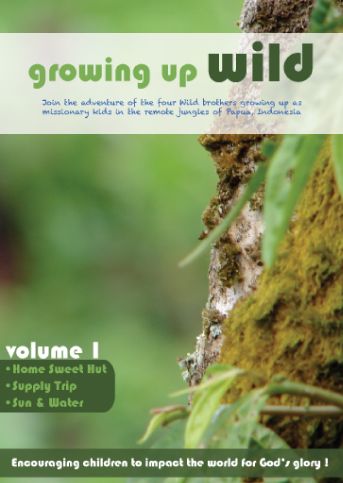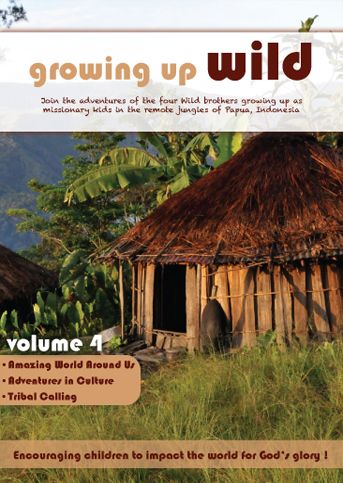 Growing Up Wild Volume 1
Growing Up Wild Volume 4
Home Sweet Hut Amazing World Around Us
Supply Trip Adventures in Culture
Sun and Water Tribal Calling
Besides these two volumes there are three others! You can read previews about the entire set at the Wild Store.
For whatever reason, I cannot get the Wild trailers to load on my blog, but if you click on
About Growing Up Wild
, you can preview several.
At the end of each of the videos (which last about 15 minutes), the Wild family suggests some related activities – ways to connect the culture, living situation, and/or Word of God to your child's life. Levi hunted all over the house for supplies to try to make a Wano hut just like the ones the Wano people live in. I like the idea of keeping track of our supplies that we use on a weekly basis – just like the Wilds have to do so that they can make careful purchases on their supply trips.
Well, to make these activities even easier to do, the Wild family has included a second disc which has a PDF Activity Guide. The guides are under 20 pages and can be printed or read on your computer. There are activities for all ages and types of learners! I can easily adapt the activities for all my kids – 1st grade through 8th grade. Here's an example of one that you can easily print off and complete as you watch the episode again. This uses a Venn Diagram to compare our house to a Wano house:
I really like the episode 'Adventures in Culture.' In this segment, the two older Wild boys get their noses pierced with a stick– ouch! What I appreciated about this episode was (1) the Wild boy's mom admitting her initial reluctance to letting the boys do this, (2) her gradual acceptance (by God's grace and teaching) of this Wano cultural trend, (3) her willingness to be transparent about this issue with the audience, and (4) being able to watch the boys go through the piercing process. It helped me to grow in my own walk with God to understand that the issues of culture are worldly, and God's love transcends culture, trends, and hip-ness. What other issues of "culture" do I allow to get in the way of seeing God's love for all people?
My recommendations & thoughts:
I LOVE this DVD set. I want to get more of them, and use them systematically with the boys. I want to talk with them about culture, God's love for everyone, and missions. Even if my boys never step out of the US, I do want them to see that their own life is a mission for the Lord no matter where God places them.
To read what other homeschool-blogger-moms thought of Growing Up Wild, please click on the banner below:
---
Disclaimer: As a member of the TOS Crew, I received this product, at no cost to me, in exchange for my honest review. All opinions are mine.