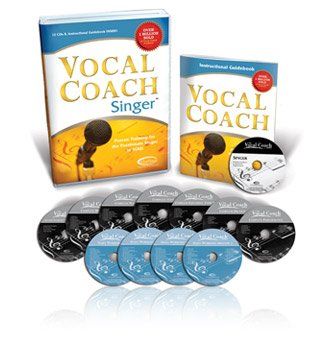 Product:
The Vocal Coach Singer
, a set of 7 CDs, 4 training workout CDs + instructional guidebook and CD with additional PDFs. You can purchase this set as CDs ($119.99) or MP3s ($99.99). The CDs can also be purchased individually.
Vocal Coach
is the creation of Chris and Carole Beatty. Chris is a professional singer, songwriter, author and mentor to singers of all calibers. Listening to his CD instruction, you can sense that he has decades of experience and has a passion for music.
Vocal Coach Singer is designed for any type of singer – from beginner to accomplished. It consists of CD tracks covering the following skills:
Complete Breathing
Complete Warm-Up
Complete Tone
Complete Expanding Your Range
Complete Diction
Complete Performance
You also get 4 CDs which contain a "daily workout". There are two for higher register users and two for medium to low register.
There is also a PDF file set which contains (from the website):
Guidebook – Full-size Instructional Guidebook to ensure success
Printable Lead Sheets – each exercise in our course, plus track lists
Personal Singer's Journal (Getting Started Journal & Workout Journal) to track your progress as you become a better singer
Vocal Coach Song Evaluation – Evaluation form to enable you to make more thoughtful song selections
How We Used This:
OK, you have to understand that it has been 13 years since I sang in our church's choir. My range is not more than 5 notes. I have enough breath support to be heard from the basement yelling, "
Can someone help me get these groceries upstairs?"
And, I hate to admit, my posture is great for someone who sits hunched over a laptop late in the night working on lesson plans and reviews.
So when I mentioned to Ben once that he actually had a nice voice, and maybe he should consider singing more, I never imagined that there was a product we could use at home to help him start at ground zero and move up.
We haven't moved much beyond ground one (is there such a thing?), but Ben is interested and is trying some new techniques.
Vocal Coach is aware that all homeschools are different, and have presented information to help homeschoolers develop a
plan to use their program
. Click on the link, then look on the left column:
We followed their recommended plan: Complete Breathing (which included Posture), the Complete Warm Up, then Complete Tone.
We haven't really gotten beyond this (like I said, we're complete novices with this), but the Beatty's suggestion is that:
Beyond these foundations you can divide the topics into as many sections as your curriculum timeframe allows. Remember: Return frequently to the first three foundations. They deserve and require regular review make the other areas possible. Also, print and use the Getting Started Journal and Workout Journals. They can be photo-copied from the Guidebook or, even better, printed directly from the Singer Printable Lead Sheets and Journals disc.
Complete Breathing
: I think the Beatty's do a nice job with their chosen medium for Vocal Coach Singer. Since it is just an audio CD (no video), they must be very clear with their descriptions of movements and exercises, and I found them to be fairly precise and clear, without taking themselves too seriously. After a detailed description of posture, Mr. Beatty remarks, "Now I'd like to introduce you to Mr. Wall," and proceeds to explain how backing up to a wall can help you check your core body positioning.
After some beginning breathing exercises, I was pretty surprised that the breathing exercises were put to music. Again, excuse my ignorance of vocal instruction, but this was not what I expected. These were a little hard for me to do, because am a mimicker – I have a hard time picking out my soprano part when I only hear lower parts, but after the first two or three examples, just music remained and I was able to complete the exercises by myself in my own range.
The
Complete Warm Up
starts with a biomechanical explanation of why we need to warm up before singing: warmed up muscles are more flexible and can move faster – definitely something you want when singing. The Complete Warm Up reminds me of some of the exercises our church choir completed before we practiced on Wednesday nights:
Posture review
Stretching
Beginning singing exercises (like a hum-chew singing of the scales) which are called Principles.

The remainder are singing exercises with simple syllables. One- and two-syllable scales, lip trills, and chromatics. I found these to be very challenging for someone with little to no previous voice experience. I felt like I had walked into the middle of a class and missed all the introductory information.
The
Complete Tone
CD is really an interesting education on vocal function and health. I have a background as a speech-language pathologist, so much of this was a review for me. There are lots of activities within the first 15 or so minutes of the CD that help educate everyone about their voice. This is good information for practically
everyone
on the planet! The first half of the tracks on the CD help you to explore a good tone. The remainder of the tracks include exercises (some of which were on previous tracks I listened to) to help practice tone.
My recommendations & thoughts:
There is a lot of good and great information in these CDs. Since I've never had formal voice lessons or instruction, I do still feel like I'm missing some basic information about vocal music (my music theory background is not great, in spite of years of music lessons). Because of this,
I think this would be a good product if you have a little bit of music background.
As I mentioned above, it won't tell you what to do day-by-day, but it will give you all the tools you need to work on all the facets necessary for improved singing – and communication. , so I would definitely consider using this with older students (teens on up).
Vocal Coach also sent an elementary program for voice instruction called
Teaching Kids to Sing
to Review Crew members. To read what other homeschool-blogger-moms thought of these two products, please click on the banner below:
---
Disclaimer: As a member of the TOS Crew, I received this product as a downloadable product, at no cost to me, in exchange for my honest review. All opinions are mine.