Science is such a fun topic to teach children. They are so curious about everything and God has done such a bang-up job creating a world where discoveries never end!
Our family has used many types of science curriculum over the past 9+ years of homeschooling. One that we've returned to several times is
Apologia Educational Ministries'
elementary science books.
I've been trying out their relatively new (2010)
Exploring Creation with Human Anatomy and Physiology
(A&P) with Luke and Levi. If my kids had to write a review of this program, it would be one of the world's shortest reviews: they love it. They whine and moan on days when I do not have A&P scheduled….and conversely, they think I'm the world's best mom when we do have science. Oh, and if it is a day with a "Try This!" hands-on activity?! Well, they might just like me more than ice cream. (They are New Englander, and New Englanders love their ice cream and
a lot.
)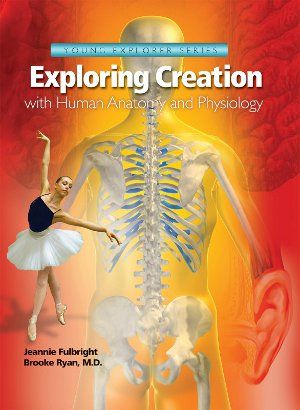 For this review, I was sent the hardback
textbook
($39.00), which has 14 chapters and is recommended for grades 4th-6th; the
regular Notebooking Journal
($24.00) appropriate for upper grammar students; and the
MP3 Audio CD
($19.00). There is also a
Junior Notebooking Journal
($24.00) for younger elementary students who are tagging along.
This is a very complete A&P course for elementary students covering the following topics:
skeletal system – muscular system – digestive/ renal system – health/ nutrition – respiratory system – blood – cardiovascular system – nervous and endocrine system – the brain – senses – integumentary system – lymphatic/ immune system – growth and development

You might be curious to know that reproduction is not included in this book. This final chapter (Growth and Development) discusses development in the womb, but does not explain how a child gets in the uterus nor does it show pictures of the female uterus. After a month-by-month discussion of the development of a baby in utero, a short discussion continues about growth and development outside the womb. Puberty is discussed as follows:
"…The major changes in this regard occur during puberty…and they usually begin between the ages of 9 and 13 for girls and 10 and 14 for boys. During puberty, children grow much taller, and the differences between males and females become more obvious. In short, you are becoming a man or a woman so that eventually you can marry and have children of your own."
I think this is a wonderful way to handle such a special subject, that allows parents to tailor further discussion based on the child's age, development, inquisitiveness, and family values. If you would like to see a specific table of contents for the book (which includes chapter sub-headings) you can download a PDF
Table of Contents
.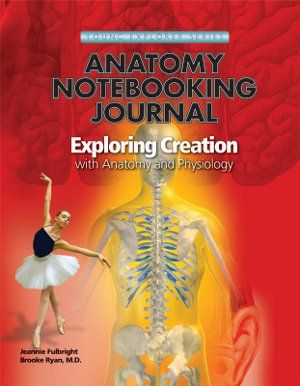 The journal has two very helpful sections: a week-by-week schedule that you can follow to help you move through the course in 28 weeks (you complete one chapter every two weeks). Across two days per week, it schedules out not only the hardback text, but also the activities in the journal and the projects/ labs. The second (and longest part) is a chapter-by-chapter journal for your student to record his/ her work. Each chapter includes room for personal narrations, recording facts and drawings, a vocabulary crossword puzzle, copywork (offered in print and cursive fonts) and space to write out lab reports. There are also mini-books that can be completed for each chapter and there is a cool Personal Person to create, which illustrates the body system studied through the year. You can view a
Journal Sample
(
junior
is here) at the Apologia website. Want to know lab supplies? Here is a
lab supply list
, too.
The mp3 recording of the textbook was made by coauthor Jeannie Fulbright. (the other author is pediatrician Brooke Ryan, M.D.) It is *almost* a word-for-word reading of the book – great if you have non-readers or if you want to listen to it on an extended car trip. I typically enjoy reading (and cuddling) with the boys, so we didn't use this audio that much. However, in the interest of trying new things, we all cuddled up to the CD playing on the laptop (it opens up in a pseudo-iPod app), the book and a blanket. Jeannie's voice is pleasant and we followed along with the text. She does not read the
Try This!
or labs – only the text. Despite seeming a bit fast for a read aloud/ recording, it was nice to not be straining my voice.
How We Used This:
Like I mentioned, my younger two (4th and 1st grade) love this book and beg me to read it daily. We have it scheduled out to use 3 times per week, so I tend to use the schedule in the journal as a guide. We usually read a section or two of the book and complete any
"Try This!"
hand on activities that we have read about. These are not full fledged experiments (although we've gone ahead and written out hypotheses statements about a few of them), but hands-on opportunities to understand some of the material.
I find that some of the recommended reading sections on the schedule can be long, so if you are more of a Charlotte Mason mama, who likes shorter sections of readings, you might want to adjust the schedule and work on it 4-5 times per week instead of two longer chunks of time.
One of the
Try This!
activities the boys liked (so far) was learning about the importance of both the skull and cerebrospinal fluid to protect the brain. We placed an egg in a small prep bowl before lightly jogging and shaking the egg for two laps around the house. Next, we put a second egg in a small prep bowl filled to the top with water and repeated our jog. Guess which egg survived?
Here's another picture from a
Try This!
activity that helped us see what embalming does to an organism:
One of the Try This! activities was to embalm half an apple (right) with salt and baking soda.

One of the things I appreciate about this text is that it is not written in a boring/ textbook manner. The writing style is engaging, almost as if I was carrying on a conversation with my kids about this topic. I love that about the elementary science books from Apologia! (Click on the link at the bottom of this review to see what other reviewers though of the rest of the elementary curriculum from Apologia.) Mrs. Fulbright and Dr. Ryan also ask questions of the students in the text, which makes it less like a lecture and more engaging.
My boys don't care for Jell-O, but they sure love making and eating candy cells!

The book does not hesitate from using scientific terms and explaining above grade-level information. However, they are presented in kid-friendly fashion. Luke and Levi know all the major parts of an animal cell now, but they know them in the context of a "city" (the cell) where each organelle has a job: the mitochondria is the power plant, the Golgi bodies are the grocery stores, the nucleus is the government. This analogy has really helped my boys to continue to remember the functions of these organelles.
One of the different things I'm doing with the journal is that I'm using some of the Amazing Fact sections to help him learn some basic note taking skills. I could, of course, have him do this on separate notebook paper. But, using the journal is motivating for him, and I'm gonna use as many motivating tools as I can to get this kid to write more! So for us, Luke is writing down interesting facts as well as other information (I had him outline the five jobs of bones).

I always have Luke complete the vocabulary crossword puzzle and we also complete each chapter's narration/ quiz called What Do You Remember? These are open ended questions that target the main themes and material for each chapter. As we progress through the text this year, Luke will have more and more responsibility for writing down his answers to these questions; as it is right now, I'm taking dictation of his responses.
My recommendations & thoughts:
Have I mentioned enough times that we liked this curriculum? If there is any doubt, we LOVE this curriculum! I think the authors have done a great job of making some difficult and detailed information accessible to elementary aged students. They've accomplished this with creative writing, lots of hands-on activities to illustrate principles, and helpful add-ons that make teaching and learning fun.
One of the things that I've had to work through is not getting all uptight if each page in the student journal is not complete. I need to remember that it is a tool for learning – and not each of the tools in the book will be necessary each week. Remember, you are the master of the curriculum – it does not master me!
To read what other homeschool, blogging moms thought of Apologia's elementary science programs – including the Zoology series -- please click on the banner below:
---
Disclaimer: I received a free copy of this product through the Schoolhouse Review Crew in exchange for my honest review. I was not required to write a positive review nor was I compensated in any other way. All opinions I have expressed are my own or those of my family. I am disclosing this in accordance with the FTC Regulations.