I might have a linguist on my hands in the shape of my adorable 7-year-old boy.
Levi has told me that after he finishes
Classical Academic Press'
Song School Spanish, he wants to learn Greek, Russian, Latin, and German. I
might
have purposefully blocked out the other six or seven languages he rattled off.
To say that Song School Spanish has made learning a second language during our homeschool day easy – effortless even – is an understatement. In about 20 minutes per day, Levi is learning Spanish pronunciation, the alphabet, common greetings, and vocabulary through songs, a few simple workbook activities, a couple of puppets-on-a-stick: our new friends Tortuga & Conejo.
What I reviewed:
Levi and I received the student
Book and Song CD
($24.95) as well as the
Teacher's Edition
($24.95). After seeing how adorable the books were, I went ahead and splurged on the
Spanish Amigo Match Flash Cards
($26.95). These cards have really been worth it for us – because Spanish gets done twice as much as if I had had to make them! Thankfully Classical Academic Press (CAP) also put together a
bundle
, which includes the student book/CD, Teacher's Edition and the flashcards for $66.95.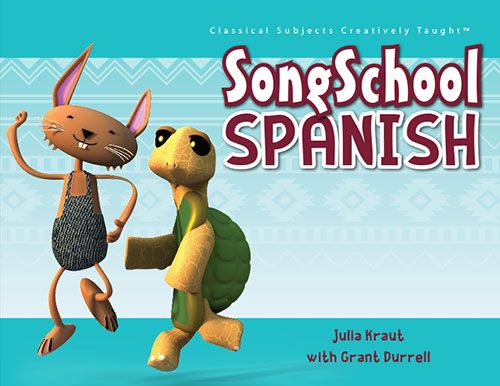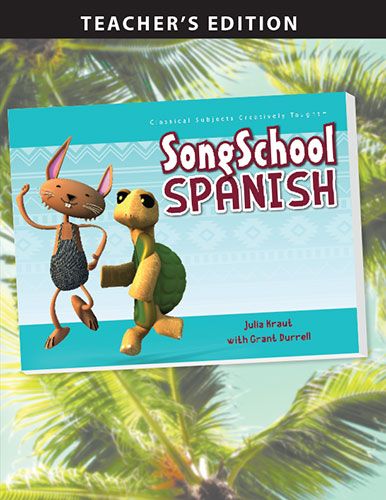 Designed for grades kindergarten through 2nd, the 31-lessons guide young language learners through basic vocabulary for greetings, family names, colors, animals, classroom words, manners, seasons, and more:
There are 25 lessons and 6 review lessons. A lesson (usually 2-3 pages in the beginning) are divided into several sections:
Words to Learn – A list of the vocabulary for the chapter
Chapter Songs – The vocabulary is always used in a mixed English/Spanish song which actually teaches the meaning of the vocabulary and provides a great model of pronunciation. Here's one of the verses from Chapter 5 that we just finished up this week:
My padre is also my father. / My madre is also my mom. / Hermano is my little brother, / and I'm the hermana, you see. / Padre, padre, padre is also my father. / Madre, madre, madre is also my mom. /
Chapter Lesson – This section is written to the student, and explains the words and their usage. For example, in Chapter 8, the lesson is learning about the male and female articles "la" and "el" for nouns.
Practice Your Spanish – This is an opportunity for your young student to learn about reading and writing in Spanish. There is copywork to trace and mixed English/ Spanish sentences to match for proper vocabulary usage. Sometimes your child gets to draw a picture of the lesson:
Show What You Know - This section usually has some multiple choice questions that students have to practice using the correct vocab word.
There are often one or two more sections in a chapter – a play with Conejo and Tortuga, a story with the Spanish vocabulary inserted into the English narrative. Sometimes there is a review section to practice previous vocabulary.
What I like about the lessons is that there are predictable sections and unpredictable sections in each chapter. That probably doesn't make sense, right? Well, the beginning of each lesson builds off of a pattern that is consistent. This consistency makes starting the lesson easy – I know that the first day Levi and I sit down with his book, I don't have to worry much else – all we need is his book and the CD and we're good to go. But, I like that there are some different activities that shake us out of our complacency and get us using our Spanish words. I am finding that this mixture of structure and novelty is a nice balance to help us stay the course of the program, while not boring us to tears with the same-old-same-old in every lesson.
The review lessons (we've only completed one so far) are usually 6+ pages long (they, too, get longer as the book progresses). The vocabulary words from each chapter are reviewed, the song lyrics are reprinted, and there are additional written exercises to work out.
How We Used This Program:
Although the Teacher's Edition provides a perfectly wonderful 3-day suggested lesson plan, Levi and I usually work through this program 4 times per week. Or 5 days a week – if Levi had his way each and every day. It is honestly difficult to get Levi to slow down with the workbook material and make it last two or three days!
On the first day, we practice one or two pages per chapter. We try to listen to the songs every day, and I try to have Levi do the writing activities from the "Practice Your Spanish" on the second or third day. We usually play a game or two of Go Fish or Memory Match with our cards two or three times per week. Since each card has the translation written in small print on the bottom, Luke has sat-in on a Memory Match game with Levi and has been a good substitute for me when I've gotten pulled aside.
I have to admit that with all the great material in the student book, I keep forgetting to turn to the back of the Teacher's Edition and copy off the additional worksheets that are provided! There is an extra page of games and puzzles for each chapter, two-pages for each review lesson, and a four-page end-of-book review. This pages include things like word puzzles, word searches, and even a crossword puzzle or two. Levi loves word puzzles, so I guess I better photocopy these pages this weekend! He will love me for it.
The Teacher's edition contains a helpful introduction which explains the teaching method of the program, the available resources (there many additional helps available for free on the CAP website), and a suggested schedule. The student workbook is reprinted at about 50% of the original size with the correct answers. The additional worksheets are in the back of the book as well (with answers!).
I encourage your to click over to samples of the
student book
,
songs
and
teacher book
– CAP is very generous in showing a variety of their materials on their PDF samples, and I think you'll be impressed! Don't forget to check out the online vocabulary flash card game at CAP's
HeadventureLand.
Levi also likes going to this site, where I can feel safe knowing that he is practicing something fun and educational at the same time.
My recommendations & thoughts:
This is another product that I know we will
not
be able to stop now that the review is complete. Levi just loves the workbook and songs so much. I'm constantly impressed at how much Levi is learning through the songs. Sometimes the songs have brand new tunes, and while other times I can tell the tune is to a common childhood song. Either way, his pronunciation (and rolled "r"s) is coming along quite well! He truly loves learning Spanish with this program, and I'm so please that the program has been effortless for us to fold into our busy days. Luke (10) will even sit in with us for some songs and lessons (and games, of course), so I think it could definitely be used with a child beyond 2nd grade – especially if you are wanting to keep siblings together.
Not only were
Schoolhouse Review Crew
members able to review Song School Spanish, some members were able to try out their God's Great Covenant Old Testament Bible Studies (there are two sets). To read what other homeschool, blogging moms thought of all these great Classical Academic Press products, please click on the banner below:
---
Disclaimer: I received a free copy of the Song School Spanish Student book/ CD set and Teachers Book through the Schoolhouse Review Crew in exchange for my honest review. I was not required to write a positive review nor was I compensated in any other way. All opinions I have expressed are my own or those of my family. I am disclosing this in accordance with the FTC Regulations.