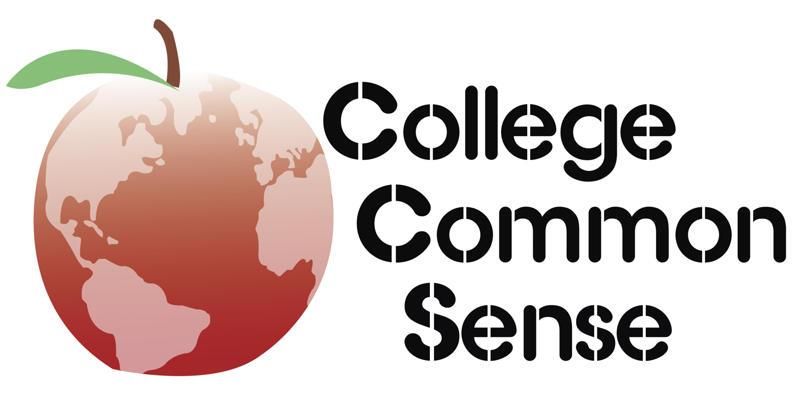 In some ways it seems hard to think about college when Ben and I are making decisions about high school. But at the same time, thinking about the big picture (college and beyond) is helping us to filter through all our options for high school program.
I wasn't at all hesitant to give
College Common Sense
(
http://collegecommonsense.com
) a try. Created by Denise Ames, a financial aid specialist from a small Texas college, the
Going to College and Paying for it Online Video and Workbook
($25 for a 12-month subscription; $50 for a physical copy of the DVD and workbook) is a product that is primarily designed to help high schoolers (and I would definitely begin thinking about using this in the sophomore or junior year) understand the entire financial aid process of attending college. Since the average college tuition in the US is increasing approximately 15% each year, I cannot think of one person I know who does not wonder how to help their child navigate the college funding issue.
What do you get with
Going to College and Paying for it
? Well, in some respects you are getting a financial aid counselor all to yourself! This is a set of 6 online videos with accompanying PDF downloads of notes (which correspond to the videos) and grade-appropriate lessons/assignments that correspond to each segment. Each segment is between 20 and 30 minutes long. The segments are called:
The Big Picture – This section gives you an overview of applying for college and financial aid – sort of like a "So You Want to Go to College 101" seminar. She explains the basics of what financial aid packages include and how to figure out the true cost of going to college.

How Financial Aid Works – Denise explains the importance of the FAFSA (Free Application for Federal Student Aid), the basics of how to fill it out (since the form changes a bit every year, it is not a step-by-step guide, but Ms. Ames does give some helpful tips). She also explains the difference between scholarships, work study and loans – and how each can help make a college education affordable.

All About the Free Money – Is "free" one of your favorite words? It is one of mine! This section reviews the importance of determining scholarship/ grant monies to help pay for college.

The System That Works – Ms. Ames has created a scholarship binder tickler system to help students stay on track of the mass of paperwork that college applications and scholarship applications creates. You can see a YouTube video of Ms. Ames explaining the system here:
In the video series, she walks you through the day-to-day use of the binder. She also walks students through the process of writing scholarship essays, including the hardest part (in my opinion) – brainstorming.

You in the Process – This is a great step for Ben to be in right now. Ms. Ames calls it the "All About Me" notebook – a place to record dreams, ideas, beliefs, and even plans to achieve goals.

Pull It All Together – One of the things I really appreciate and like about this entire series is that Ms. Ames truly tries to help students understand that their decisions, attitudes and actions will determine their future. Although this theme is repeated often in each of the videos, the final video really punctuates this idea. If your son or daughter is not understanding their own personal responsibility towards their future, well, the cost of the entire series just might be worth it to have an outside party stress this to him/her!
Each PDF document that accompanies the video segment has a code that helps you to tailor the content of each video to your child's age/stage of development:
A - Ideas to help parents of elementary school age

B - Parents and students of middle school age

C - Parents and students of high school age

D - Parents and students of college age
For example, after watching the first segment, Ben and I were supposed to familiarize ourselves with how to tour a college/ university and how to investigate different colleges (such as using online guides).
How We Used This Product:
My intention with this product was to watch the first couple videos by myself, then re-watch them all with Ben and work through the suggested activities that are included in the PDF that comes with the subscription.
What I found, however, is that for my 8th grader, the videos were still quite abstract. He has had the dream of being an Air Force Pilot for about two years, but has only in the last few months expressed an interest in college majors. In all our talks about high school, Ben has decided that maths and sciences need to be a focus because he'd like to look at being an engineer. I just love that he is starting to think about his future from different angles.
We homeschoolers are usually pretty good at adapting things to meet our children's needs – and that is exactly what I did with Ben. Instead of setting up a tour at our local state university (it's winter, here, folks) Ben and I toured the website a bit. And, since Ben's interest is in engineering, I gave him the assignment to look through the engineering school's website. He also had to investigate engineering fields of study and begin to learn about their professional scope to help him make informed decisions about college courses of study.
Since I reviewed this with my middle schooler, I tracked which video segments had assignments for parents and students to do together. Segments 1, 3, 4, and 5(the first segment with an elementary-aged assignment) had activities to do in an All About Me notebook. The sixth segment's suggestion was to go through the video series each year, refining and personalizing the information as your student matures.
I should mention Ben's response to the video segments. Given where he is (just beginning to think about college, life, and what to be when he grows up), he found the videos to be long and dull. I really had to force him to sit through the first two. The second one (all about financial aid) was very hard for him to sit through. On the other hand, I found all the information to be really interesting and a good review for me about the financial aid and scholarship process. In retrospect, I would have watched the videos a bit more critically, and encouraged him to sit through portions of the videos that I felt were worthwhile for a soon-to-be high school freshman.
Another thing I want to mention are Ms. Ames' free email. Her newsletter (sign up for it
here
) and her free
lesson plans
, in my opinion, are great ways to be more intentional about the process of equipping your children for college. I've only been receiving these for a month or so, but these are the themes for each week:
Week 2: Timed Tests
Week 3: Scholarship
Week 4: Future Trends
I found the lesson plans to be more encompassing for students of all ages and really easily to implement. For example, although Ben has taken several standardized tests over the course of the years, I've never enforced a timed test for one of his subjects. Thankfully, he had both a unit test and final test for math during the past month, and I gave Ben time limits for these.
Last week's topic for Future Trends encompassed some great ideas to help spur thinking in problem solving, applied science, innovative and creative thinking, and written expression. If your children journal daily and need material to write about, some of these suggestions would make great research/ writing prompts!
My recommendations & thoughts: I've been thinking a lot about who I would recommend this product to:
Parents who have never attended college

Parents who have little experience with financial aid and scholarships

High school sophomores through seniors
I would also suggest this product for parents who have middle school students who are thinking clearly and intentionally about their future. If your middle school student is like Ben (just beginning to think about career and just beginning to investigate related college majors), then this might be a good product for you as well. If you only have elementary students, I would bookmark this site and save your pennies for purchasing this in the future.
I would also suggest incorporating ideas from the lesson plans Ms. Ames sends – especially if you have middle school students and freshman or sophomores.
To read what other homeschool blogging moms thought of College Common Sense, please click on the banner below:

---
Disclaimer: I received a free one-year subscription of this product through the Schoolhouse Review Crew in exchange for my honest review. I was not required to write a positive review nor was I compensated in any other way.All opinions I have expressed are my own or those of my family. I am disclosing this in accordance with the FTC Regulations.