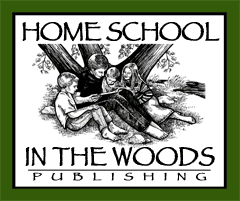 I have to admit that outside of Luke's trumpet lessons and a jazz concert we all went to this winter, I have been very negligent to incorporate music into our program this year. When I saw the opportunity to review Home School in the Woods' Hands-On History Activity-Pak: Composers (which I have been drooling over since I noticed it at a convention a few years ago), I jumped up and down with excitement.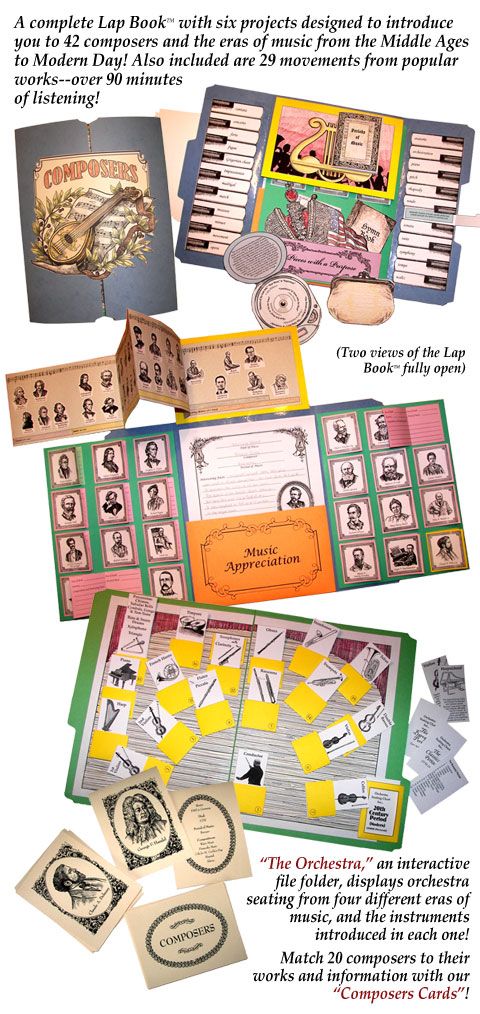 My intention was to use this with Luke and Levi (this has been a hard year for Ben in terms of managing his work, and I am hesitant to add anything extra to his plate right now), but it was Levi who just lit up with this product arrived via download. The Composers Activity-Pak ($18.95 download; $19.95 on CD) is a huge assortment of hands-on activities that will help you explore classical music from the middle ages up through the 20th century for grades 3-8.
This lapbook is a bit different from others we've done this year and in the past. First off, there isn't just one lapbook – This is a collection of tools to showcase what your child has learned about classical music. Here are the parts:
Composer study – Little books are made in which you'll write what you learn about the 42 composers from the middle ages through the 20th Century.
Musical Terms – cleverly hidden under piano keys, your student will learn a variety of musical terms, from 'opera' to 'minuet.'
Timeline of musical periods and composers- a fold out timeline shows when composers lived in relation to one another as well as the chronology of the periods of music (and their overlap)
Music appreciation- Over 20 clips of music are provided on the download; a page is provided that your student can write down some basic information about the composer as well as draw a picture that is evoked from the music.
Orchestra instrument study- You will need a second file folder to complete a stand-alone orchestra with cards for each instrument tucked into its own pocket. A guide is provided for you to add and subtract instruments as they might have appeared in the orchestra during over time.
How history and music have intersected at select points in time – these are artistically drawn mini-books that you print out, color. Then you can affix pre-made paragraph narratives about how music was important during different periods of time:
I think that each of parts (#1-5) could stand alone as a guide as you introduce classical music to your student.
Which gets me to the next part about this product: this activity-pak is a guide, an outline of sorts. This is not a unit study, with background information about the 42 composers provided. There is no 100+ page guide to lead you through this study. You will want to explore online or use the resources you already own to write about the composers you encounter. There is a page that you can print out that lists about 40 books, audio and video resources you could use to complete this Pak. Also, outside of instruction on how to build these projects, there is no suggested sequence for completion of this lapbook.
I want to be sure my readers understand that this isn't a prepared unit study, because even after reading the website before requesting this product, I wasn't quite clear about what exactly was included in this activity-pak. But once I saw these beautifully illustrated pieces, I was in love and am determined to use this in its entirety over the next year.
Yes, I said year. For us, music appreciation is something that definitely needs to happen more often, but the amount of material in this activity-pak is so huge, that I can see it best used over the course of a several months. If you study history chronologically, you could probably use this over the course of three years of study (Middle Ages, early modern, and 20th Century to present).
How We Used It: Levi was the one who was immediately drawn to this lapbook. Luke wasn't horribly excited about a classical music, and since I knew we were going to use this for a looong period of time, I gave him a pass for the review period. The website suggests grades 3-8, but I can tell you that my 1st grader is loving this.
So, this was a Levi and Mommy project. We used this 3-4 times per week initially to cut out pieces, glue, tape and generally create the basic lapbook. I will admit that I was initially very overwhelmed by all that was included. Directions for each of the components are provided but it did take me a few days to get a feel for where everything was located from the opening screen. Here's a screen shot of part of the opening page of the download. It opened in my Firefox web browser:
Then, we went to work! The adorable little book on the music stand provided a just-perfect introduction to musical periods. As we read through the booklet, we highlighted vocabulary and found the definitions to put under our keyboard:
and here's the adorable music book (we didn't build the music stand sheet music shelf):
As we've read through the music periods, we also stopped to find examples of some of the composer's work – either online (Gregorian Chant such as this one) or from one of the snips than came with the activity-Pak (they are in mp3 format). Each sample is only about 2 minutes long – perfect for our purposes.
As we listened to different composers, we added their mini-book to the lapbook. Here you can see some of the composers we've listened to:
you can click to enlarge to see the contents of the mini-book:
I decided that we would wait until the fall to fill in the booklets. Since Luke and Levi will both be working off this one lapbook, I'll go ahead and let them take turns filling out the information. We have a great book called The Story of the Orchestra that has information on composers as well as orchestral instruments. We also have several Classical Kids CDs (like this one for Vivaldi) to listen to. This will serve as our spine for our studies.
Finally, just last week, I decided that we would go ahead and print out the parts for the instruments of the orchestra lapbook folder. Here's the pieces:
This self-contained folder project will be perfect for us next year as we read The Story of the Orchestra and learn about the instruments!
My recommendations & thoughts: I think this product will appeal to a great number of homeschoolers, but depending on the type of homeschooler you are, you'll approach this differently. Here's how I think different homeschoolers will approach this. The On-The-Fly-Creative Homeschool Mama who are really good at improvisation, will not be phased at all by this lapbook's lack of step-by-step directions. You are the mamas who have the *perfect* books at your fingertips (whether it is one you own or you know the exact shelf to find it at the library) which will enrich the study. I wish I were more like you-all!
The Top-Down-Needs-the-Big-Picture-and-time-to-think Homeschool Mamas (like me) will love this lapbook after a short period of confusion. If you are like me you'll open and close this product a couple times, make sure you downloaded all the components (seeking the directions!). Then you'll carefully mull it over, let it sit for a day or two while you think "where do I start?" Then you'll jump in, own the product and it will be a huge blessing for your family.
For the Structure-Please Homeschool Mamas, I want to encourage you that you can indeed use a product like this. You will pour over the suggested resources provided on the download, create a detailed lesson plan to complete in X number of weeks (probably 36 so that it nicely aligns with all your other curricula), and you'll have picture perfect, beautiful lapbooks that show a great appreciation for all things classical.
Schoolhouse Crew members were also given the opportunity to review Hands-On History Lap-Pak: The 20th Century in America and Great Empires. To see what the rest of the crew through of the Composers Pak and these other kits, click to read more reviews from the Schoolhouse Review Crew.
---