Knowledge Quest
has published a relatively new iPad app called
TimelineBuilder
($6.99 at the app store). The boys love any excuse to use the iPad (which I've tried to keep clear for educational apps and just a few games), and I knew they'd love a chance to help me review this.
Personally, I LOVE looking at timelines and such. I really enjoy the visual of seeing events and their overlap – especially amongst disciplines, such as science and history or art and science. The connections between events sometimes don't become apparent until you can actually SEE when they happen, instead of just reading a narrative of these events.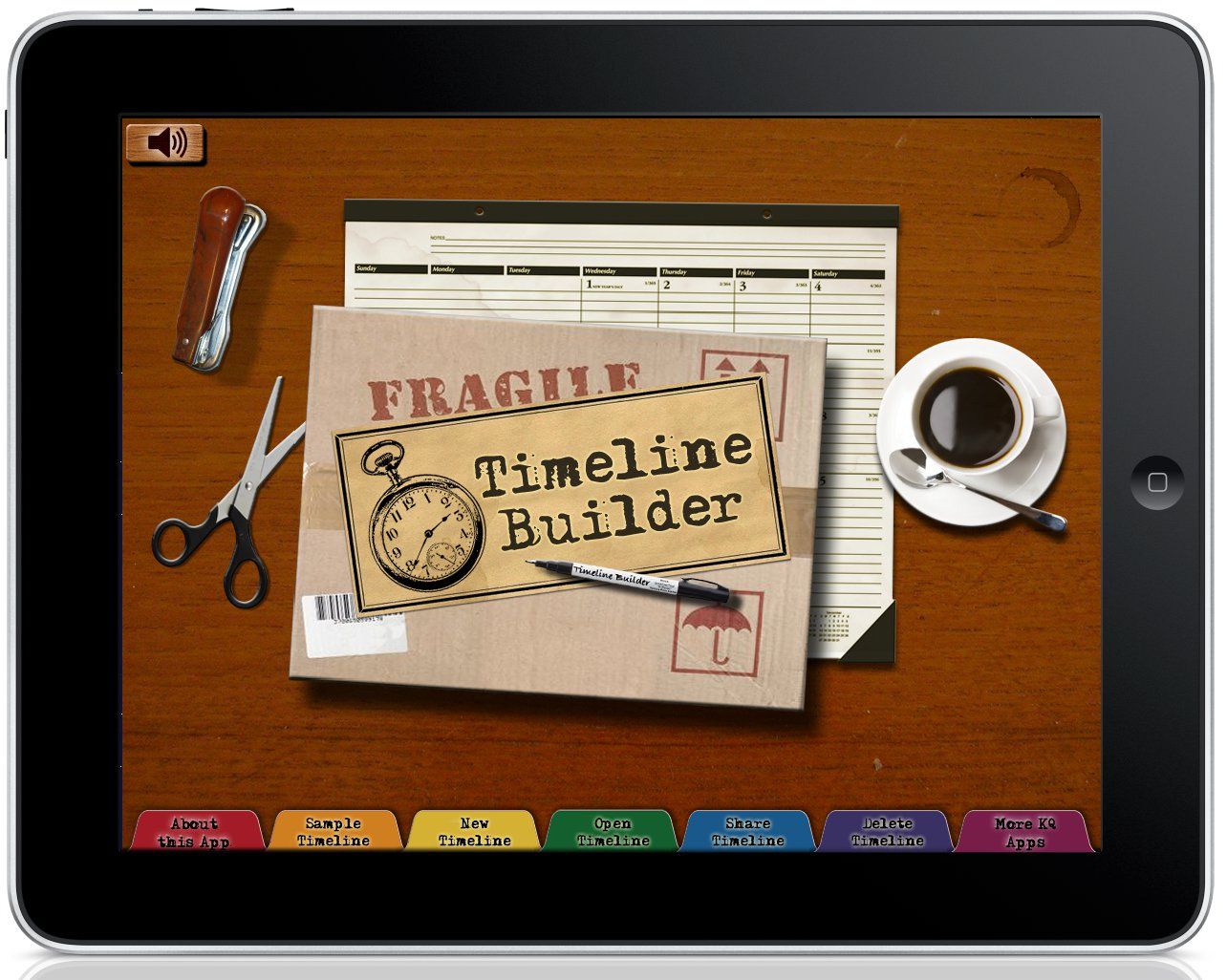 We've had some limited success with "20th century timelines." Perhaps you know what I'm talking about – pieces of paper with a horizontal line drawn through the middle and cut out pictures or drawings pointing to spots on the line with a short sentence or two describing the event. Ben and I always started off the year excited to watch history unfurl, but the creation of a timeline quickly lost its glamour about the same time we realized we lost the next important picture we needed to cut out.
How We Used This App:
I've been kicking myself most of the year because I haven't done much timeline work with Luke, who is in 4th grade. Although Ben and I began making timelines much earlier in his school tenure, I waiting for Luke because it seemed that Ben's early experience with timelines did not really carry much meaning for him. Also, since we've been reading about history in the 1900s, I thought it would be much more meaningful to timeline events that allow us to integrate our personal family history.
During our review period, Luke and Levi used the
TimelineBuilder
app to recreate our history studies this year:
One of the neat things you can do is rearrange the picture in any configuration you'd like. At one point, most of these lines were crisscrossing one another; there is a "snap to vertical" feature that allows a more orderly appearance. There is a zoom feature as well, which gives you the ability to zoom in if you've added a lot of events to a small area. Unfortunately, even when you zoom in, the starting/ stopping points of events that cover multiple years is still difficult to distinguish. I wish there was a way to change the colors so you could layer events with visual ease.
Then, they decided to make a timeline of their lifetime (including Ben) and important events. You can really create as many timelines as you'd like!
OK, please do not leave me a comment that the boys spelled "Super" Bowl wrong. And, yes, 9-11 was in 2001 – we haven't gotten there in history yet. I just love that the Patriots won the "Supper Bowl" championship. ("Super" is now on Luke's list of review words for spelling this week.)
In this timeline, the boys used the iPad's camera to take freaky pictures of themselves to add a personal, contemporary edge to their work. And, here, I did not use the "snap to vertical" so that you could see how to you have complete freedom to put information wherever you want.
I loved how both Luke and Levi had to spend time looking up events either online or in books to get the dates correct. Is is a bit confusing for them that we have elections in the even years, yet the terms do not start until the next year.
In encourage you to
watch the video
about how to build timelines.
OK, so your timeline is created on the app – now what? I went ahead and emailed the timeline to myself, thinking that I could insert it in this review as well as print it out to include in the boys' history notebooks. The the interface where you can choose what to share and how to share it:
When I looked at my email, I was surprised to see a long, rather list of text that corresponded to each of the timeline items. I suppose had we added more content there would be more meaning there – maybe I could even use that content to make flashcards for the boys. Here's part of the data I received:
The best part, of course, was looking at the images we made, which are sent as jpg attachments. I went ahead and printed one – they look great and will be an awesom addition to the boys' portfolios!
Pros:
Simple interface makes the app accessible to even a 7-year-old
Seamlessly integrates with Wikipedia via Safari web browser
Can use personal photos as well as web images
Can create multiple timelines for any purpose
You can chose from a variety of backgrounds.
Wishlist:
Dots on the timeline and frames around pictures color coded so that the TimelineBuilder user can merge events from different genres – literature, history, science etc.
More manageable image editing. Each picture we found on Wikipedia became distorted when it was imported to the TimelineBuilder. Sure, we could readjust it once the image was on the timeline, but this was a cumbersome way to edit the picture. It would also be nice to crop it or enlarge it within the program.
Not really a wish list item, but just a note to families that use alternate browsers on their iPads (like using apps for internet filtering and safety): you will not be able to use these alternate browsers to import your pictures from the Wikipedia in-app link. We had to turn our K9 web filter off to review this app so that this link would work.
Overall, we really enjoyed this app, and I know we'll be using it for years and years to come.
Click to read more reviews from the Schoolhouse Review Crew