One thing that constantly bothers me about the home education program that I've designed for the boys is that I'm not good on implementing art programs. I can drool over them, buy them, gather supplies….but when it comes to setting aside the time for art – well, I just stink at that.
Thankfully, God is in control of my homeschool, and I was surely blessed to be chosen to review one of See the Light's new art project DVDs, God's Runaway ($14.99).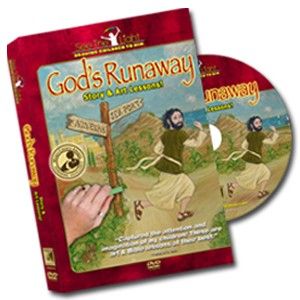 This DVD includes over 250 minutes of art instruction and appreciation in which the boys completed three art projects, each demonstrated by a different artist. I really appreciated that different artists were included on the DVD – it added variety and diversity to the projects. (I really like it when competent male and female teacher can mentor my boys. I think it is important for boys to have teachers from both genders.)
Ideal for ages 6 and up (I have no trouble at all agreeing with See The Light's age recommendation), the projects involves something really fun and different in art programs – a black light! When you are done with this, I guarantee that your children will be sitting in the darkest room or closet in your home for at least a half hour marveling at their artwork's unique colors and shading because of the special fluorescent crayons, pencils and chalks used in the projects.
What's Included: I mentioned that God's Runaway DVD project included more than 250 minutes of art instruction – well, it is 268 minutes to be exact. The three projects include
Lettering. I thought this was really creative – the kids drew fish shapes and practiced lettering within the water blast of the fish.
Chalk Pastel scene. I really appreciate that the boys had the opportunity to work with more than just crayons, colored pencils and markers.
Mixed Media. The boys used a Sharpie marker, paints and fluorescent colored pencils to create a really unique take away message from the Jonah story.
How We Used This: Really, using this See the Light project DVD couldn't have been any easier than inserting the DVD and letting the boys follow along. I was able to find all the necessary art supplies at our local Michael's except the fluorescent chalks – those I need to order through Amazon. Prices, however, through See The Light are really reasonable and comparable to prices that I found for our necessary materials.



Here are some of the special art supplies we needed for this project

Theoretically, you could use this project pack weekly over the course of a month and have a three art lessons and an art appreciation lesson as well via the the bonus features found on the DVD:

-Watch as the original contemporary music performed by "Breathing Room" recording artists Jan Roper and Kevin Dukes while watching Gloria Kohlmann draw her remarkable art expression of this story.

Watch and Hear The Plan of Salvation, clearly and creatively presented as you have never seen it. (7 minutes)
Hear See The Light chalk artist Gloria Kohlmann's commentary as you watch a story scene being created.
My recommendations & thoughts: My boys absolutely loved this product and have already asked for more art lessons from See The Light. I loved knowing that the boys were in good hands. Another great benefit of this program? I've seen LOTS more art pop up around the house since we completed the DVD:
It really has been a hugely inspirational product, and we're so blessed to have used it.
Please check out other See The Light art projects packs – some of which are Bible stories, while others practice techniques of the great artists of our time:
Bible themes: God's Special Surprise (6+), Shipwrecked (6+) Dreams of Joseph (10+)
Art Themes: Cartooning (5+), Tiffany Window (10+), Repeated Sweets (10+), Paper Jungle (10+), Pointillism Fruit (10+), Poppy Collage (10+)
Click to read more reviews from the Schoolhouse Review Crew
---