Still searching for the holy grail of organization systems, I was intrigued to try Mystie Winckler's Paperless Home Organization ($3.99 for a 75-page PDF or Kindle download) from Simplified Pantry.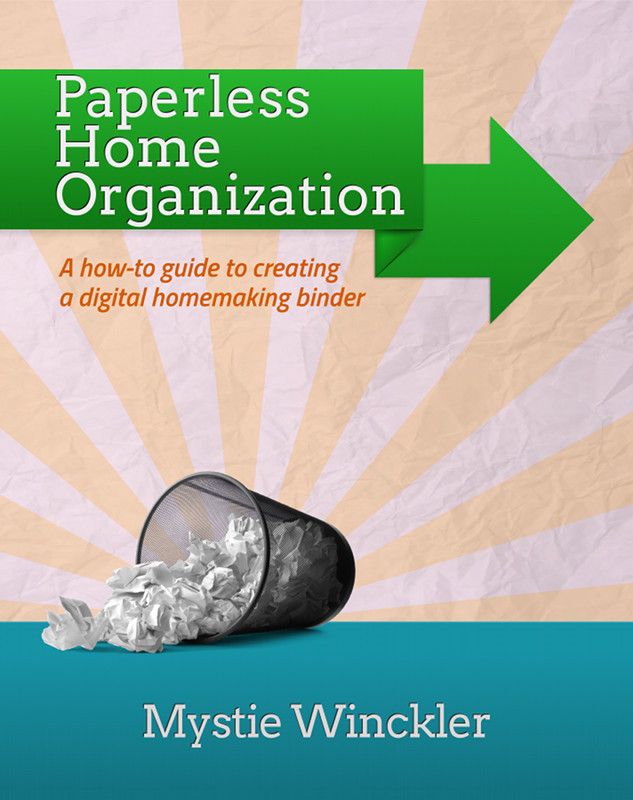 This system helps you get information under control. In using the system, you'll let the computer perform tasks that you don't have to. And, it will always be at your fingertips thanks to laptops, smart phones, tablets and such.
To get the best benefit out of the system, Mystie recommends using Gmail, Google Calendar, Evernote and Remember the Milk (if you are unfamiliar with this cool app, you can go to their iPhone Help Video for an overview). If you aren't familiar with Evernote, it is a program (free!) that you can use across multiple devices that can sync information you've collected and categorized. Remember the Milk (also free) is a tool to help you get all your To Dos done.
Here's how these four pieces work:
Gmail, obviously, is your email program. You will set up filters for most of your incoming emails. That way, you won't end up with 2,000 or more emails sitting in your inbox. When you get e-statements from utilities and credit cards, they will automatically be sent to their proper folders. Homeschool emails get sent to their respective folders. When you check your email, just look for the bolded folders, plus your inbox for those few emails that might not have a category.

Next Google Calendar is an easy to use calendar that can be many calendars all in one. You can even create events on your google calendar from an email (I LOVE this feature!):
Remember the Milk (RTM) is a useful To Do program that can sync between your Google Calendar (it is added as a sidebar app to your calendar page) and any other devices you own. You can create To Do categories and assign tasks to certain days. Here's what my list looks like for this week:
Lastly, Evernote is a program that will replace your home binder (if you are so organized that you have one of these). Think of it as a collection of digital spiral notebooks that you categorize your information in. Do you volunteer at church? You'll want a church notebook. Teach a co-op class? Add a notebook (or two) for that. I try to keep track of the kids' clothing sizes (not an easy feat over the last few months' growing spurts), so I keep a notebook for "Kids' Stats and Info." With Evernote comes a free email address so that you can send emails directly to Evernote to process into a notebook, if necessary.
You can download a sample of Paperless Home Organization here.
How This Worked For Me: Even though I am still no where near utilizing Mystie's system the way she designed it (trying to develop new habits is HARD), just reading her very clear, step-by-step system for utilizing the four free apps (mentioned above) has really helped me to organize the chaos that I am currently ensnared in. I've been a Gmail user for about 5 years, but I still learned cools tips to make sorting information much easier. And, let's face it, if you don't maintain the organizational system you have, then it becomes unorganized all over again.
So, I decided to start using Mystie's system at page one. I reorganized my email folders and filters (I love filters – they automatically send your emails to specific folders). I've also been using Google calendar religiously for several years. We each have a calendar (including the kids), and depending on the activities, we might have a "school" calendar for the boys and me. We've had "soccer" calendars in the past as well. My dream is to have a "dinner" calendar someday!
I've really got the Remember the Milk system down – I have been wanting some sort of To Do system that would work better than the notebook paper that always gets lost. The list making apps that came with my iPhone or that is attached to Google Calendar just are helpful enough when I want to prioritize tasks or change them.
I have to admit that the Evernote component is much harder for me to wrap my brain around. I've toyed with OneNote for the past 3 or so years and have used it to organize curriculum purchases and trips. Unfortunately, the OneNote version I have (2007) does not integrate with my online services, so for now, I'm on a very step learning curve still with Evernote.
I'm also very intrigued by Mystie' s meal planning programs:

Although I haven't used them yet (I hope to start getting into it over the summer), the idea is pretty simple: keep your pantry and refrigerator stocked with basics that you can then mix and match to create healthy meals. I encourage you to click over to the Crew blog to read reviews from members who implemented her meal system.
My recommendations & thoughts: If you are done buying pretty notebooks and dividers and papers to create The Perfectly Pretty and Useful Home Organization Notebook and you just want to use a system that will always be at your fingertips and will always be up-to-date, I encourage you to invest a few dollars into Mystie's Paperless Home Organization system. She does such a fantastic job walking you step-by-step through the set up of each program and the whole system seems to make sense to me. I love the idea of not having to schlep around a big binder or another notebook, but instead I can use any portable device I want to access the information I need.
To help get a jump start on your commitment to tame the clutter beast this summer (or to revamp your menus), Mystie is offering a limited time coupon: 30% off when enter TOS2013 at checkout through June 3rd. (I know, that is just a couple days!)
Click to read more reviews from the Schoolhouse Review Crew
All prices are accurate as of the posting of this entry.
---