I'm thinking this is Ben's favorite review product for the entire decade. Maybe his lifetime.
Homeschool Programming blessed use with a year's worth of high school (grades 9-12) computer science curriculum: TeenCoder C# Series, which includes Windows Programming using C# (pronounced 'C sharp' for us novices) and Game Programming.
There are several purchasing options. Each semester-long course can be purchased individually ($75) or with the DVD instructional video ($90),as a year-pack ($130), and finally as a year pack + the DVD instructional videos for $155. We are reviewing the complete year pack + DVD instructional pack, and I have to say at the outset that for our family, where I am the most knowledgeable about computers (and I have no knowledge of programming), having the DVDs has been a HUGE blessing for us!
TeenCoder C# series teaches beginning students (really, nothing other than basic computer use skills are required) how to use the C# programming language to create a variety of activity projects. Here is one of the first activities (besides loading the Windows Visual C# Express Software, a free download from Microsoft that is required for the class):
Here are two others that have been Ben's favorite so far:
Using C#, Ben programmed the computer to create the text boxes, label them ("My Calculator" for example) and told the computer what to do in the text boxes. You'll have to forgive me: I myself have very limited no programming knowledge (its been nearly 30 years since I learned Basic), so my ability to describe the intricacies of what Ben is learning is very limited. Truly, when I ask him to explain what he's doing, I've got about a 30 second window before he starts talking in programming code and I cannot understand him.
But fear not! This curriculum really helps you, the parent, provide your child with 21st century skills. And, it gives you the tools you will need to assess his/her learning.
What you'll need to get started: There are some hardware requirements in order to run the programs. You'll definitely want to go through these lists to make sure your system is ready:
Computer hardware and software requirements
I found that our desktop (probably 5 years old) had the best processor speed compared with newer laptops, so I chose to install it there.
Once installed, the programs will open from the Windows Program menu (Start > All Programs > TeenCoder). Ben rarely has to open the Student menu once the textbook was printed.
How we used this: I'll admit that I have done very little with this product since it came into our home. But this is a good thing – my son is able to use this course completely independent of me.
I printed out the 250-page student textbook (I highly recommend printing this text and either spiral binding it or putting it in a 3-ring binder) and chapter tests (16 multiple choice tests in all + a final project).
But even though I don't know anything beyond the fact that C# is indeed a computer language, Homeschool Programming has given me tools to assess Ben's understanding of the material. First, there are chapter tests for each of the 16 chapters. These are ten items multiple choice tests, and I've decided to let these be open book for Ben.
A second evaluation tool you have is the activities – the projects students create to demonstrate C# programming skills. Most chapters have an activity: making a box that beeps; making a box that uses a variety of pull down menus, radio buttons, etc. to select items that are put together to tell a one-sentence story; making a code/cipher generating box (see above), a calculator (above), making a to-do list (this is just a sampling of the activities).
The curriculum definitely gives you a guide on how to grade these activities:
Have your student build and run the program on a computer. Check to make sure that the program performs all the tasks as outlined in the activity requirements.

Have your student turn-in a printed copy of the source code.

Check this printed copy for the key elements that are mentioned in the activity solution. Note that all solutions will be slightly different as there are many ways to achieve the same ends through code.

Finally, have the student walk through the printed program and the computer program with you. If they can explain how the program works to you, they understand it well enough to have passed the activity.
These suggestions make the program accessible to parents like me and give me the confidence to include such high-tech classes in our home school program.
A screenshot of Ben's programming worksheet on Visual C# 2010 Express Software
If we were using this during the academic year, I'd really have to set limits on how much Ben plows through this. The creators suggest completing the semester long course over 3-4 hours a week. Chapters are broken down into lessons (3-5 per chapter), a review and the activity, in which students use these new concepts to complete a programming activity. Since it is the summer, Ben is working about 6-8 hours a week on programming – effectively doubling his rate through the course. I can see light bulbs going off as he is working and can hear the excitement in his voice as he tries to explain all he is learning to me. Best of all, the course is getting his creative juices flowing – he's already started working on at least two out-of-class projects – on for Boy Scouts and the other to help him manage his own information. I cannot begin to tell you how happy I am to see Ben using the computer to create and exercise his mind – rather than just playing game on it.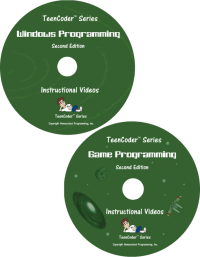 DVD Instructional Videos. Let me speak briefly about the video component. Ben didn't really pull these out for the first few weeks. But, as the material became a little more difficult, he found that the DVDs provided an alternate way for him to latch on to the concepts of the chapters. This makes the DVDs invaluable because I just do not have people to turn to who know this type of information. In this house, the DVDs are absolutely required.
Please click here to watch a sample from the DVD. You'll notice at the end that the narrator says to go back and read the lesson. That is because the DVD provides supplemental information that is not written in the book. You do not have to have the DVD to complete the course, but you will have to read the textbook to complete the course.
Semester 2 – Gaming. Ben and I are both really looking forward to the game programming course. With just the addition of another piece of software (Microsoft XNA Game Studio 4.0), students will create game programs that will be able to run on Windows and XBox. I'm amazed at all that is taught in this course: game animation, detecting collisions, game physics, multiple viewpoints, multi-player games, artificial intelligence. I doubt Ben will take for granted the complexity of any of his current computer, Wii, and Nintendo games again.
Here's a few screen shots of the game programs students will build over the course of the semester:
For Samples:
Windows C#:

Gaming Programming:
My recommendations & thoughts: We are so blessed to have this product, and we will definitely be adding more of these courses to our wish lists. Providing computer skills beyond the basics is important to us as a family – probably because Dave and I have none of these talents of skills. I think these courses, with the DVD component, provide excellent instruction and inspiration for high school students. Thus far, I have no complaints or concerns about these courses. They exceed my expectation for a computer course for Ben.
I want to mention that Homeschool Programming provided their KidCoder Series to other Schoolhouse Review members: KidCoder Visual Basic Series, and KidCoder Web Series. So, if you are not yet thinking of high school, but wondering what to get the younger crowd…
Click to read more reviews from the Schoolhouse Review Crew
All prices are accurate as of blog posting.
---