Gryphon House publishers sent me a complementary copy of MaryAnn F. Kohl and Jean Potter's Global Art: Activities, Projects, and Inventions from Around the World ($16.95, grades K-5th). My little crafter, Levi, liked the idea of this book, and encouraged me us to review it.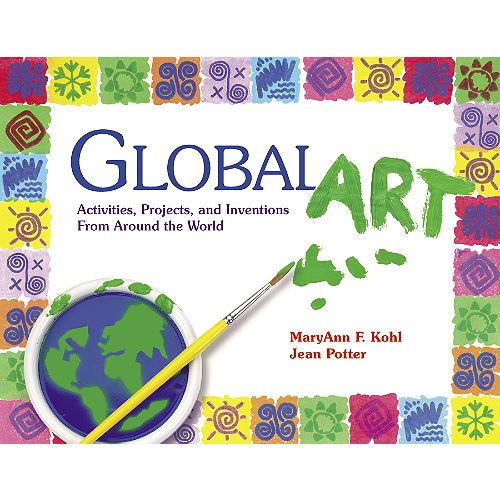 Global Art divides its 130 projects into geographical areas. Studying about Australia? Turn to the Oceania and South Pacific section. Africa? South America? Looking for a craft to go along with Asian studies? Global Art will likely have a project to enrich your studies of the geography, history or culture of the area.
Art media your children can gain experience with include:
painting ● sculpture ● construction ● drawing ● collage ● printing
I liked that the book used a variety of icons to help us make a choice from all the art projects. You'll see these icons on the top of each project page:
Indexes in the back of the book group projects by these icons, and there is a great index that can help you search out a project by material. This is a really helpful way to search out projects for specific grade levels (this book is appropriate for K-5th grade) or ability level. Looking to use up some art tissue paper? You'll find five projects to choose from. Wanting to repurpose a couple plastic bottles from the recycle bin? You'll find projects utilizing a class bottle, dishwashing detergent bottle, spray bottle and squeeze bottle.
It's important to remember that art education with young students is not so much about the end product, but the creative process. Oh, this is so hard in our house, where my kids love the idea of art projects but get easily discouraged with the end product. Books like this really need to become a regular part of our week!
How We Used this Book: Since we are on summer vacation and not following any particular history or geography strand right now, I just let Levi explore the book and pick out some activities he wanted to try. One of our first excursions was to Vietnam/ Asia. Levi made a Tet Trung Thu (mid-autumn festival) lantern like these:
This is what our process looked like:
| | | | |
| --- | --- | --- | --- |
| | | | |
| Levi used a variety of small cookie cutters and stencils for cut outs | He covered the openings with colored tissue paper | Next we attached string and used paper plate for the base | We inserted a flash light to see the glow! |
Levi really likes sculpture and quickly turned to the page of Antarctica to sculpt penguins with salt dough. This was an interesting process because we worked tempera paint into the dough itself to colorize it. Sadly, he chose to do this during one of our blistery hot weeks in July. May I comment that salt dough during a heat wave is a bugger to work with?
Poor Levi's penguin kept melting and just could not handle 90º+ heat! This is my penguin, though:
He's pretty darn cute! There are at least 20 other sculpture projects to try, and just to be on the safe side, we'll wait for temps under 81º and give some others a go.
After a week of VBS, Levi developed an extreme fascination with playing the recorder (he even won an inexpensive plastic one). Levi saw a Brazilian flute to create out of a drinking straw, and was eager to try this project. Unfortunately, his little flute did not work, which was a big disappointment to him. But, such is life, and we moved on.
My recommendations & thoughts: This is a great book to add to your collection of materials for adding a hands-on element to your literature rich history programs. I call this a two-fer book: it helps enrich history/ geography studies as well as providing a range of artistic experiences for your child. I love it when we find materials that serve multiple purposes.
Gryphon House also allowed Crew Members the opportunity to review The Homegrown Preschooler: Teaching Your Kids in the Places They Live in addition to Global Art.
Click to read more reviews from the Schoolhouse Review Crew
All prices are accurate as of blog posting.
---