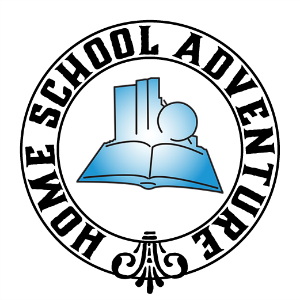 For the past six-ish weeks, Luke, Levi and I have been working on memorize the book of Philippians. Yes, you read that right….the book. Stacy Farrell at Home School Adventure Co. has created a great system for Bible memorization. If you are up for the challenge of going deep in God's word, I suggest you put this on your list of Bible tools to consider in the near future.
The program is called Philippians in 28 Weeks ($14.95 download; $28.95 print; $9.95 cards only). We received the downloaded version of the program.
What is included: Everything that you need (minus a Bible) is included in this 167 page E-book.
Concise yet thorough directions (and even help in offering a grade for this project is included)
Chapter-by-Chapter, week-by-week copy work pages, verse cards and log sheets to help you review and recite from memory the entire book! In actuality, you can print off a copy of this book for each of your students, and they will have a workbook to use to help with the Bible memory.
A 28-week log for you and your student to catalog each of the four daily steps necessary to complete the program.
Each week has a page called "Reflections" which gives you and your students an opportunity to think deeply upon the verses you have been memorizing. Open ended questions can be answered in group study or as a written journal.

The program is built upon five steps:
Read the entire book of Philippians every day. This took us 12 minutes. Quite easy to set aside this amount of time everyday.

Record. Each day, write out your verse. I asked Luke and Levi to copy them on whiteboards, one of their favorite ways to complete copy work. Some days, I asked them to complete a fill-in-the-blank worksheet I made for them; still other days, I asked them to write it on paper. White boarding (did I just make up that word?) their verses (with various colors) was definitely the preferred method for daily copy work.

Another way of recording your newly learned verses is to answer questions and journal what you have learned.

Repeat. There are business-card sized verse cards you can carry with you.

Review and Recite. At the end of each week, you recite all that you've learned from the beginning.

Retain. Then, at the start of the week, you review all you've memorized.
How This Worked for Us: The product is designed for ages 9-11 as a read aloud with parents, and for ages 12 and up to use independently. Originally, I thought Ben would have time in his day to work on this, but he was up to his eyeballs in other stuff, so I gave him a pass. Luke (11) and Levi (8 ) were my test subjects instead. It seemed an easy and natural activity to build into our day, considering the other curriculum activities that we use rely heavily on memorization.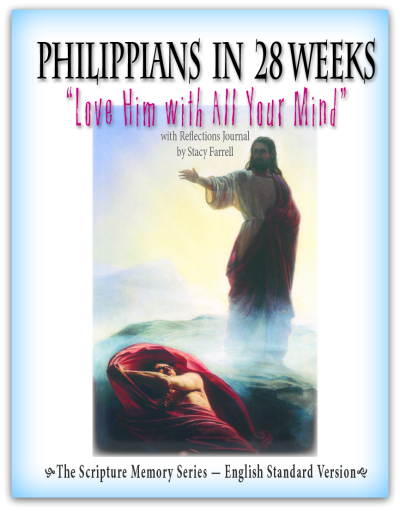 My goal was to start our day with a reading of Philippians, which is one of my favorite books of the Bible. I was really surprised at how fast it takes to read it – we were done in 12 minutes or so. How many days do I waste 12 minutes when I could be doing something so valuable? In all honesty, it was humbling to see how simple it is to incorporate this program into our family.
Next, I turned the boys attention to the verse for the day. OK, just so you know – I really adapted this to meet our family's needs and season of life. But, I'm hopeful that you can see that this product is a tool that you can use to accomplish the same goal that Stacy Farrell had – to hide God's Word in the hearts of her family. There is no condemnation for taking longer than 28 weeks to memorize an entire book of the Bible!
Instead of printing out the book, we chose to utilize some dry erase boards and fill-in-the-blanks to help us memorize the verses. Every three or so days, I would add a new verse to our dry erase board. I wrote out the entire verse and over the course of several days, erased key words so that the boys had to commit more and more of it to memory. I felt like this was the best way to go with Levi being involved in the process. The E-book copy work pages had small-ruled, plain lines for copy work, and I wanted Levi to have more space for his copy work. You can see here that he really got into using the dry erase board:
[And just so I don't get in trouble for leaving someone out, Luke's was just as adorable]
While my adaptation of the program to meet my youngest son's needs meant that we were not keeping up with the verse-a-day memorization rate that the program suggests, I did see great and exciting progress from the boys. The best part? My boys loved the opportunity to memorize scripture. They enjoyed the challenge as more and more words were erased from their verses. They enjoyed sitting and hearing God's word. They loved writing their verses on the dry erase boards and proudly showed me their accomplishments:
I will admit that one part that I inadvertently omitted during this review period was the reflection component of the program. I totally forgot to print out the "Reflections" worksheets and journaling pages for each week's set of verses. I'm not sure the free responses pages would have been worth it for the age of my boys, but I do think think that there is value in going over some of the more easily answered "Reflections" questions in the book. I love that these moments can provide some closer and cohesiveness to the memorization process.
I also want to add my personal thoughts on reading the book of Philippians on a daily basis over the course of several weeks. Reading the same book over and over is a soothing balm to the soul. It is amazing to me God's love just leapt off the pages and totally transformed my outlook for the day. Each day, a different truth was tucked into my heart. This has been a lovely lesson for this mama to learn over these weeks.
My Thoughts and Recommendations: This has been a wonderfully different way of incorporating Bible into our home school – but I certainly do not think this product is valuable for home school parents only. I think any Christian family can utilize this program, and I would love to get to a point in our family's scheduling where we could use this together as a devotional (indeed, there were some nights we did read the entire book of Philippians as a devotional).
This company has produced some very interesting products that can certainly bless your family. Crew members reviewed a variety of materials:
Philosophy Adventure
Mere Christianity Journal
The Wise Woman with Literary Analysis Journal Questions
Click the link below to see these other amazing products.
---
Bonus!
Homeschool Adventure Co. is offering a discount to my readers for any of their products that my Crew Mates and I reviewed! Just use code CREW-10 and take 10% off your downloaded product!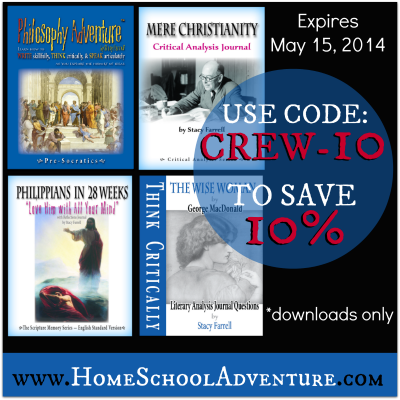 Keep in touch with Home School Adventure Co:
Facebook: https://www.facebook.com/HomeSchoolAdventureCo
Twitter: http://twitter.com/HomeSchoolAdven
Pinterest: http://pinterest.com/HomeSchoolAdven
Google+: https://plus.google.com/u/0/b/115241518288669984312/+Homeschooladventure/
Instagram: http://instagram.com/HomeSchoolAdven
Click to read more reviews from the Schoolhouse Review Crew
All prices are accurate as of blog posting.
---