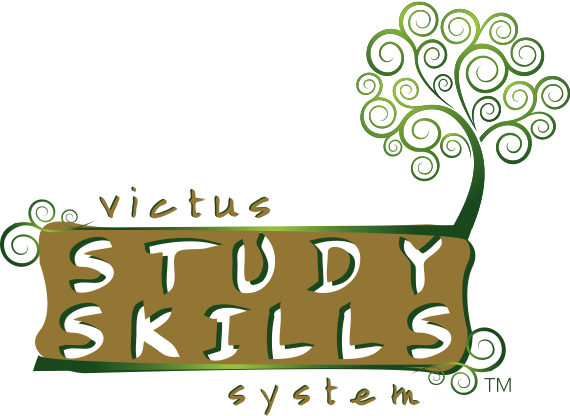 Do you have goals? Do you know how to obtain them? Do your children?
Intentionally teaching skills to be successful in life is at the heart of the
Victus Study Skills System
. Through their
Study Skills System Teacher Edition
($40) and
Student Workbook
($20), your middle and high school aged students can learn how to manage time and resources – and their own attitudes -- so that they can accomplish their goals.
What is Included:
Both of these workbooks are necessary to lead your student through the study system. You will want to read the Teacher Edition thoroughly before beginning, so that you have a firm grasp the philosophy behind the system and each of the 10 steps.
Susan Ison, the founder of this method, began Victus study skills system when her first-grade daughter, after eagerly marching off to her room to show that she was big enough to (finally) have spelling tests to study, returned back to the kitchen in tears asking, "Mommy, how do you study?" Ms. Ison realized that she needed a way to teach her children how to learn successfully.
Did you know that
"victus
" is Latin for "way of life?" The program is meant to not just teach strategies for studying, but it is meant to also teach skills and systems which will carry over into life. The program has four main objectives:
---

1. It helps students understand how to set goals and create manageable, small steps (objectives) to achieve their goals.
2. Provide instruction on specific study skills such as;


time
organization of physical space
reading comprehension strategies
note taking
test taking

3. The program is meant to help students develop positive attitude so that they can be successful
4. It is meant to empower students to see that they have a role in their lives. (So important with this age when the often are questioning 'why do I have to do this?' so often!)



---
The program is meant to be taught over the course of 5-days, in one hour blocks each. You could also break it up into two weeks of 30-minute sessions if you thought your student's attention would benefit shorter class times. You will definitely want to have a student book for each student – there are great inventories, goal setting-sheets, and other assessments and tools that you will want each of your students to complete.
The 10 sessions are broken up into three "Foundational Cornerstones." You can see them listed on this Student Workbook table of contents:
Note: This sample is in color and is ©2013. Though the content hasn't
changed,

my review copy was ©2014 and was not in color.
How This Worked For Us:
The first section --
"Where am I now?"
– is meant to be taught in one session. It includes two useful inventories – a study habits checklist comes first. I could see from this that some of the strategies to be taught through this course would be helpful for Ben. But the really eye-opening section was a learning style inventory. Although only three styles are included (visual, auditory, and kinesthetic), it was
fascinating
to see that Ben scored himself just as I have always perceived him – high as a visual learner. We had great discussions about ways he can take advantage of his visual strengths to help him study and store information. As a matter of fact, that reminds me that I need to purchase some colored highlighters and pens for him.
"Where do I want to be?"
is a section that is meant to help students think in terms of their goals. This was a much harder section to go through, because Ben had never thought in terms of a mission statement. And for as much as he and I have talked about how to achieve merit badge goals, I've never before talked to him about
owning
his school work. I can see that it has made a big difference for him, and we plan on using the semester goal planning sheets for the long-term.
The third section is definitely the longest part of the program (it accounts for six of the ten teaching sessions – the last of the lessons is a complete review), but arguably has the main meat of the content – the actual time management/
study skills strategies
. Titled "
How Do I Get There?
" Your five sessions will be divided like this:
Time Management
Organization and Study Environment
PQRST Reading Strategy
Active Listening
Note Taking
Test Taking
Two sections that I really wanted to work through with Ben were the reading Strategy and Note Taking sections. He has great reading comprehension, however, when it comes to reading
with purpose
(such as reading a literature book then writing an essay), I can see that he isn't very efficient. Walking through the PQRST strategies (and sharing with him some tricks that work for me) was great. In the Note Taking section, Ben and I shared some of our own note taking shortcuts (I love that some of his short cuts are based on C# computer programing coding!).
I will admit that although I've never walked through a program that teaches
study skills
in such a comprehensive manner (and I really like that all these study skills are meant to empower and encourage our students to reach for their dreams and mission in life), we have worked through many of these items – such as test taking, note taking and organization – before. What I appreciate about the way Ms. Ison approaches these skills is the comprehensive manner.
My recommendations & thoughts:
I think this is a great product that deserves to be used with students in middle school and high school (the earlier the better!). I wish I had known about this when Ben was in 7th or 8th grade – I think it might've saved us some tears (especially in terms of time management). While some of what is included in terms of organization and time management is not much different than what I've been telling Ben for a couple years, there is just something to be said about
reading
this advice in a third-party product to legitimize mom's suggestions. *grin*
I often explain to the boys that their job at this point in life is to learn – not just their academics, but to learn about God, people, character skills – and I think this product does a great job of helping students
see
that their education is part of the process that leads them towards their goals and mission.
Ways to Keep In Touch:
Facebook: https://www.facebook.com/VictusStudySkillsSystem
Twitter: @VictusStudy
All prices are accurate as of blog posting.
---