Learning Breakthrough Program
, a company that specializes in treatment programs designed for children with learning differences and challenges, sent a copy of their book,
A Life in Balance
($16.95), which chronicles the development and discoveries of founder Frank Belgaum. But this is not just a 210-page autobiography. It is really a down to earth explanation of how our brains work and how others can be helped to reach their learning potential. Indeed, at the end of the book, Frank – through is son Eric, who writes his father's story – says:
Part of the purpose of this book is to provide some activities that can be
done without any investment in materials, but which can have a positive
impact on academic and work performance, intellectual clarity, and overall
well-being. (p. 177)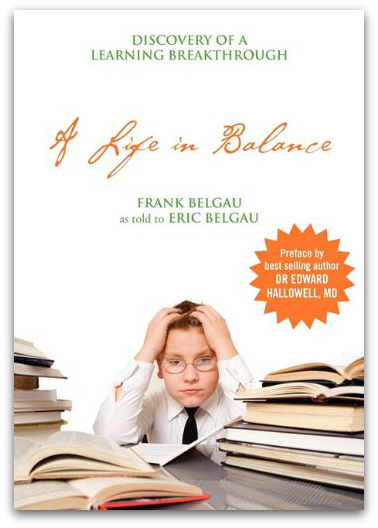 The book reaches back into the childhood of founder Frank Belgau, who himself struggled with reading. Eventually, Frank was able to overcome his reading difficulties and went on to a successful military career. After his discharge from the service, Frank became a public school teacher, which began his unique and interesting career in special education and the development of his
alternative treatments to dyslexia and ADHD
. You can learn about his
brain training
and
brain fitness
program at his website.
I found it to be very interesting to read the history of alternative brain exercises and therapies. I will admit that I am often skeptical of alternative therapies – and I began reading this book with a healthy dose of skepticism. However, as I read about the stepwise learning Frank experienced as he began working with children (who many educators had written off as uneducable), I realized that much of my skepticism was misplaced. Being able to "see" how these therapeutic techniques worked through the case studies presented was fascinating.
The story of Frank's career and discovery is interesting in itself. However, the second half of the book is a goldmine for those who are interested in apply his techniques – taking them for a test drive, if you will.
In the last 10 or so chapters, Frank explains the evolution of the core tools of his program: the balance platform, vestibular motor control stick, bean bags, ball tosses, etc. He explains – in well-written, easy to understand layman's terms – how these tools help to activate the brain to improve learning potential. At the end of the book, however, Frank shares one of his first low-tech brain training activities: The Space Walk. The Space Walk is a movement-base series of exercises that Frank has found to be successful for some of his student with learning differences:
Walking
Toe on Spot
Walk Line Heel to Toe
Pick Target
Two Foot Hop
Hop Right
Hop Left
Jump and Turn
Hop – toes on Line
Hop Right 2, Left 2
Hop Left 2, Right 1
Hop Right 2, Left 1
Although I did not try The Space Walk with my boys, it reminded me of two things: (1) elementary school gym class – maybe they were on to something with all our simple relay games, ball passing games, and exercises, and (2) Luke's reading took off once he became more active in sports – running, playing soccer, etc. He also had done some computer based eye exercises to strengthen the muscles in his eyes. But it did seem that he underwent some huge growth all around the same time.
My recommendations & thoughts:
I think this is an interest book to read for those who parent/ home educate children with learning differences. If you are wanting to "try before you buy" the Learning Breakthrough System, I think this would be a great resource and the The Space Walk program in the appendix could be a great way to understand his system.
Connect with Learning Breakthrough:
Facebook:
https://www.facebook.com/LearningBreakthrough
Twitter:
https://twitter.com/LearningBreak
YouTube:
https://www.youtube.com/user/LearningBreakthrough
All prices are accurate as of blog posting.