Luke and Levi hit "summer review" pay dirt this year, thanks to the TOS Review Crew and the Learning Wrap-ups Company! We were selected to review a variety of products from Learning Wrap-ups and these products have definitely introduced a fun change-of-pace for us this summer.
The Learning Palette:
We received a math and language arts base kit. Each kit came with a set of cards and a base kit (the yellow palette):
3rd Grade Math Learning Palette 1 Base Center Kit ($71.99) came with sets of 12 cards in each of the following categories:
Addition & Subtraction with 3 & 4-Digit Numbers,
Fractions-Money & Decimals,
Multiplication & Division,
Algebra Concepts, Geometry & Measurement, and
Probability & Statistics.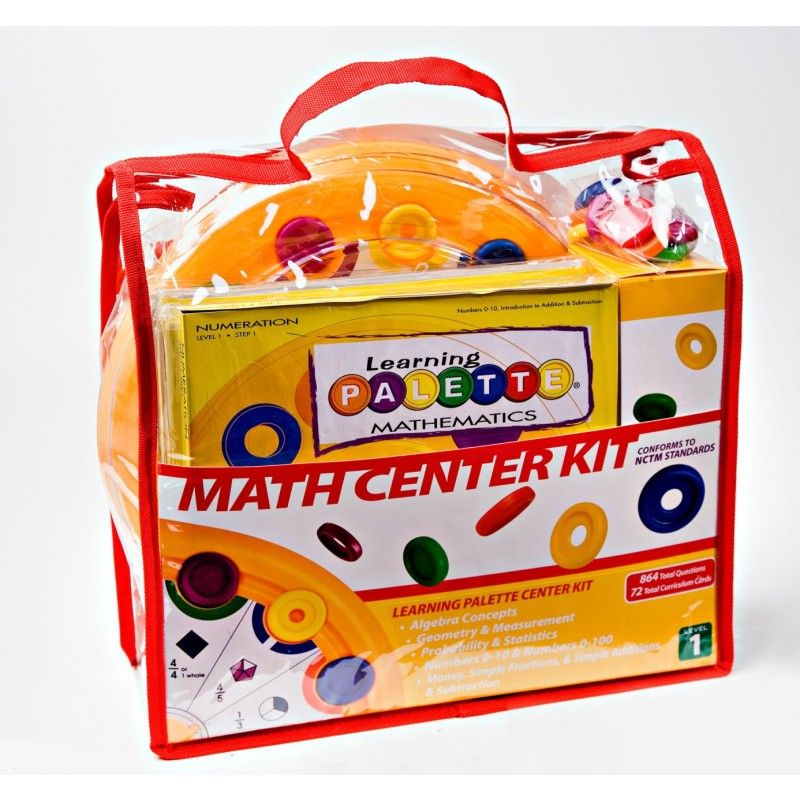 3rd Grade Reading 1 Base Center Kit ($61.99) came with sets of 12 cards in each of the following categories:
Prefixes & Suffixes,
Reading Comprehension,
Synonyms-Antonyms & Homophones,
Vocabulary and
Grammar
I picked 3rd grade reading because Levi is a pretty advanced reader and I thought Luke could probably use the cards to work on some vocabulary building tasks. I was right! This was a good set to get for both of them. If you are considering purchasing this as a fun reinforcement activity, I would high recommend that you consider the content of the card more so than the grade level of the card sets.
The Learning Palette is basically a self-correcting matching game. Students match questions to answers, which are arranged around the perimeter of the circular palette using colored discs. When all the questions have been answered, the card is turned over so that students can correct their work:
I assigned Luke and Levi a packet of cards to work through. We decided that 3 cards a day was a good amount – it is fun, and wasn't too hard. When we came up to concepts we hadn't really worked on before, I did a little teaching, and they went off and worked on it themselves.


Here, Luke is correcting his completed card. There two kinds of discs (solid and with a hole), each with two colors. When you flip the card over, you can see if the solid bars match the solid discs and if the hole-y discs match the bar with the 'hole' in it.


Over the course of our review period, Levi and Luke used the products several times per week. The physical Learning Palette was preferred by both boys more than the online version, I think because they enjoyed manipulating the discs and cards. Luke is just weeks away from beginning his next level of math, which will involve intense learning about fractions. Using the Learning Palette was a fun way to introduce a topic at a basic level.
Learning Wraps Ups:
I love these low tech, portable reinforcements and practice tools:
Learning Wrap up Basic Math Intro Kit ($44.99 – no CD set) – This includes one set of addition, subtraction, multiplication and division wrap ups plus a fraction set.

Learning Wrap up Vocabulary Intro Kit ($35.99) –This includes one set of Synonyms, Antonyms, Homonyms and Compound Words. A short brochure, The Teacher's Guide to Vocabulary Builder, includes some creative ways to expand on the Wrap Ups – such as alphabetizing the words, building sentences and even dictionary skill work.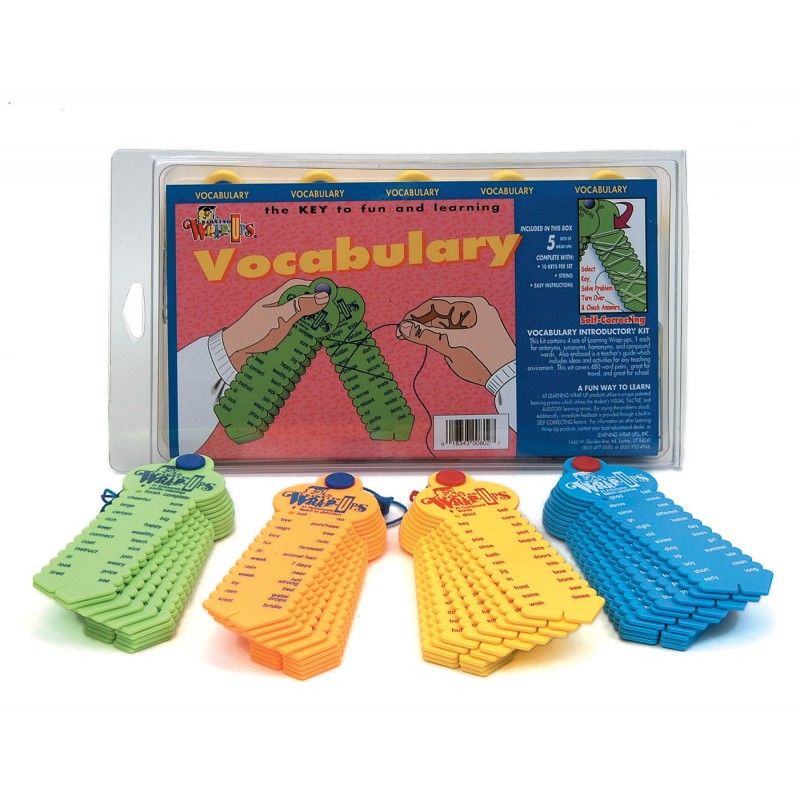 10 Days to Multiplication Mastery Book & Wrap Up Combo ($12.99)

10 Steps to Addition Mastery Wrap up and Book Combo ($12.99)
I'll be honest: I've owned (incomplete sets) of Wrap Ups before. I gave them away a few years ago – prematurely, I might add – when I was in a cleaning frenzy. So I was so happy to acquire a new set for Luke and Levi. This has been a quick, no tears helpful tool to help the boys review their math facts during our busy almost-summer-vacation days.
The concept of the Wrap Ups is easy: Match a number on the left to the sum, product, difference or quotient on the left. Each of the Wrap Ups is for a specific fact family: +5 or –7 or x3 or the like. When you've answered all the questions, you turn the plastic piece over to see if your string matches the embossed line. If it matches, you got 100%!
I've never owned their accompanying workbooks, so I was excited to see how these work. Honestly,I LOVE them. The idea is to use the actual Wrap Up to reinforce written worksheets which drill and review math facts. The workbooks are clean and easy to follow. Each day has a variety of worksheets. Some are word problems, some are just writing out facts, some are practicing the commutative property. I liked that the Wrap Up itself is reinforced. Levi enjoyed trying to beat the clock and do it as fast as he could. Not too much drudgery here:
The multiplication book (62-pages) is meant to teach all the math facts in 10 days:
What I like about this is that it teaches these facts commutative property (a+b = b+a). Teaching children this property along with addition/ multiplication facts is efficient – you can learn the facts in half the time. I also like that they teach multiplication to 11 in the workbook (even through there is no x11 Wrap Up). I do wish that x12 was also taught (such a good set of facts to know with our imperial measurement system), but at least Levi is getting it in his memory work.
Addition is in 10 steps.
Here, +11 and +12 are taught.
I didn't have as much success working on the Learning Wrap up Vocabulary Intro Kit with Levi – he wasn't nearly as motivated as with the math facts, but I was impressed by the variety of vocabulary. Levi (who is an above average reader) got practice reading multisyllable words and trying to figure out the meaning of the words. I would say that the set would work well for early elementary through 4th or so grade. Since the Wrap Ups are a closed set (meaning the number of choices gets smaller as you continue to match words), the task helped him to learn to eliminate words and think about word meanings. If he was really stuck, we went through some clues together, then he'd check himself and correct his answers.
Honestly, I'm not sure I would purchase the Vocabulary set with children my kids' ages, but if I had younger children, I could definitely see using them for years on end, and really taking advantage of all the suggested activities in the teacher's guide.
LearningPalette.com Online
Finally, we also received access to the new LearningPalette.com, a family subscription (up to 5 users) service. This is online product has exactly the same question cards as the physical product – except you have access to every level of math and language arts. With a subscription price of $59.99 for up to 5 users, this might be the most economical way to go (we used it on our iPad without trouble, too!) Homeschooling just one? LearningPalette.com offers a $25 annual subscription for a single user. And note this: LearningPalette.com is offering a 20% discount when using the coupon code of HOMESCHOOL
LearningPalette.com online is pretty easy to set up. Each child will have their own log in name and password. Once logged in, students can select any level (reading is grades 'basic' or kindergarten through 3rd, and math is K through 5th), next they select a card category, then they select a card of questions to work on. You can see that selection process in this screen shot:
Next, you begin answering questions. A few times, we found that my 15.6" screen (even in full screen mode) was just not quite big enough to figure out what the pictures in the purples section were – especially with math or with the coins for counting change. Thankfully there is a magnifying glass you can 'see' through. We used this quite a bit!
The teacher log in allows you to see which activities your students are working on and how well they are doing::
I've gone ahead and saved a bookmark to LearningPalette.com on our home page on the iPad so that we can have multiple kids using the program at one time. Because it is an online program, you will need a constant internet connection – our iPad is Wi-Fi only, so we will use it around the house or in other hotspots only.
The online program is really a bargain for what you get…access to ALL the cards in ALL the categories for ALL grates. I've noticed that for Luke and Levi, there are some holes in their learning (mostly because our math program is mastery based), so being able to move around in all the sets is a huge blessing. I'm actually using this as a teaching tool to fill in some of those holes!
COUPON CODE: Use the code HOMESCHOOL for 20% off your order at learningwrapups.com!
My recommendations & thoughts: I was really pleased to review these products, and know that the combination of online LearningPalette.com + the Reading and Math Center Kids will get a lot of work this summer. The Learning Wrap Ups are a classic tool to help your students with math fact practice – and the addition of the simple but effective workbooks can really provide an efficient way of learning those important facts.
Click to read more reviews from the Schoolhouse Review Crew
All prices are accurate as of blog posting.
---