The authors over at Analytical Grammar are on a mission to change how grammar is taught to American students. Creator Robin Finley (with her daughter Erin Karl) believe that systematic instruction in the can be the foundation for grammar knowledge that all students (from learning disabled to gifted) can take with them through their lives. Originally a public middle school teacher, Ms. Finley has successfully taught public school students and began selling the program online to others in the late 1990s.
For this review, I was sent their flagship program Analytical Grammar and the new Companion DVDs. The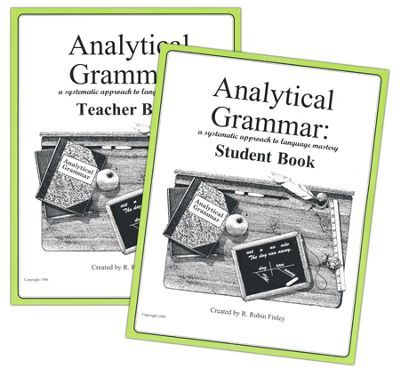 program can be used with students from grades 6 through high school seniors.
Analytical Grammar Teacher and Student Book set ($94.95) – Please note that the workbook is consumable. You can purchase additional student workbooks for $49.95
Analytical Grammar Companion DVD Set ($39.95)
This is one hefty grammar book – almost 400 pages in each of the student and teacher books. Both books are soft-cover, and the student book is perforated so workbook pages and tests can be removed. Since the authors recommend that the program (and tests) be "open book," I have Ben remove his worksheets and tests; what is left are the Unit Notes (I'll explain those in a minute), which Ms. Finley suggests binding to create a grammar book for future use. Apparently, her system has worked so well, her students have returned from college very grateful to have had her note pages to help them through their post-secondary academic years!
The DVD set contains 4 DVDs which guide you through each of the 35 units. In case you are curious, the DVDs cover the following lessons:
DVD 1: Units 1 – 9
DVD 2: Units 10 – 18
DVD 3: Units 19 - 27
DVD 4: Units 28 – 35
How it Works:
The program is meant to be used over the course of several years (middle and high school) in three "seasons."
Season 1

Basic Parts of Speech and Diagramming

---

Unit #1: Nouns, Articles, and Adjectives
Unit #2: Pronouns
Unit #3: Prepositional Phrases
Unit #4: Subject & Verb
Unit #5: Adverbs
Unit #6: Patterns 1 & 2 (Sentences with and without direct objects)
Unit #7: Pattern 3 (Sentences with indirect objects)
Unit #8: Patterns 4 & 5 (Sentences with predicate nominatives and predicate adjectives)
Unit #9: Helping Verbs
Unit #10: Compound Situations



Season 2

Phrases & Clauses

---

Unit #11: Participial Phrases
Unit #12: Gerund Phrases
Unit #13: Infinitive Phrases
Unit #14: Appositive Phrases
Unit #15: Adjectives Clauses
Unit #16: Adverb Clauses
Unit #17: Noun Clauses

Season 3 --


Punctuation and Usage

---

Unit #18: Comma Splits and Splices and Comma Rules 1, 2, & 3
Unit #19: Comma Rule 4
Unit #20: Comma Rule 5
Unit #21: Comma Rules 6, 7, & 8
Unit #22: Comma Rules 9, 10, & 11
Unit #23: Quotations
Unit #24: Dialogue
Unit #25: Titles
Unit #26: Semicolons and Colons
Unit #27: The Possessive
Unit #28: Capitalization
Unit #29: Pronoun-Antecedent Agreement
Unit #30: Subject-Verb Agreement
Unit #31: Choice of Pronoun
Unit #32: Who and Whom
Unit #33: Adjective or Adverb
Unit #34: Transitive/ Intransitive & Assorted Usage Errors
Unit #35: Active/ Passive Voice
Between seasons, students complete reinforcement exercises once a week or so until the next "season." Analytical Grammar does sell four high school reinforcement books that can be used in these rest periods.
If you need to work through the program at a faster pace, you can find a two-year timetable:
Conveniently, the program has 35 units, so if you really need to move through the program in one year, you can schedule out one unit per week for your student.
Even within the program, the authors give tips on how to move through the program (especially the first 10 units) at a faster clip for those students who have a firmer foundation on grammar basics.
Like I said, lots of flexibility.
How It Works:
A week of Analytic Grammar with the Companion DVDs looks like this:
Day 1: Watch DVD and do Exercise 1. On the DVD, Ms. Finley or Ms. Karl will walk the students through the Notes page for each unit. Here is an example of a notes page:
Let me just say that having the Companion DVD set makes Analytical Grammar work for us. Even though the instructors are just talking through the pages, they are able to add some additional helps and tricks, which greatly increased our comprehension of the material. Also, reading through several pages of grammar information can be difficult for auditory learners, so the DVD set is hugely helpful to walk students through the page and explain information. Each DVD lesson is approximately 10 minutes.
After the explanation, Ms. Finley (our her daughter, Erin Karl) walked Ben through the first couple worksheet sentences. I love that she actually models the thought process students need to go through in order to understand and complete the work. If the exercise worksheets contain different types of tasks, she walks students through that as well. Students then pause the DVD, complete the lesson tasks themselves, then re-start the DVD to check their work.
Here's a screen shot from the DVD which shows how she walks students through the lesson:
Day 2: Correct Exercise 1 (about 20 min. of time), and have student complete Exercise 2
Day 3: Correct Exercise 2 and have student complete Exercise 3
Day 4: Correct Exercise 3. There is an optional section called Skills Support with many lessons. These are passages of literature used to incorporate the grammar concept. If you want, assign that exercise on this day.
Day 5: Correct Skills Support and give test.
Day 6: Correct Test with student. Watch DVD and do Exercise 1 of next lesson.
The Teacher's Guide gives plenty of suggestion on speeding up this process as well as "testing out" your student on different concepts.
How It Worked For Us:
First of all, let me be honest and say that this is not our first experience with Analytical Grammar. I had tried it with Ben when he was in 6th grade, hoping to make it through the program and have a grammar expert by the end of 8th grade. At the time, I do not think the DVDs were available, and he and I had a hard time working through it. Even through Ben has used a grammar program since 1st grade and even though he did well on the assignments, it is something that just does not stick in his brain form more than a few weeks. Following the guide, Ben and I would read through the Notes page, which has the bulk of information about the grammar concept being learned. But really, just reading it through did not help Ben to understand it. We really floundered with the first unit, and after many tears, sold it and moved on.
But, this time, the Companion DVDs are making this program a "keeper." At least for me, I have a much better understand of how to teach grammar after using various resources with all three of my boys. The DVD allows me to learn how Analytical Grammar works and to help him when questions arise. The DVDs are helping me to be better at grammar, but also better at teaching the concepts.
Because it is summer and we've been using the program between vacations and soccer games and water park visits, I have used some of the suggested short cuts to progress Ben through the beginnings of the program. Our day doesn't look much different than what is recommended in the guide, but I have taken the liberty to assign just odd (or even) sentences; if he is having some problems with those sentences, I might add in a few more of the even (or odd). A couple times, I asked Ben to do the first half of the sentences, then added one or two more after we corrected his work.
The guide recommends having an open book testing policy, which might feel uncomfortable at first. Yes, the authors want the students to use the Unit Notes as a reference while they are testing (remember, these pages can be put in a thin 3-ring binder as a reference for high school or even coil bound). As someone who always did a lot of writing in high school and college (as well as after college), I have often had some sort of style guide or reference to use for my projects. Rather than worry about recall mastery, student are learning grammar progressively as well as learning to look things up along the way. That is a good skill to teach students.
My recommendations & thoughts:
I am very, very happy to have this curriculum for Ben; he is going to use it this year (we may divide it into a two year program and get the American Literature Reinforcement book). For us the make-it-or-break-it item is the DVDs. Without them, we would probably still be having a hard time using the program. Since grammar is something that is not natural for him (and not something he is interested in), the Companion DVD provides a way for him to access his excellent auditory learner skills and understand the information better. I don't think parents should use the DVD as a crutch; watch it with your students. I think the Finley/ Karl combination will help you to understand what is being taught and will improve your own teaching skills.
Analytical Grammar also has a program for 4th-5th graders, called Analytical Grammar Jr., as well as a writing program, Beyond the Book Report, and cultural guide, The Eternal Argument, which helps make literature and history more meaningful. Click below to see what Schoolhouse Review Crew members said.
Connect with Analytical Grammar:
Facebook – http://www.facebook.com/analyticalgrammar
Twitter - http://twitter.com/AnalyticalGram
Click to read more reviews from the Schoolhouse Review Crew
All prices are accurate as of blog posting.
---