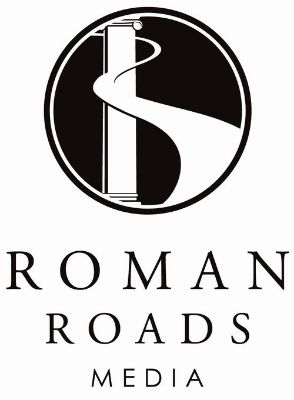 We are usually pretty 'light' on poetry in this house – it has always been a genre of literature with which that I've felt uncomfortable as a teacher or learner. But when Roman Roads Media offered to me the opportunity to review their The Grammar of Poetry Bundle ($100), I was happy to give it a try.
Written by Matt Whitling, The Grammar of Poetry Bundle includes the following items (prices are listed as if the items were purchased individually):
Student text/ workbook ($22.00)
Teacher edition ($24.00)
4-disc DVD set ($85.00)
The purpose of this video-based curriculum is to help middle-school aged students (roughly 6th – 9th grade, but older students who have little experience with poetry would benefit from the program as well) understand the basic elements of this genre. In 30 lessons (plus a final exam), students will cover the following topics:
How to Read Poetry
Simile
Rhyme
Metaphor
Meter
Pun
Iambic foot
Personification
Trochaic foot
Synchedoche
Anapestic foot
Dactylic foot
Hyperbole
Onomatopoeia


Refrain
Oxymoron
Spacial Poetry
Euphemism
Alliteration
Rhetorical Question
The program is written to be used 3 times per week (in 30-minute sessions), therefore this entire course could take 10 or so weeks. In the classical model, students are using the technique of imitating excellent and worthy models, such as Robert Lewis Stevenson's The Land of Nod, Robert Browning's The Laboratory, and Beowulf. (Since it is summer, we definitely broke the course into smaller chunks; the teacher guide does give allowances to home educators who want to spread this course over a semester or longer period of time).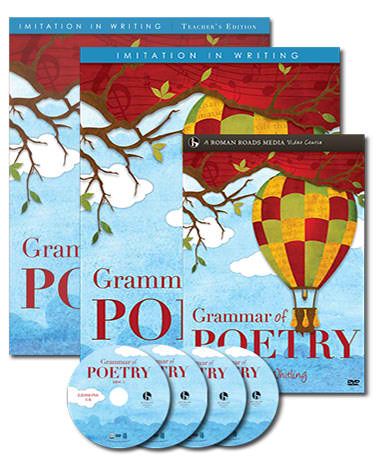 What is included:
The Student textbook /workbook has a softcover, 157-page book with a glossary and appendix of poems grouped by type (epic poems, historical poems, poems about God, etc.)
The Teacher's edition is an exact reproduction of the student book (with answers to excercises). Also included are instructions for teaching (the appendix D has suggestions for home educators which supplement the instructions in the forward of the book). This edition also includes the student final exam (and answers) as well as a section with suggestions on how to properly grade poetry. I do which there was more of a graphical rubric for grading the imitation assignments, however, it is something that I will pull together on my own prior to school starting this fall.
With the purchase of the DVDs, you will actually have Mr. Whitling walking your student through the text of their workbook. Each DVD lesson (30 in all) is about 15-___ long. This gives you enough time to work through the exercises in the student book in easily 30-40 minutes (I guess it depends on how much you need to drag your student through the information!) Here is a sampling of the lectures:
Now, here is where Mr. Whitling had me: Lesson 2. In this lesson, he begins with the concept of "Thankfulness in Poetry." As I alluded to earlier, my boys were kickin' and screamin' with this review (..and whinin'…and complainin'…), but I absolutely LOVE Mr. Whitlings calm, logical and godly attitude adjustment that he gives to students (especially boys) who are not coming into this course of their own free will. He really speaks to the prejudices that boys often bring to the study of poetry (the touchy-feely, "girliness" of poetry's topics) and winsomely asks them to come with an open mind.
The course progresses through standard concepts of poetry – meter, rhyme, foot, etc., but of course you'll also come across some common ground it shares with prose – literary elements that all writers use. I really appreciated that Mr. Whitling's course reached back to literature to show students that literary tools (tropes) of simile, metaphor, and personification are elements that my boys have already learned about, but are now playing with in this new form of writing. Helping to show students common elements in prose writing and poetry makes poetry a little less fearful.
He walked us through each of the exercises' directions and did a great job explaining the task; then, we stopped the DVD and worked through the tasks ourselves. I totally agree with the suggestion that home educators work through the exercises alongside their students to model learning this subject; it will bless
your children to see you learning and will give you an opportunity to assess their comprehension and mastery of the material.
Each lesson has a few easy exercises to help students learn the grammar (or basic) concepts of poetry. In the 3rd or 4th week of the course (if you are completing 3 lessons/ week), students begin having imitation exercises. In lesson 11, students will have their first opportunity to write a poem, modeled after "The Land of Story-Books" by Robert Lewis Stevenson. Mr. Whitling uses the structure of this poem (the meter/ rhyme scheme) to help students create their own work. After helping students to see these patterns (and giving lots of great tips!), he provides a student example which really helped to show that writing a narrative poem isn't so hard!
My recommendations & thoughts: Levi, who is a little young for this review, is a trooper and sat through some of it – I suspect I'll work through it again when he is in 6th grade or so. Luke did great with the beginning of the course (considering it is poetry). The clear cut nature of the teaching style – and the emphasis on imitation in creation of original works provides a child-friendly (need I say boy-friendly?) systematic approach to a topic. As a mom of boys, I appreciate that the poems used throughout the text were not overly feminine (as Mr. Whitling says, "butterflies and rainbows.") but represented classical poetry with a little testosterone for good measure. Truly, this is as boy-friendly a poetry course as I can think of!
Roman Road Media was generous to the Review Crew in providing a variety of their curriculum to try out (I cannot wait to read about the US History course!). Please click the Schoolhouse Review Crew link below to read about Latin, US History, Ancient Western Culture and more.
Connect with Roman Roads Media:
Facebook: https://www.facebook.com/RomanRoadsMedia
Twitter: https://twitter.com/RomanRoadsMedia
Pinterest: http://www.pinterest.com/romanroadsmedia/
Google+: https://plus.google.com/115410002124541916147/posts
YouTube: https://www.youtube.com/user/romanroadsmedia/videos
Click to read more reviews from the Schoolhouse Review Crew
All prices are accurate as of blog posting.
---