We as a family have been blessed beyond words to review curriculum materials for The Old Schoolhouse Magazine. Over the years, we've had an opportunity to really work with some amazing curriculum that has re-shaped our homeschool. Some curriculum has clearly pointed out areas of Review Crew Link Ups.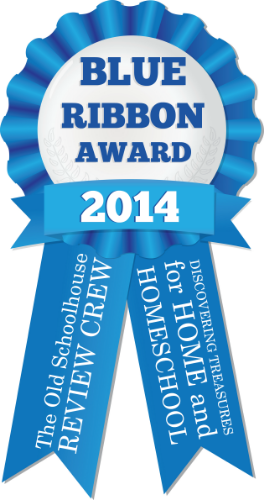 need for either myself or my chidren. Some curriculum has clearly pointed out likes and dislikes, some has pointed out clear learning styles and preferences for all of us (including me). Hopefully, for as much as reviewing has blessed our family, it has been a blessing to blog readers and those who stumble upon my reviews from online searches and
As I often do at the end of a review year, I like to post our favorites -- ur Blue Ribbons -- and the results we've had with some of our products:
1. Analytical Grammar - I think there is something to be said about giving a curriculum another try during a different season of life -- or when they add helpful tools! Ben is thriving with AG + the teaching DVDs this time through (I thought it would be the answer to our grammar woes when he was in 6th grade, but it only caused more confusion and tears). Honestly, what is keeping us both sane is the teaching DVDs. He is really getting grammar this time through, and it will complete his fairly intense year of English 2.
2. Ubersmart Math This is another program that has only gotten better as the year has gone on. When the boys were younger, they adored Math Rider. It was fun and had this helpful distracting effect so that they were not constantly reminded they were working on math forgoodnesssake. But for Levi, Math Rider did not cut it. Ubersmart (or as we now call it Ubermath) is short, sweet, to the point and gets him in and out with little trouble. I LOVE that I can program it to include math facts up to x12s or even x15s (which I should do for Luke to help him with his CC Essentials math practice). Levi has now mastered all multiplication facts up through x12, so we're going to leisurely worth through subtraction. He didn't balk when I told him my (not so evil) plans.
3. I had big plans to incorporate Amy Puetz's Heroes and Heroines of the Past: American History Curriculum, but I have stuggled all fall to fit in it. I really liked the simplicity of the program and the great personal stories of men and women in our country's past. I'm not sure if I'm reaching beyond my abilities to incorporate it into our winter or not.
4. The

Trident Case for iPad is still our go-to case that our iPad lives in. Thank goodness, too, because it has taken a few tumbles that I am sure wouldn't have resulted in relieved sighs!
5. Shhh! I haven't had the heart to tell Levi that the Middlebury Language Course is over. He still works on his Spanish every. single. day. Just this week I heard him recording his responses while Ben was working on his high school online course -- a whole dining room table full of Spanish. LOVE!
6. I am disappointed that Levi gave up on the Veritas Press Course. We really loved this -- except when he had to spell a new, long word in a timed situation. That one exercise really soured him on the whole course. I think I will go ahead, however, and begin to sit with him and re-introduce it to him -- unless we tackle a NEW history course in this winter on our SIXTH year of reviews beginning in January 2015!
7. Another course that I have loved and we will finish is Fortuigence online writing. Ben has about 3 lessons to complete and we can only work on it about every other week, so it meshes with his Classical Conversations writing projects.
8. I am passing on some blessings to others: a cousin's son is going to get the Egglo Glow in the Dark Easter eggs and book, and a friend who is traveling with her family on a sailboat for the next year was given some DVDs: Go Science DVD

s

+ the Growing Wild DVDs from a few Crew years ago. Hopefully, when they finish them (or if they find they don't need them), they will pass them on to another homeschooling/ sailing family on the waterways!
There are others that we've used in bits and pieces and still others we are saving for later in the school year -- including What on Earth Can I Do? and Bible Study Guide for All Ages from 2013.
If you are interested in what other the Review Crew voted as their Blue Ribbon Curriculum Choices, click on the blue ribbon above!