Do you enjoy reading aloud to your children? I really do -- it has been part of our homeschool since day one. Fairly early on, we also incorporated audiobooks and radio theater into our homeschool as well. It was a nice way to give my voice a bit of a break, but I think it also served us by expanding our imaginations and literary exposure.
Heirloom Audio Productions
offered me the opportunity to review their radio theater production of a G.A. Henty novel,
In Freedom's Cause
. I was given their
Single Package
which included:
2-CD set
Study Guide (PDF download)
Soundrack (mp3 download)
Printable Copy of the Prayer of William Wallace (digital download)
At the time of this review, this package is available for $29.97.
How We Used This:
God has given us plenty of snowed-in days to listen to this production! The younger boys and I sat on the couch under several blankets one snowy day and listened to the CD. It has a running time of approximately 2.5 hours. Luke sat with rapt attention throughout the entire story. He absolutely loved this historically accurate tale of the real William Wallace, who was a man of God who fought for Scotland's freedom. I know that the authentic British and Scottish accents really fascinated him -- he's going through a phase right now. [As a matter of fact, it might actually have been this drama which sparked the phase!]
You will actually feel like you have a window into the battle! You will hear background nature noises, friends talking in the background, cheers, swords striking one another and all the effort these historic men exerted as they battled. This is
not
an audiobook -- this is true theater!
[I hope you are as impressed by those who lent their voices to this story: Skandar Keynes "Edmund" from the Chronicles of Narnia triology, Billy Boyd "Peregrin Took" from Lord of the Rings, and Joanne Froggat "Anna" of Downton Abbey, to name a few. These actors
know
their craft!]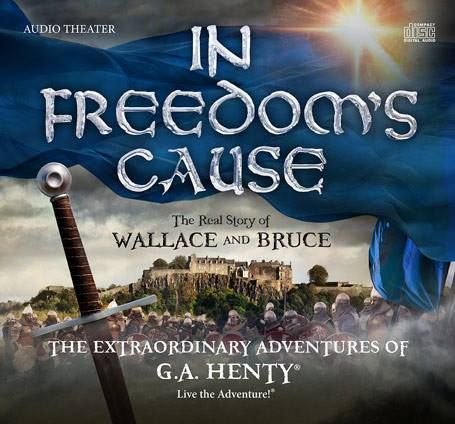 The Study Guide: As a .pdf file, the study guide is beautifully designed. I'm very frugal when printing in color, so printing was out for me (though I suppose printing in black and white would be an acceptable option).
Each section of the study guide has three parts:
Listening Well -- questions to assess comprehension of the plot
Thinking Further -- questions to help students think about the actions and consequences of the characters. (I love the mapwork included in this, as seen above)
Defining Words -- vocabulary to look up.
Using the guide proved challenging. While I wanted to be able to stop the story and ask Luke and Levi the various questions, I had a heck of a time knowing when to stop the story. Section titles in the guide did not always mirror the CD's chapter titles (and I didn't even know there WERE chapter titles until I put the discs into my laptop! Do we have old car technology that doesn't display anything more than the track numbers on a CD?) I do hope that all the titles can be reconciled and/or time markers can be noted on the study guide to help parents use the tools more easily.
The guide also includes a Bible study. Honestly, it wasn't what I was expecting. Several scriptures --from both the Old and New Testaments -- are grouped together thematically for referencing. While I love being able to see that God's word, intentions and love have not changed between the testaments, I was honestly expecting a little more than a concordance of scriptures based on thematic elements from the story.
I'd love to say that we used other resources alongside this to learn about Scotland. Alas, we did not -- we were in our busy season of winter. Yet, having this wonderfully produced, historically accurate story to listen to on a cold day -- when were were plum tired from our busy Classical Conversations and ski lessons schedule -- was a great way to infuse what would have been a very unproductive day with learning, adventure and suspense. What a blessing!
My Final Thoughts: I am in love with the production quality of this drama, and I hope to listen to it again. I definitely would consider this a great purchase to supplement (or inspire!) a unit study on Britain, Scotland or British History. I think most late elementary to middle school students would really enjoy this -- and I would not be surprised if the younger boys broke out into sword fights when the story was finished!
To Connect with Heirloom Audio Productions: