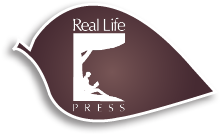 Before my non-homeschooling friends and readers ignore this review, let me shout out DO NOT MISS THIS!
Heidi St. John at
Real Life Press
and her hubby Jay have created a Bible program called Firmly Planted Family. We've been able to review it over the past few weeks and I wanted to share it with homeschooling and non-homeschooling friends.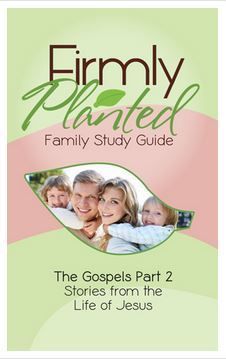 This is really ideal for families with kids of a variety of ages. I was sent the last in a series of four books meant to span the Bible. The first two sets cover Moses/ Old Testament and the third covers the Gospels; here's what I was sent :
This set is sold as a pdf for $31.95 (there is an option to purchase a
b/w physical copy
+ PDFs for $49.95).
The idea behind the Firmly Planted series is to ground our children in God's Word through family study. The books are meant to be flexible enough to study with a range of ages and Bible study background. There are 10 lessons in the book and each lesson is meant to be used for a week. Obviously, a product meant for families to study God's Word is not meant for only homeschooling friends.
This product is mean for all Christian families who desire to pass on the truths of God's word to their children while learning along with them.
I was intrigued by this product because neither my husband or I grew up in a family where The Word was spoken about on a regular basis. Neither one of us grew up with the practice of "family devotions" and we have struggled to figure out what this means more than we've been successful in identifying what works in our family.
What Is Included/ How It Works:
Both products easily open in any PDF viewer. I was easily able to load them in one of my cloud accounts so that I could access them from both laptops and the iPad.
The
Study Guide
that we reviewed is the second in a set of studies of The Gospels. Lesson titles are:
Parable of the Sower
The Story of Two Sons
Jesus and Zacchaeus
The Woman Caught in Adultery
The Rich Young Ruler
The Triumphal Enter
The Last Supper
Gethsemene
The Crucifixion
The Resurrection
Each of these ten lessons has several key components
The Seed - the theme
Planting the Seed - two options for Bible verse memorization
Watering the Seed - a 5-min. story to help reinforce the lesson
Daily Study - this is the family devotion component
Digging Deeper - this helps families with older students/ adults to facilitate deeper discussion
Taste the Fruit - life application section
Each of the subsequent days of the week break down the week's scripture into smaller bits to re-read and think on together. For example, The Sower parable is broken down like this:
OK, let me tell you why I had to go through the motions of making the above chart: In the Study Guide, the subsequent "Daily Study" sections are labeled beginning with Day 1 through Day 4. This was messing me up. See, as a rule follower/ black-and-white sort of person, I initially thought I was supposed to read the weekly scripture passage + Day 1's devotional. That was unsettling to me. However, once I made the above chart and realized that Day 1 really means "the day after you've read the primary scripture" I was cool. If I had to give one piece of constructive criticism, I would encourage subsequent printings of this to re-label the daily readings to clarify the sequence.
So, theoretically, if you are just looking for a daily devotional to read and discuss, This Firmly Planted Study Guide might be perfect for your family after dinner or in the morning.
However, if you want to do more -- or use this as a "Bible Time" activity in your homeschool, after school, summer, etc -- the additional Student Workbook might be a good fit.
The
Student Workbook
corresponds by chapter to the Firmly Planted
Study Guide
. Each lesson in the workbook has around 20 pages of activities to help your children understand the topic and learn how to apply God's Word to their lives. This activities, too, correspond to the theme of planting.
Theo Logy
The icons are meant to help direct you towards introduction of the concepts/ themes, bearing fruit (application) in life, and deeper study for older students. Some of the activities are basic -- mazes, word searches, crossword puzzles, coloring pages, etc. I tend to minimize this sort of activity, but my youngest LOVES these when used occasionally. Other activities are more Bible-studyish -- using the Bible to distill the meaning and thinking deeper about God's message to us. I REALLY like these pages, but at first I was a little lost about which pages to use, what sequence (if there was a sequence) etc. In the end I chose to use use a nurture page, a fruit bearing page, and a Theo Logy page. Did I forget to mention him? He guides students through each of the Firmly Planted books to teach about Bible doctrine in a kid and family friendly format.
Here's a mashup of several pages for a variety of age range:
You can view some additional
sample pages of the workbook
.
Final Thoughts:
This product is definitely going to take us longer than 10 weeks to get through. We are trying to be more intentional about an eventing Bible time, but with soccer and scout activities, we are going to be intentional but not stress. So, this will walk with us into the summer season, and we will be grateful for what we DO get to and not stress about being legalistic. I love this product and plan to use it more during the summer -- I have romantic visions of even being able to read it by campfire on a family mini-vacation.
Please consider which format will be most useful for your family. I still love the feel of a book in my hand, and if I had to choose over again, I might've lobbied more strongly to review a physical copy of the
Study Guide
. In the end, I might end up printing out the remaining lessons we haven't completed from the Study Guide, just so that I can see it and remember to finish it! I do wish the workbook pages had a more detailed table of contents so that I could find the Theo Logy, nurture, fruit, and dig deeper pages of each lesson more easily (especially in a PDF when it can sometimes feel like I'm just scrolling through endless amounts of pages).
To see what others thought of the other three Firmly Planted books, as well as other Real Life Press books, click the link below: