We love movies in our house, and Friday night tends to be a movie night here. However, finding appropriate movies that span the ages from almost 16 to 9 can be challenging. As you know, Hollywood can create some fabulous movies with great moral lessons, but there can be gratuitous profanity and/or images that we'd prefer to
not
expose our monsters to.
I jumped at the chance to review
Unbroken Legacy of Faith Edition
(yes, this is the Hollywood release) from
FishFlix.com
.
FishFlix.com
has culled through the enormous offerings of production companies large and small to find movies that will uphold Judeo-Christian values. You can view company information in their "
About Us
" section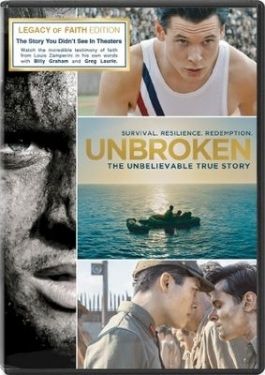 As I mentioned, this is the Hollywood produced version of the film that was a huge hit on the big screen. EXCEPT. The "except" part makes this movie a bit more family friendly. While not compromising the story, this version has blurred out some naked images, which some families may appreciate.
If you didn't catch the gist of this film, it is about Louis Zamperini, from the San Diego area whose Pacific Theater plane crashed into the ocean because of mechanical failure. He and two crewmates survived on a life raft for 47 days before they are "rescued" by the Japanese and sent to POW camps. The physical and psychological horrors these POWs endure is gut-wrenching. The movie follows the men through their internment until they are released after the war.
One of the criticisms of the Hollywood film, however, was that the "rest of the story" was not told. Upon his return from the war, Mr. Zamperini had a difficult time re-adjusting to his life and had horrible PTSD. By God's grace, Mr. Zamperini
was
able to heal, maintain the integrity of his young family, and go on to s
hare the gospel message and impact many lives for Christ. This part of Mr. Zamperini's story is fleshed out in the segments on the accompanying "Legacy of Faith: The Story Behind the Film" disc. It includes these parts:
Introduction (8 minutes):
Pastor Greg Laurie shares how he first learned about Louie Zamperini and describes the four "lives" of Louie.
Coming Full Circle (15 minutes)
--- This is a professionally produced interview/ biographical segment from CBN. Louie tells his complete story: growing up, running in the 1936 Olympics, his POW time, and his conversion to faith.
Faith Lesson (3 minutes) -- Using segments from the film, Louie describes his faith. Angelina Jolie also contributes to this segment. I love how he sees that God worked in his life prior to his salvation to draw him close.
Captured By Grace (28 minutes)
-- Louie Zamperini partnered with the Billy Graham Evangelical Association to produce this longer story. This segment focuses more on his military service, crash and POW time and his conversion after the war.
Louie & Laurie (53 minutes)-- This is a recorded interview of Mr. Zamperini by Greg Laurie in front of a live audience.
How We Used This Product:
We watched this as a family and really enjoyed it. Just a few weeks earlier, I had included a book about Mr. Zamperini's testimony in Luke's Easter basket (not knowing we would review this movie). Luke really liked comparing the movie version to the book version, and was sure to point out the differences between the two. (Which just reinforces for me why I LOVE it when the boys read the book
before
they see the movie!) Luke definitely enjoyed playing "expert" during the film.
A few days after watching the movie, which was just over 2 hours long, I pulled out the Legacy of Faith disc. These are four separate recorded interviews that Mr. Zamperini gave over the course of his later life about his WWII experience and God's redemption. Obviously, the story is the same in each of these four main videos, but each is distinctive by the length of the videos and Mr. Zamperini's contributions to the production. I'm not sure I'd sit around again and watch this disc in its entirety; rather, I think there is a time and place for each one.
I would really recommend this version of the movie if you are looking to expand your DVD library.
Crew members also reviewed several other DVDs offered by
FishFlix.com
: