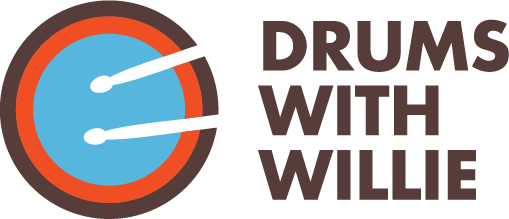 JazzEdge has created a video-based, independent study course to help students at home learn to play the drums. Called
DrumsWithWillie
, the program leads students from the basics of setting up a drum set to reading music, improvisation and actually playing. Wow!
Ben has been playing the drums for a few years. He got his first drum set when he turned 12:
He started lessons with a fantastic teacher that summer and has continued to take lessons when his teacher is available (he is a missionary). Ben's been back to lessons since January -- well, except the last month because Driver's Ed is a time consuming course and we could not fit drum lessons in.
Mike Marble is the video instructor. He has an impressive
professional biography
as an artist and teacher in Connecticut. I could not find a large, clear photo of him on the
DrumsWithWillie
website, but a little google searching and I found this:
Does this look fun, or what?
What I received: I received access to all of the
DrumsWithWillie
lesson content for a year. The online program; you will need to have an internet connection, but you can download the lessons and watch them offline). There are some sheet music PDFs to download.
Cost: At the time of this review,
DrumsWithWillie
offers lifetime access to its curriculum for
$299
( you can do this as a one-time payment or three monthly payments of $99.97).
The Program: Following national music standards, this program covers drumming technique, rhythm, ear training, reading music, song and improvisation (gotta love the sweet smile Ben had when he heard Mike put together a sweet improv technique in one of the upper lessons).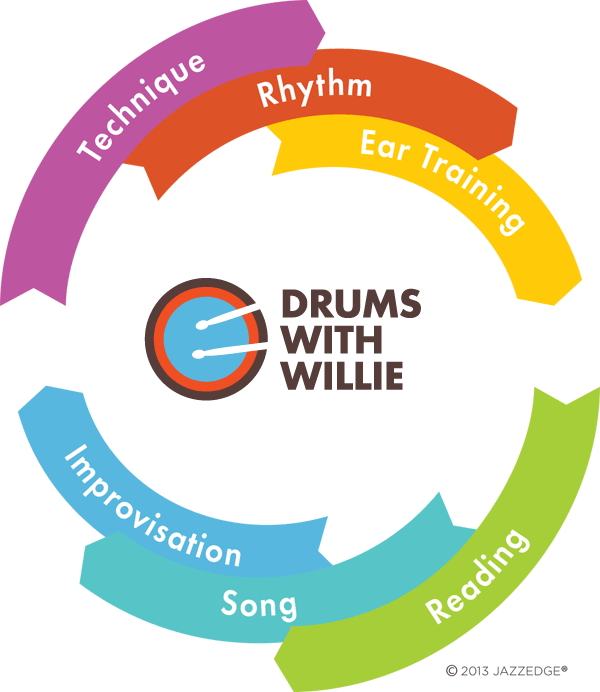 The program is broken down into units. They start really basic and include even pre-playing lessons, called CoreDrums:
Being a team player
how to change a drum head
how to tune a drum
how to set up your drum kit
how to hold your sticks
choosing a drum location
What I like about this section is that it really holds your hands through the process of getting your drummer going. I SO wish we would have had something like this prior to starting drum lessons! Even though my brother had tortured me taken drum lessons while I was in middle and high school, I had no idea about half of these topics. And even after we started lessons, it isn't like the teacher came to our house and showed us how to interact and care for the drums.
After this CoreDrums section, the lessons begin. Lessons are broken down into 3 levels, and each level has 6 units. In each of the units are 5 video-based lessons (and often one rhythm quiz) which follow this predictable sequence:
This works out to be approximately 90 lessons. Mike Marble, the instructor, himself is great. I really like how natural and personably he talks through the video. He makes jokes, laughs and is engaging. I also really like how the lessons are shot:
This way, you can imitate his movements and see everything clearly -- including the foot pedal -- as well as see his face.
Video lessons vary in length from just a few minutes to about 10 minutes long. This is definitely long enough to watch through once, then watch-and-pause to practice. At least that would be my preferred method -- Ben prefers to just do the watch-and-pause-to-practice all at once. Psssh....kids, these days.
I should mention the quizzes: although this is a drum program, the quiz rhythms are played on a piano. Not a big deal, but just something to be aware of. You'll listen to a rhythm played twice and select it from two choices:
How this worked for us:
Since Ben has been taking lessons for several years, it was a little hard to figure out where his skill set fit with the lessons. However, Ben's most reason sets of lessons (since his teacher returned from the mission field for a sabbatical) has been more focused on advanced rhythm and bridges. Ben, then, was really interested in more of the improvisation portions of the lessons. We had a good time watching through the videos and I really appreciate Mike's style of teaching. As gifted as Mike is, however, at teaching via a video, I would really encourage potential students to watch through videos and practice through some of the basic information (such as one of the
DrumsWithWille Free Lessons
) to assess whether this is a good learning modality for your son/daughter. As it turns out, having a prescribed lesson and face-to-face lesson with an instructor works a little better for Ben and making progress.
I forgot to mention that the website itself is set up so that you can add a number of students to your account (each with his/her own password) and watch their progress through the program.
Final Thoughts:
DrumsWithWillie
is a great product for students to use to begin their music education with a drum set. Mike is a personable teacher -- one you won't mind sitting and watching and one who will likely make you (at least) smile. He is also a talented musician -- I'll admit that I sometimes fast forwarded to the end of a lesson to hear Mike play the rhythms and riffs at normal speed. All I can say is: WOW!
Several crew members also reviewed the piano programs. You can read about their experiences at the link below.