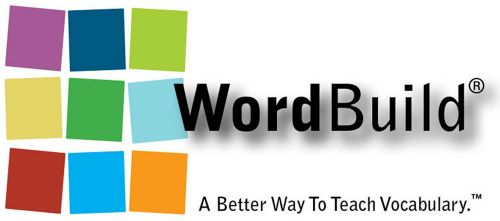 Dynamic Literacy
provided Levi and I with a unique vocabulary development program called
WordBuild: Foundations, Level 1
($82.99). This set is meant as an entry level program for elementary aged students in grades 3-5.
What I received:
The
Foundations, Level 1
set included:
Student workbook (consumable)
Student introductory workbook (consumable)
Teacher guide
This is a really unique vocabulary program that I'm glad we now have to use. This is what I'm used to: a program in which weekly lists of vocabulary words are given to students and they practice using the words in a variety of paper-and-pencil tasks to improve word usage and comprehension.


WordBuild: Foundations
uses a totally different philosophy. Instead of focusing on words and lists, it focuses on the parts of words that can be used to build words. Focusing on prefixes, suffixes and over 90 of the most common word roots in English, students learn to decipher the meanings of over 16,000 words. No memorization required!
You can view a great introductory video from WordBuild.
How the Program Works:
Levi and I started at the very beginning of the Foundations 1 level: Basics. This colored, 20-page workbooks helps students to analyze words and break them down into smaller parts and also build them up. Beginning with compound words, Levi had to practice separating the parts as well as thinking widely and creating compound words.
Then, using common words (paint, count, light), students began to add simple prefixes and/or suffixes to make words like painter, counting, and unmoveable.
After you move through this part (which may or may not be necessary, based on your student), you can begin the regular 183-page workbook. This is the heart of the program, where students engage with a 3x3 square called the
Suffix Square
or the
Prefix Square
to help them visualize and expand their vocabulary.
Let me first remark that the Teacher Guide is a very helpful too. Provides a black-and-white reprint of the workbook page (in miniature) with answers. There are teaching techniques, which I glossed over, just to make sure I wasn't missing anything important. The guides are written for classroom teachers, so just a few simple modifications are necessary to make the program work. People often ask me if the teacher's guide is necessary; while the answers are not that difficult, I think the guide is useful because of the additional tips offered to get the most out of the program. Additionally, it gives a sample schedule to complete each lesson in 5-days. Each of the 30 lessons is composed of:
Prefix/ Suffix Square - students combine a single prefix or suffix with 8 other words and define them.
Affix adder - students affix a prefix or suffix to a baseword and use the definition of the affix to help determine the definition of the new word
Magic Square - this is a matching game for words and their definitions. It is also a math magic square (bonus!). WE LOVE THESE!
Word Search- this is a standard word search for 21 words, all related by prefix or suffix
Comprehension building exercises- The last page requries students to use one of the new words in a sentence, thus demonstrating comprehension of the word's meaning. The teacher's guide says you can use this as either a reinforcement/ teaching task or as an assessment. There is also a page (or two, depending on the word) of additional words that use the same target suffix/ prefix. These lists are often 100+ words long, so you can really add on to the work you've done during the week to expand vocabulary even more, work on word attack skills or even spelling!
The teacher's guide suggests that each of these activities can be completed in about 15 minutes, which is pretty close to what we found here. This means that you can squeeze vocabulary building easily into your day ... or you can have slightly longer lessons just a few days a week.
How This Worked For Us:
This is a fabulous way to work on vocabulary development, and Levi and I have found it to be fun and challenging. Levi is working on this right at the recommended grade level, so he hasn't found it to be terribly difficult to form new words or demonstrate comprehension. What we've found the most challenging is in expressing the definitions to our liking. This has been a good expressive language task, so I'm grateful for the experience.
I should add that many of the activities we've completed outloud (well, not the word search!) because we gave this a try at the end of the school year and we are just tired and busy right now. It has worded fine for several of the activities, and makes Levi more willing to stick with the complete program.
Please click below to read about their Elements program (grades 5-10) plus their online program called WordBuildOnline: